Russell Goldsmith: Taking Image Into Account
Monday, March 11, 2013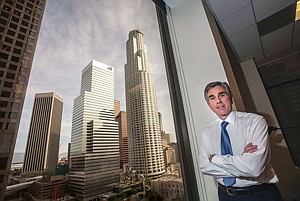 Bankers can obsess over details, so it shouldn't be surprising that one as successful as Russell Goldsmith rattles off asset figures from three decades ago or calls clients back while on vacation. But there's another fine point the chief executive and chairman of City National Bank carefully watches: the bank's decor.
Walk into any one of City National Bank's 78 branches and offices in six states and chances are the paint and fabric colors you're looking at were hand-picked by Goldsmith.
"I don't go to the store, but somebody has to come in and show them to me," he said. "It's about the image of the bank and what you're communicating. When you walk into City National, what is it communicating to you?"
Though he's known as a hands-on executive, this isn't just a quirk of micromanagement. Goldsmith, who worked in Hollywood for more than a decade before moving to the bank in 1995, has an abiding belief in the influence of images. One of his first acts at the bank was picking out a new company logo, a blue ladder, as well as an accompanying motto, "The Way Up," meant to convey the aspirations of small-business clients targeted by the institution.
He wears the ladder as a lapel pin at all times, and makes sure to fly the company colors in his public appearances – explaining his bank to Jim Cramer on CNBC's "Mad Money" or questioning mayoral candidates at a televised debate – by wearing a dark blue suit and a light blue tie.
He's also borrowed a little Hollywood storytelling in his shaping of how City National is perceived.
One of the first advertisements he approved featured a story about a bank employee, and the bank's website prominently displays the videotaped stories of clients. Internally, the bank holds a Story Idol competition, in which employees share stories of client service, to foster corporate culture.
City National is exponentially larger than it was when he came on board nearly 20 years ago, and telling the bank's story through images and stories has been important to its success promoting a corporate identity. But Goldsmith hasn't just built up the bank by applying a little gloss.
City National has grown to $29 billion in assets from some $3 billion in 1995, in the process becoming the largest commercial bank headquartered in Southern California. The bank has never had an unprofitable quarter during his tenure; its conservative lending approach buttressing it against the worst of the downturn. It is known throughout the industry as one of the most effective banks at targeting small businesses and wealthy individuals.
For reprint and licensing requests for this article, CLICK HERE.
Prev Next