Russell Goldsmith: Taking Image Into Account
Monday, March 11, 2013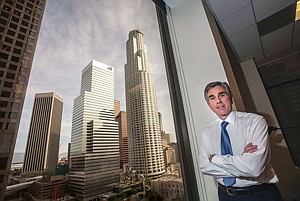 Bankers can obsess over details, so it shouldn't be surprising that one as successful as Russell Goldsmith rattles off asset figures from three decades ago or calls clients back while on vacation. But there's another fine point the chief executive and chairman of City National Bank carefully watches: the bank's decor.
Walk into any one of City National Bank's 78 branches and offices in six states and chances are the paint and fabric colors you're looking at were hand-picked by Goldsmith.
"I don't go to the store, but somebody has to come in and show them to me," he said. "It's about the image of the bank and what you're communicating. When you walk into City National, what is it communicating to you?"
Though he's known as a hands-on executive, this isn't just a quirk of micromanagement. Goldsmith, who worked in Hollywood for more than a decade before moving to the bank in 1995, has an abiding belief in the influence of images. One of his first acts at the bank was picking out a new company logo, a blue ladder, as well as an accompanying motto, "The Way Up," meant to convey the aspirations of small-business clients targeted by the institution.
He wears the ladder as a lapel pin at all times, and makes sure to fly the company colors in his public appearances – explaining his bank to Jim Cramer on CNBC's "Mad Money" or questioning mayoral candidates at a televised debate – by wearing a dark blue suit and a light blue tie.
He's also borrowed a little Hollywood storytelling in his shaping of how City National is perceived.
One of the first advertisements he approved featured a story about a bank employee, and the bank's website prominently displays the videotaped stories of clients. Internally, the bank holds a Story Idol competition, in which employees share stories of client service, to foster corporate culture.
City National is exponentially larger than it was when he came on board nearly 20 years ago, and telling the bank's story through images and stories has been important to its success promoting a corporate identity. But Goldsmith hasn't just built up the bank by applying a little gloss.
City National has grown to $29 billion in assets from some $3 billion in 1995, in the process becoming the largest commercial bank headquartered in Southern California. The bank has never had an unprofitable quarter during his tenure; its conservative lending approach buttressing it against the worst of the downturn. It is known throughout the industry as one of the most effective banks at targeting small businesses and wealthy individuals.
"People use the word 'image' disparagingly," said Michael Diana, an analyst at Maxim Group in New York. "But the bank is trying to portray itself as what it is, which is a bank for entrepreneurs and small businesses. If you go to a bank conference, 10 other banks will all say they do this, but they don't do it remotely as well. It's execution, not strategy, and it's always the guy at the top that makes you execute."
In recent years, the 63-year-old Goldsmith has been telling another story – that of a city misusing its greatest economic assets. As chairman and founder of the Coalition for the Economy & Jobs, he has been telling anyone who will listen that Los Angeles needs to improve its airport, port and transportation infrastructure. He has lobbied lawmakers for dollars and pressed the issues at speaking events and in private meetings with business figures and politicians.
"He has a vision and a mission not just for City National Bank, but increasingly Los Angeles as well," said Samuel Hoi, president of Otis College of Art and Design, and a member of Goldsmith's coalition. "With his professional success firmly established now, he's stepping up as a major advocate and spokesperson for the economic wellness of our region."
It's for his private-sector successes and his public-sector activism that the Business Journal has named Goldsmith its Business Person of the Year. He joined the newspaper's Business Hall of Fame at a luncheon March 5 at the Millennium Biltmore Hotel in downtown Los Angeles.
First impression
Goldsmith is wearing his favored dark blue suit, light blue tie and blue ladder lapel pin when he meets with the Business Journal in his corner office at downtown's City National Plaza, the headquarters building where 1,400 of his 3,500 employees come to work every day.
The outfit is nearly identical to the one he wore at the televised mayoral debate he paneled the night before. His appearance at the event signaled his ascension as a voice of the business community – and, when each candidate avoided endorsing the airport and port improvements for which he has pushed so hard, also showed how far he has to go. His disappointment is still apparent.
"To varying degrees they all waffled," he said. "Nobody stepped forward and said, 'I understand it, it's the right thing to do, let's stand up to a few Nimbys and do what's right for the region.'"
He still looks like he could have just stepped off the stage. Goldsmith's carefully manicured appearance has long made an impression. A magazine profile in 1990 of Goldsmith, then a 39-year-old independent studio head, described him as "carefully coiffed," "nattily dressed" and "rail-thin." Not much has changed more than two decades later, aside from a little graying hair. He could play a senator in a movie, or at least adorn a Just for Men box.
"I always thought he was going to be a senator," said Tom Werner, Goldsmith's college roommate at Harvard, who as chairman of the Boston Red Sox and former executive producer of "The Cosby Show" has seen his share of stars. "I think he's a star."
Stars, however, are charismatic. While Goldsmith is personable, often cracking jokes to lighten the mood, he's also the quieter type. He answers questions carefully, sometimes pausing as the wheels turn.
The low-key, cool presence is a notable contrast in style with his father, Bram Goldsmith, who led the bank for decades before moving to hand it over to his son. While City National is a publicly traded company with a market capitalization of some $3 billion, it has many characteristics of a family business. Three generations of Goldsmiths have been involved in the bank, and the family holds about 15 percent of the bank's shares, according to public filings. Bram Goldsmith remains chairman of City National Corp., the bank's holding company. Russell is its president and chief executive.
"His father is garrulous, and much more of a hugger. Russell is more reserved and reflective, and in a way harder to get to know," said Ken Ziffren, a prominent entertainment attorney who sits on City National's board. "You say something to him and you can see him take it in. He will pause before he responds. You get the feeling that he's evaluated what you said and is trying to get on the same wavelength as you are."
Russell Goldsmith's office is mostly free of revealing personal effects. What mementoes there are are related to the bank and his professional life. There is the gavel he used to close the New York Stock Exchange, during the 10th anniversary of the bank's expansion into New York in 2002. There are no prominent photographs of family, but photographs of Goldsmith with former President Bill Clinton and President Barack Obama are on his desk. He calls the two Ed Ruscha prints hung above his desk "incredibly apt for City National" because they represent intersections of Los Angeles and San Francisco streets – markets important to the bank.
Over the next two weeks, he'll fly to Washington in his role as chair of the lobbying group Midsize Bank Coalition of America; drop in on the site of a new City National branch planned in New York; and host City National economic conferences in Beverly Hills, Palo Alto and San Francisco.
During that time, he squeezes in lunch with his son, president of a Bay Area startup that would allow businesses to directly sell their securities online, and dinner with his wife, novelist Karen Mack Goldsmith, while the two of them are in New York for separate reasons. They live in West Los Angeles and have three children, though Goldsmith declined to give further details.
He speaks longingly of his escape capsule – skiing in Sun Valley, Idaho, which he visits three or four times each winter, sometimes stopping to lunch with bigwigs like casino magnate Steve Wynn.
"It's such a refreshing and complete alternative to what I do most days. You're outside all day. It's cold. The air is really fresh and kind of invigorating. It's physical. It's not all that mental. There are a few thoughts: bend your knee, get your weight forward," he said. "When you're finished skiing, you're physically tired and you kind of clear your head at the same time. Because I have to pretty much pay attention to what's going on on the mountain and not think about the office or something else."
From Beverly Hills to Hollywood
Goldsmith bristles at the notion that he was groomed to take over the bank by his father.
"I think it's maybe a little misunderstood," he said. "When I grew up my dad wasn't in the banking business. I did not grow up thinking about working at City National Bank."
But there were signs of his trajectory from the beginning. His grandfather, Ben Maltz, was among City National's co-founders in 1954, when Goldsmith was 4. He had a City National piggy bank growing up, and somewhere there's a photo of little Russell Goldsmith posing with Miss City National – actress Anita Ekberg – at the bank's original Beverly Hills location.
Bram Goldsmith didn't take over as the bank's chief executive until 1975. Before that, he was a real estate investor, and moved the family from Chicago, where Goldsmith was born, to Beverly Hills. Russell Goldsmith grew up the younger of two brothers on Beverly Drive, the kind of kid, his father remembered, whose elementary school teacher would leave him in charge when she left the classroom.
His interest in storytelling was apparent in college at Harvard, where he edited a drama review publication with Werner, and went to Israel with his roommate to film a documentary about the country, even landing an interview with its prime minister, David Ben-Gurion.
He went on to Harvard Law School, where he decided to become an entertainment lawyer, and returned to Los Angeles upon graduating. By that time, his father had taken over City National. Whether or not he was being groomed, he was only three years out of law school when he was named to the bank's board.
He worked as an entertainment attorney for seven years, but eventually Hollywood came calling. In 1982, Goldsmith represented a client in negotiations with Culver City studio Lorimar, and extracted a highly favorable deal from the studio. Executives were impressed enough that a few weeks later they asked him to be their chief operating officer; he accepted. He became chief executive of Republic Pictures in 1985 after teaming with a group of investors to take it over.
Republic was where Goldsmith gained notice around the industry. At the time, the studio was a has-been. The former home to John Wayne and Gene Autry had stopped film production in 1959, and survived in the intervening years by licensing films from its library to TV stations.
Goldsmith's stewardship of Republic now looks like the blueprint for his tendencies as a chief executive: building on strengths and underutilized assets, conservative spending and, of course, savvy marketing.
At Republic, that underappreciated asset was its film library – the largest independent film and television library outside of a major studio. With a little marketing, Goldsmith saw that it could be turned into a much larger revenue source at relatively low cost.
He dug up decades-old episodes of the TV western "Bonanza" that had only aired once, repackaged them as "Bonanza: The Lost Episodes" and licensed them for a cool $10 million to a cable station. He took Christmas classic "It's a Wonderful Life" and released a 45th anniversary version as a VHS tape, reportedly selling 125,000 copies during a single holiday season.
He didn't gamble on expensive projects or try to hit home runs. Under Goldsmith, Republic began making movies again for the first time in decades – but for the cheaper made-for-television market. One profile of him compared him to "Scrooge at middle age," noting that he preferred a cramped office stuffed with stacks of video boxes and movie posters to an executive suite.
Revenues quadrupled over his eight-year reign. In 1994, he sold the company to Aaron Spelling's Spelling Entertainment Group for $93 million.
That same year, he divested his interest in the San Diego Padres, in which he had been an investor since 1990, when Werner pooled together a group to buy the team.
Cash in hand, he looked for his next project.
Banking
Ziffren still remembers the first time that Bram Goldsmith called him into his office and told him Russell was taking over.
"I went, 'Wow. … Are you serious? Can you really do that? Can you really step back and let him run it?'" Ziffren said. "But his love and respect for Russell just came through very, very clearly."
He added, "I wasn't aware of his commitment to the bank. I just didn't really think of Russell in that role."
But Bram had been thinking of Russell in the role for years. As the elder Goldsmith tells it, he had asked his son several times but could never convince him to do it.
"I kept saying to him, 'If you're interested, you can succeed me,'" said Bram, now 90. "But he had so many irons in the fire. I had to get the road cleared to where he had to give me a yes or no."
At the time, Russell said he was contemplating his next professional phase. He knew it would likely be in media, and also knew he wanted to be his own boss.
"I had some ideas about doing something where I could use some of the capital I'd built up and I wouldn't have to work quite as hard as I worked at Republic," he said.
His father, then in his 70s, asked Russell to come into the bank rather than jump into another media venture. Russell agreed to do it, after receiving assurances that his father really would step back. Bram had been the driving force of the bank since buying a 19 percent stake for $3.6 million in 1975. By the time he stepped back, that stake was worth about $70 million, and he had grown the bank's assets from the hundreds of millions into the billions.
"It had to be clear to the organization that I was the CEO. You can't have two CEOs," Russell said. "He did a phenomenal job of sticking to that, which must have been hard. It must have been harder for him in the first year to bite his tongue in meetings that I was running, when I was asking questions and replacing people he'd hired."
Goldsmith's decision might also have been influenced by the changing landscape of the media and entertainment industry. Independent studios were being swallowed up or squeezed out by larger conglomerates.
"We don't see that landscape of independent production companies again today and probably never will," said Bill Allen, chief executive of the Los Angeles County Economic Development Corp., who at the time was president of independent studio MTM Television. "I think the opportunity to lead City National Bank as opposed to working in a larger entertainment organization was appealing to him."
City National's Hollywood hire brought storytelling to the bank. At Goldsmith's first opportunity to fill a senior position, he brought in a new marketing director, and he soon hired a new advertising agency. One of the first advertisements was a radio ad retelling a story about a bank employee rushing to an airport to personally deliver $10,000 in Italian lira to a celebrity client at the gate.
"I'm a big believer in stories," he said. "This was something ingrained in the culture of City National and it was something we turned into a radio commercial as a way to try to explain who City National is."
The ad was part of Goldsmith's tendency to identify and build on strengths and underutilized assets – and sometimes repackage them with a little marketing. City National was known as a "bank to the stars," with small-business clients in entertainment and real estate. It was also known for service to wealthy individuals, famously loaning Frank Sinatra $240,000 in ransom money when his son was kidnapped in 1963. Sinatra was only charged $2,000, the amount that wasn't recovered when the kidnappers were caught. Goldsmith decided to play up the bank's relationship and service-oriented culture, which he saw as underappreciated.
Image-conscious Goldsmith also picked out a new logo and motto. Internally, he instituted an acronym, P.R.I.D.E. – People, Relationships, Integrity, Dedication, Entrepreneurship – as a summation of the company's culture.
Another underutilized asset, in a sense, was the bank's wealthy clientele.
Goldsmith figured there was an opportunity to manage their money. He reportedly ordered the trust and investment chief to report directly to him, and focused on building out wealth management. A 1996 article mentioned a new wealth management product that would have $80 million in assets under management by that year's end; today, City National has few peers among midsize banks in wealth management, with $57 billion in assets under management or administration.
"It's not like we tried to impose upon the bank some new vision that was very different from what it had been, but really tried to draw out of the company the best of what City National had been and build on that," he said.
If there was a marked difference between the Goldsmiths' approach to expanding the bank's reach, it was in how they chose to grow. Whereas his father avoided acquisitions, Russell Goldsmith has made more than 20. As the bank expanded beyond its Beverly Hills origins, he moved its headquarters to downtown Los Angeles. Today, the bank has offices in locations including Nashville, Tenn.; Atlanta; New York; and Northern California.
It turned out that the very qualities that made him an unlikely Hollywood mogul – cautious, conservatively spending – fit well for the banking industry.
Despite pressure to increase earnings, the bank never made a subprime loan or bet aggressively on construction loans. That saved the bank during the financial crash. Though it took hits, it never reported a quarterly loss.
"They don't go for home runs, they're willing to take the singles and the doubles," said Aaron Deer, an analyst at Sandler O'Neill in San Francisco.
"People would say, 'How come you aren't growing your earnings as fast as other banks?'" Goldsmith said. "And we said, 'There are things they are doing that we think are too aggressive.' So we paid a price. We grew net income maybe 10, 13 percent when some others were growing 18 or 20 percent, but the reverse was we didn't suffer the severe losses that they did."
Mistakes, challenges, criticism
It hasn't all been smooth sailing. The company has been flagged by regulators for lax internal controls. In 2005, it was investigated for violating anti-money-laundering laws related to the Bank Secrecy Act, which requires banks keep basic data on their customers, including reporting sources of income. It can be a sensitive matter for a bank like City National, because it handles celebrities who deposit and withdraw large amounts of money. At the time, bank executives told the Business Journal that clients were upset at having to fill out forms explaining their income sources and threatened to withdraw their accounts.
That year, it paid $750,000 to the Office of the Comptroller of the Currency to settle the investigation.
Ziffren said that when handling regulatory matters in general, Goldsmith was hands-on.
"He wasn't exactly writing the letters back, but he was deeply involved in straightening out whatever it was we had done that needed improvement," he said.
Though it fared better than competitors during the downturn, City National took some lumps. Most notable was Goldsmith's ill-timed foray into Nevada. In 2007, City National purchased Business Bank in Nevada for $167 million, and promptly watched the real estate market there crash. The bank's Nevada loan portfolio lost millions.
He admits he did not see some aspects of the downturn coming. In 2007, he told the Business Journal that the economy's long-term outlook was "quite good, especially for Los Angeles." (Goldsmith has made a few proclamations he would probably like to take back. In 1999, he called then-business associate Gary Winnick's Global Crossing, the telecommunications company that eventually went bankrupt amid allegations of accounting fraud, "one of the great success stories.")
The company's acceptance of $400 million in TARP money, which it paid back in full, also opened the company up for criticism. The bank froze credit lines and pared back lending during the recession to some struggling business clients. Some expressed frustration that it was taking taxpayer money but not lending to local businesses. Bob Dewey of Lake Forest real estate firm PGP Partners saw a $700,000 credit line cut off in 2009.
"You need access to capital to put people back to work, but they're not willing to lend any money yet to my business and my industry," he said.
Dewey has paid off about $60 million in loans over a 10-year period, and has just one land loan of about $800,000 left. The bank has bumped up his interest rates and effectively told him he is free to go elsewhere, he said.
While not responding directly, Goldsmith said the bank had to be more prudent about lending during the downturn.
"We never stopped lending to people, but what I've explained to numerous people is that it's one thing to be willing to make loans but you've got to make loans to creditworthy borrowers," he said. "I think what happened to the country at large in '08, '09 and '10 was that some of the people who wanted loans were no longer creditworthy."
Coalition
For Goldsmith, 2008 was a year of some frustration, and not only because of the recession.
He had spent a year and a half putting together a list of recommendations to improve the L.A. economy at the request of Mayor Antonio Villaraigosa. Villaraigosa appointed him chairman of the Los Angeles Economy & Jobs Committee in 2006, and Goldsmith worked with local business leaders to issue 100 recommendations in a report released in January 2008.
The release of the report was attended by some fanfare at a press conference, focusing especially on improvements to the airport, port and transportation infrastructure – and promptly went nowhere. Goldsmith spent the spring of that year walking the halls of City Hall, going to frustrating meetings with department heads and city staff.
LAEDC's Allen accompanied him in the meetings.
"We started making regular visits to the city staff to say, 'Here's our list of 100. Show us which ones you've implemented,'" Allen said. "Very little had been done. … It didn't take long for Russell to realize there wasn't much urgency being applied."
L.A. Building and Safety Manager Bud Ovrom, then the deputy mayor for economic development, often sat across from Goldsmith at such meetings, explaining to him that the slowing economy was hindering progress.
"He never listened to you say anything without making a note and checking back to make sure you did it," Ovrom said. "I'm sure he had frustrations. We were all frustrated."
He added that the two sides sparred over what was considered progress.
"There would be different interpretations of how well achieved a recommendation was," Ovrom said. "One of the recommendations was to do more to promote international trade. We'd say, 'Monthly trade is going up.' They'd say, 'You haven't done enough.'"
The thought of the recommendations gathering dust on a shelf rankled him, and so in 2009 Goldsmith formed the Coalition for the Economy & Jobs, an independent group, with the intent of seeing through the major parts of the report and advocating for the business community. Membership in the group, which remains active, cuts across a wide swath of local leaders and business figures, including AEG Chief Executive Tim Leiweke; billionaire Stewart Resnick; and labor leader Maria Elena Durazo, head of the Los Angeles County Federation of Labor, AFL-CIO.
Goldsmith likes the idea of a business advocacy group that includes labor. He personally recruited Durazo, whom he had never before met.
"I didn't know if I was going to be a token name, or if I was going to be taken seriously," she said. "But he's proven to me that he sees labor as a partner."
The two teamed up to successfully lobby Washington for federal transportation dollars, which would likely create both union and nonunion jobs.
Goldsmith, a self-described moderate Democrat, admires politicians who reach across the aisle, speaking highly of California's history of progressive Republicans such as Pete Wilson and Earl Warren – a book about Warren is one of only two books visible in his office.
Goldsmith has donated more than $100,000 to Democratic candidates in the last election cycle, including about $71,000 to Obama Victory Fund 2012. But he hasn't agreed with everything the administration has done. Leiweke recalled a dinner that the two attended between local business leaders and Vice President Joe Biden last year.
"The thing I like about Russell is he does not bite his tongue," Leiweke said.
"The best I can tell is that he hasn't been sent to Siberia or anyplace like that, but he didn't hesitate in giving real input and real concerns and debate those with the vice president."
Locally, Goldsmith has not publicly supported any mayoral candidates in this year's election, although his wife donated to Wendy Greuel's campaign.
The solutions he has pushed to improve the local economy again echo his approach to improving a business – identifying strengths and underutilized assets that can be improved at a small cost, rather than imposing a grand new vision.
In the case of L.A.'s economy, he views the underutilized assets as the airport and the port. He has advocated for moving the north runway at Los Angeles International Airport to make way for larger aircraft, and building new rail lines at the port to transport cargo.
Singles and doubles, not home runs.
But years later, the fact remains that many of the initiatives he has pushed for are far from a reality. That was driven home when mayoral candidates declined to commit to those improvements at the debate he paneled in January.
"When we heard those responses, we both looked at each other like, 'Really?'" said Central City Association President Carol Schatz, who was also a panel member. "I was stunned."
Goldsmith's record as a businessman has been one of nearly unblemished success. But despite his accomplishments as a civic leader, his legacy in that area is a work in progress.
"I think (the coalition) has had an impact, yet there's an enormous amount to be done," he said.
Again, he seems to be following in the footsteps of his father, who along with Russell's mother, Elaine, was heavily involved in local civic causes, their names adorning buildings at schools and performing arts centers.
"I think you have a responsibility to give back to the community, and I grew up with that because of my parents," he said. "And sometimes I look around and think, 'Well, this needs to be done' and I discover nobody's doing it."
Those who've been on the receiving end think he has what it takes.
"I really walked away from it all with the idea that he is one of the real business civic leaders of the community," Ovrom said. "I was laughing watching him moderate the recent mayoral debates. He had two questions, and they were about the airport and the port. It was so true to him."
The flashbacks to their past disagreements prompted him to send an email to Goldsmith. It ended: "Good job. Russell Goldsmith for mayor."
For reprint and licensing requests for this article, CLICK HERE.