Modest Practice, Flashy Growth
LAW: Low-key Lewis Brisbois becomes largest firm in L.A.
Monday, March 11, 2013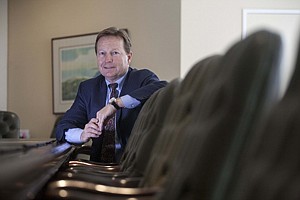 Lewis Brisbois Bisgaard & Smith LLP might be the least glamorous big law firm in Los Angeles. In the hallways of its offices, you're more likely to see haphazardly stacked boxes of litigation files than on-site coffee baristas of the kind hired by a nearby powerhouse firm.
Then there's the firm's specialty: the low-profit world of insurance defense. Not exactly Apple vs. Samsung.
But an unlikely thing has happened. While other large firms have shrunk in recent years, Lewis Brisbois has expanded. It is now the biggest law firm in Los Angeles by attorney head count, according to the Business Journal's annual list of largest firms. (See page A2.)
The firm, which handles a high volume of litigation work at lower rates than many large firms, has grown to the point where it hires more attorneys in Los Angeles County than century-old white-shoe institutions such as O'Melveny & Myers LLP and Gibson Dunn & Crutcher LLP.
What the ascendancy of Lewis Brisbois says about the state of the law business in Los Angeles, said Sandy Lechtick, president of Woodland Hills legal search firm Esquire Inc., is that "billing rates and bang for the buck are increasingly more and more important, and that plays to Lewis Brisbois' strengths. They're not trying to have the fanciest offices on Bunker Hill. They watch their costs. The firms that have a reasonable cost structure are attracting a lot of the business that used to go upstream."
Lewis Brisbois' path to No. 1 has been one of remarkable growth through the downturn. It has added more attorneys – 61 – in Los Angeles in the last five years, a time when most firms have been shedding them, than any other firm (See sidebar, below). For example, O'Melveny & Myers, second on this year's list, has shed 110 – 30 percent – of its attorneys in Los Angeles since 2008. That year, O'Melveny reported 370 L.A. lawyers to Lewis Brisbois' 210.
Timothy Graves, managing partner of Lewis Brisbois' L.A. office, credited the firm's rate flexibility – a whopping 20 percent of its revenues come from alternative fee arrangements, which cost-conscious clients tend to favor – as well as its focus on litigation for success in the downturn.
"The economy being tough over the last few years may have affected some of the firms more focused on the corporate transactional area or the real estate area," he said.
Prev Next
For reprint and licensing requests for this article, CLICK HERE.