Workspace Takes Creative Turn
Silicon Beach office stars in online comedy about Silicon Valley.
Monday, June 24, 2013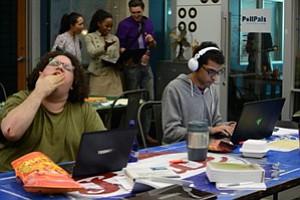 In the opening scene of "Betas," a sitcom developed for Amazon Studios, a group of stereotypical startup guys sit in a brightly colored office as other 20-somethings stage a Nerf gun war around them.
A map tells viewers the office is somewhere in Silicon Valley. But the show was actually filmed in Silicon Beach.
Real Office Centers, a co-working space in downtown Santa Monica, doubles as the fictional communal workplace called MindHub in the "Betas" pilot.
ROC Chief Executive Ron McElroy said "Betas" was initially looking to rent the workspace for its 50-person crew. Then producers saw the space and realized it would make a good backdrop for the sitcom.
"The show was based around startup companies in Silicon Valley, and that's what we do, house startup companies," he said. "They realized it was the perfect setup to shoot."
The "Betas" crew worked out of ROC from late February through early May, and filming took place for less than a week during that period.
For the set, "Betas" transformed the bottom floor of ROC's three-story Arizona Avenue office building. The production even hired some of ROC's real-life tenants as extras, requiring that they simply go about their business.
The show, which follows four entrepreneurs as they try to get their startup off the ground, was one of 14 pilots commissioned by Seattle's Amazon Inc. The Internet giant released all of the pilots online to viewers in April and selected five to turn into full series based on audience input and viewership figures. Amazon executives declined to discuss the production.
Though the "Betas" pilot was filmed at ROC, McElroy doesn't expect filming to resume there now that the show has been picked up. And even if they came knocking, he's not sure that he's ready to turn ROC into a permanent TV set.
"It kind of threw things into a tailspin," he said. "I didn't realize the extent of the filming and the crew they would bring in. As much as we'd love to have them film here, it's not conducive to a working environment."
– Natalie Jarvey
For reprint and licensing requests for this article, CLICK HERE.