Treat for Franchisees?
Yummy Cupcakes sees shop in San Diego as first of many in United States.
Monday, June 24, 2013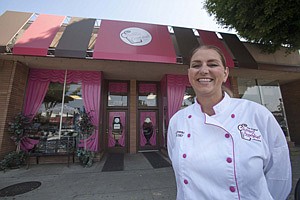 The owners of Yummy Cupcakes LLC in Burbank are confident, after nearly a decade, that their gourmet cupcake shops have survived the fad stage and are ready for the next level.
Yummy, which has three company-owned shops in Los Angeles, is set to open its first franchised store in the United States, in San Diego, this month.
The company, co-founded in 2004 by Tiffini Soforenko; her husband, Nik; and her mother, Brogan Faye, started as a wholesale cupcake business catering to weddings and other events. It moved into retail in 2005 and has developed more than 400 recipes, including gluten-free, sugar-free and vegan offerings. Most cupcakes cost $3.25 each.
About three years ago, Yummy caught the attention of business people in Turkey and Qatar who expressed interest in franchising the concept. Soforenko struck deals for franchises in those territories, and the interest got her thinking about employing the strategy at home.
She brought in a director of franchising to pursue domestic opportunities and the investment is starting to pay off. In addition to the San Diego operation, she expects to open three others across the country in the next year.
The cost to open a Yummy Cupcakes shop, according to the company, varies depending on build-out requirements, but is estimated to be between $149,000 and $290,000, including franchise fees.
Kevin Burke, managing director at West L.A. investment banking firm Trinity Capital LLC, which specializes in the restaurant industry, said he's a fan of Yummy Cupcakes, but he's dubious it can thrive in Middle America.
He said he thinks most American consumers who've got $20 to spend on food would prefer to spend it on a meal than on a few cupcakes or other nonessential food items.
"They've got a great product, but there are a limited number of markets that can produce the economics they've experienced in Los Angeles," he said.
But Soforenko said she believes American consumers will always have a place in their hearts and bellies for high-quality cupcake shops.
"The bad ones will die off, but the good ones will sustain in the end," she said.
– Bethany Firnhaber
For reprint and licensing requests for this article, CLICK HERE.