New Owner Sees Net Gain For Beach Volleyball Tour
SPORTS: Donald Sun puts Manhattan Beach Open back on AVP's schedule.
Monday, June 24, 2013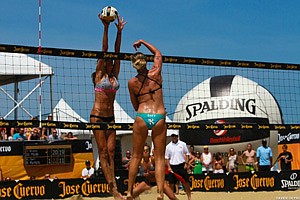 The Association of Volleyball Professionals was in financial shambles three years ago. The organization folded right before its big event, the Manhattan Beach Open.
Since then, the event has been staged in a scaled-down version. But the beach volleyball organization is coming back to Manhattan Beach in a big way Aug. 23-25.
Donald Sun, a former tech exec from Orange County, bought the tour last year and has been rallying it since.
The AVP started in 1983 with $275,000 in prize money for the season, and that figure grew to $5 million. But enthusiasm for volleyball is tied to the Olympics, and interest in the sport faded after the Beijing Games in 2008. On top of that, star player Kerri Walsh got pregnant and the association's TV contract wasn't renewed. With diminished money coming in, AVP filed for bankruptcy reorganization in 2010.
The city and the California Beach Volleyball Association put on the event that year. Then IMG, a sports and media company in New York, teamed up with USA Volleyball of Colorado Springs, Colo., to stage the Manhattan Beach Open in 2011 and 2012, but it was smaller than before.
Meanwhile, Sun was at a crossroads after a 14-year career as a tech executive. He wanted to do something different, something he was passionate about. He played volleyball at Irvine High School and followed the AVP tour in his younger days.
"Once you become a volleyball player, it gets in your blood," said Sun, whose father is David Sun, chief executive of Fountain Valley tech company Kingston Technology Corp.
So when the successor company to AVP put it on the market last year, Sun's AOS Group "took a leap of faith," as he put it, and bought the association and its assets for $2 million, according to published reports.
Sun will keep the business model of the AVP of the past but will expand the tour at his own tempo.
The tour has always been primarily funded by sponsorships and still is. Currently, AVP's biggest sponsor is Chicago's Wilson Sporting Goods Co. and Sun said the tour is looking for more sponsors.
He said AVP's best assets are the players on its tours. Players such as Olympians Walsh and Todd Rogers are all signed to the AVP, which helps pull in sponsors.
"You have to have the best assets to survive as a brand," Sun said. "It makes that phone call to sponsors much easier."
Prev Next
For reprint and licensing requests for this article, CLICK HERE.