Small Cap, Big Pay
Special Report: Executive Compensation
Monday, June 17, 2013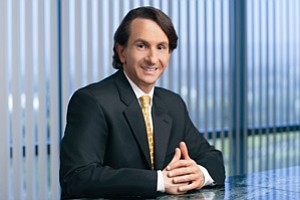 The clinical trials for a new drug that might treat advanced-stage breast cancer have been good for Alan Auerbach.
The chief executive of drug-making company Puma Biotechnology Inc. earned a total compensation package of $29.1 million last year after strong growth of the company's stock – which has more than tripled in value since going public last spring.
So even though the market capitalization of the company does not rank it among Los Angeles County's 50 largest public companies, Auerbach earned one of the highest compensation packages for an L.A. executive last year, according to the Business Journal's annual tally of executive compensation.
The same could be said of Kennedy-Wilson Holdings Inc.'s William J. McMorrow, True Religion Apparel Inc.'s Jeffrey Lubell and American Apparel Inc.'s Dov Charney.
Nearly half – 22 – of the 50 best-paid chief executives at L.A. public companies work for companies with market caps below $2 billion, proving that you don't need to lead one of the biggest companies to earn one of the county's highest compensation packages.
Paul Hodgson, a partner who follows executive compensation at corporate governance consultancy BHJ Partners in Portland, Maine, said the packages show company size is only one factor in determining a chief executive's pay.
"You can get situations where you find a CEO of a much smaller company who did particularly well that year in meeting targets being rewarded much more than a larger company's CEO," he said, "thus turning on its head the notion that CEOs of larger companies are paid more."
Thirteen chief executives of smaller-cap companies made the list for the first time as the Business Journal revamped the way it ranks executive compensation this year to include all 165 L.A.-based public companies. In prior years, the rankings only tallied compensation for chief executives at the 50 largest companies by market capitalization.
Performance package
The bulk of the compensation for the chief executives on the list came last year from profit-sharing agreements or stock awards and options, which are increasingly attractive as the economy and marketplace recover.
David Aboody, professor of accounting at UCLA's Anderson School of Management, said it's not surprising for chief executives at smaller companies to earn most of their compensation outside of their base salaries.
"With just cash and bonuses, you find a linear relationship between the market cap of a company and the compensation of its executive," he said. "In small companies, there is a larger weight given to noncash compensation because they usually don't have the cash. In a high-risk field, like biotech, it makes sense to give options because they're more valuable with the more risk."
Executives at companies large and small enjoyed good compensation last year as the markets rose considerably. Both the LABJ Stock Index and the S&P 500 are up more than 20 percent over the last 52 weeks.
In the aggregate, the 50 chief executives atop the list took home $584 million in compensation in 2012, a 40 percent increase over the previous year. Notably, the value of stock awards grew 79 percent to $255 million last year compared with the year earlier and salaries grew by just 7 percent.
The cumulative increase might be skewed by video-game maker Activision Blizzard Inc.'s chief executive, Robert A. Kotick, whose gross compensation jumped 680 percent to $64.9 million, catapulting him 15 spots to the No. 1 slot on the list. While his salary increased 90 percent over 2011 levels, the bulk of his pay package came from a $56 million stock award he received as part of a contract extending his term to 2016.
Without Kotick, executive pay was up only 24 percent from the previous year to $519 million.
The Business Journal ranked executives by total company compensation, including salary, bonuses, stock and option grants, and other awards, as listed in public filings. (See page 19.)
Small cap, big pay
Stock performance was the driving force behind the pay packages of the chief executives, as companies used rising share prices to justify higher pay packages for executives last year.
It hasn't always been that way, said Aboody.
"Twenty years ago, a big increase in the wealth of shareholders didn't immediately mean an increase in wealth of executives, but my hunch is in the last 10 years, it has," he said. "We see CEOs get more and more of the value of the company, in a sense. If you calculate the options, they're getting more shares of the company."
Among those benefiting from this kind of profit-sharing perk is Auerbach, who made his debut on the list at No. 3.
He founded Puma Biotechnology in 2010 after the public company he founded, Cougar Biotechnology, was sold to Johnson & Johnson Services Inc. for nearly $1 billion.
Today, Puma's lead drug, neratinib, is in final clinical trials to treat advanced-stage breast cancer, and some analysts estimate worldwide sales could exceed $600 million by 2020 if it's approved by regulators, which could happen as soon as next year.
There is also speculation that the Westwood firm could be bought for a premium as well. The company, which went public in May 2012, saw its stock close at $37.51 on June 12, up 206 percent from a year earlier.
As the head of a 50-employee company with a market cap of $1 billion, Auerbach's salary was only $470,000, and he received a bonus of $235,000. The bulk of his $29.1 million in gross compensation came from a stock warrant valued at $25.8 million.
Comparatively, his 2011 compensation was only his salary: a modest $157,000, according a Securities and Exchange Commission filing.
Meanwhile, Charney, chairman and chief executive of downtown L.A. clothing maker American Apparel, saw his compensation jump 25 percent over the year-earlier period after the company's stock more than doubled.
Charney, No. 12 on the list, took home a $14.5 million compensation package, which overwhelming came from a stock award valued at nearly $12.5 million.
Analysts said that American Apparel, which has a market cap of just $217 million, has made the turnaround it needed after losing 2,000 employees in a series of immigration raids three years ago. Since then, it has had difficulty producing the amounts and types of clothing needed for its stores. But last year, the company started improving its inventory and distribution systems. As a result, its sales began rising and investors began investing again. After closing at 86 cents June 12 last year, the stock climbed to close above $2 last week.
Others who crept into the list from smaller-cap firms include McMorrow, chairman-chief executive of Beverly Hills real estate firm Kennedy-Wilson, who placed 10th on the list with a total compensation package of $15.9 million, two-thirds of which came from a $10.7 million stock award.
Lubell, former chief executive of Vernon clothier True Religion, earned $9.3 million in 2012, nearly half of which came from a $4.3 million stock award. Lubell, No. 21 on the list, agreed to step down from his position earlier this year before the company was acquired by New York investment firm TowerBrook Capital Partners LP.
Large cap, big pay
Despite the presence of so many small-cap executives on the list, running a large-cap company still had its perks.
Kotick, chief executive of video-game maker Activision Blizzard, with a market cap of $16.3 billion, took home the county's largest pay package: $64.9 million.
That vaulted him to No. 2 among all U.S. public companies last year, according to Bloomberg News, behind Oracle Corp.'s Larry Ellison, who earned $96.2 million.
The majority of Kotick's increase came from stock awards totaling $55.9 million, though they won't vest until his contract expires in 2016.
Last year was a record year for Activision, which is majority-owned by Vivendi SA in Paris. It generated net income of $1.2 billion, $1.01 a share, on record revenues of $4.9 billion in 2012.
Under Kotick, Activision became the largest third-party interactive entertainment publisher in the world and has overseen six $1 billion franchises of critically acclaimed and commercially successful video games.
Kotick bumped Walt Disney Co. Chief Executive Robert Iger to the No. 2 spot, despite Iger's 20 percent compensation increase to $40.2 million.
Disney's market cap of nearly $114 billion is the largest of any publicly traded company in the county. It had a record year of revenue and profit that helped push its stock up 33 percent to nearly $50 in 2012.

Kotick and Iger also benefit from being in an industry where company performance is just one factor in calculating compensation, Hodgson said.
"The two most highly paid industries are entertainment and finance," Hodgson said. "One of the drivers behind financial and entertainment industry compensation is the fact that they have employees who are incredibly highly paid as well. It's seen as important to make sure that the CEO maintains the differential between his or her pay and the pay of the employees."
For reprint and licensing requests for this article, CLICK HERE.