Small Cap, Big Pay
Special Report: Executive Compensation
Monday, June 17, 2013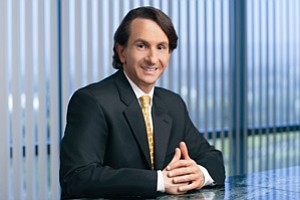 The clinical trials for a new drug that might treat advanced-stage breast cancer have been good for Alan Auerbach.
The chief executive of drug-making company Puma Biotechnology Inc. earned a total compensation package of $29.1 million last year after strong growth of the company's stock – which has more than tripled in value since going public last spring.
So even though the market capitalization of the company does not rank it among Los Angeles County's 50 largest public companies, Auerbach earned one of the highest compensation packages for an L.A. executive last year, according to the Business Journal's annual tally of executive compensation.
The same could be said of Kennedy-Wilson Holdings Inc.'s William J. McMorrow, True Religion Apparel Inc.'s Jeffrey Lubell and American Apparel Inc.'s Dov Charney.
Nearly half – 22 – of the 50 best-paid chief executives at L.A. public companies work for companies with market caps below $2 billion, proving that you don't need to lead one of the biggest companies to earn one of the county's highest compensation packages.
Paul Hodgson, a partner who follows executive compensation at corporate governance consultancy BHJ Partners in Portland, Maine, said the packages show company size is only one factor in determining a chief executive's pay.
"You can get situations where you find a CEO of a much smaller company who did particularly well that year in meeting targets being rewarded much more than a larger company's CEO," he said, "thus turning on its head the notion that CEOs of larger companies are paid more."
Thirteen chief executives of smaller-cap companies made the list for the first time as the Business Journal revamped the way it ranks executive compensation this year to include all 165 L.A.-based public companies. In prior years, the rankings only tallied compensation for chief executives at the 50 largest companies by market capitalization.
Performance package
The bulk of the compensation for the chief executives on the list came last year from profit-sharing agreements or stock awards and options, which are increasingly attractive as the economy and marketplace recover.
David Aboody, professor of accounting at UCLA's Anderson School of Management, said it's not surprising for chief executives at smaller companies to earn most of their compensation outside of their base salaries.
"With just cash and bonuses, you find a linear relationship between the market cap of a company and the compensation of its executive," he said. "In small companies, there is a larger weight given to noncash compensation because they usually don't have the cash. In a high-risk field, like biotech, it makes sense to give options because they're more valuable with the more risk."
Prev Next
For reprint and licensing requests for this article, CLICK HERE.