Property Deal Splits Partners
Real Estate: Developer's terms too much for investor.
Monday, June 10, 2013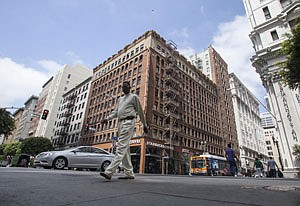 A dispute between two of downtown L.A.'s more active residential real estate players has halted what would have been the priciest deal for a downtown multifamily building in more than a year.
Bel Air investor Capital Foresight LP and developer Izek Shomof, partners in a number of residential projects in downtown, were on opposite sides of the table in a $47.5 million deal in which Shomof was trying to sell the Hayward Hotel residences to Capital Foresight.
That deal has fallen apart, along with some of their other partnerships, as Capital Foresight alleges Shomof demanded an interest in properties for which it was negotiating.
Though he would not address the fight that has broken out over the Hayward transaction, Naty Saidoff, Capital Foresight principal, confirmed that Shomof is no longer involved in a different project, a 250-unit condo project at the Title Insurance Building at 433 S. Spring Street.
"The partnership began to fracture last year, and Saidoff decided to go on his own, so that's when the partnership deals on the other properties began to unravel," said Mark Tarczynski, executive vice president at Colliers International, who worked with Capital Foresight last year.
The fight over the Hayward, which is mostly affordable housing, underscores the extent of the turnaround in residential real estate downtown and pits a longtime downtown player with one newer to the area.
Shomof, who did not respond to repeated requests for comment, has been instrumental in the rejuvenation of South Spring Street and downtown's Historic Core. He redeveloped several buildings on the 600 block of Spring, including Premiere Towers, Spring Tower Lofts and City Lofts, bringing in ground-floor cafes and shops that enlivened the neighborhood.
He purchased the Hayward in 2002 out of foreclosure for $5.8 million. At the time, it was a rundown crime den, but he installed security cameras and completed façade improvements as the neighborhood gentrified. Last year, a Starbucks opened on the ground floor.
Shomof has also gained notice for betting early on a local condo rebound in the wake of the economic downturn. He built a condo project in 2011 in Beverly Hills and successfully sold all 25 units. He has two larger condo projects on tap in downtown Long Beach that total more than 200 units.
The relationship between Shomof and Capital Foresight evolved over the span of a few months last year, as the two partnered on a $9.8 million deal for the Baltimore, King Edward and Leland hotels at a bankruptcy auction in March 2012. Shomof was also brought in as Capital Foresight's property manager after its $21.5 million purchase in April 2012 of the Title Insurance Building, an old office property the team planned to convert to condo lofts.
Saidoff said his interest in the 525-unit Hayward was not a condo play, pointing out that most of the building was under an affordable housing contract.
"It's still cheap relative to the value," he said. "This is value driven."
The $47.5 million Hayward deal, detailed in a lawsuit filed by Capital Foresight in Los Angeles Superior Court, would have eclipsed any other downtown multifamily or hospitality building sale in total value since last year, according to real estate services company CoStar Group Inc. At $424 a square foot, it would be the third priciest during that span on a square-foot basis.
The partners struck the deal for the Hayward in April 2012, with escrow to close within one year. Capital Foresight agreed to pay $7.5 million upfront and to secure $40 million in loans. The price represented an appreciation of more than 700 percent over 10 years for Shomof.
But, according to Capital Foresight's lawsuit, Shomof said he would not go forward with the sale unless he was given "a 50 percent interest in certain other real property for which Capital Foresight's representatives were negotiating at the time."
The lawsuit does not state which properties, but Tarczynski said Shomof is known to have been interested in the Title Insurance condo project. Shomof is no longer involved in the project following the partnership breakup.
Though Capital Foresight doesn't plan to convert the Hayward, it still covets the property and has sued to force Shomof to sell. Shomof has filed a motion to have the lis pendens – the notice of litigation tied to the property – removed, which would free him to sell the property to a third party.
"My guess would be that the seller is trying to either sell it to another party while going through mediation or we have a bit of gamesmanship," said Damon Mamalakis, an attorney at Armbruster Goldsmith & Delvac LLP who reviewed the case for the Business Journal. "We have some bad blood on another possible deal, so now they're using this particular deal as their fighting grounds."
For reprint and licensing requests for this article, CLICK HERE.