Private Equity Firm Picks Up Acquisition Pace
INVESTMENT: Clearlake buys IT firm and fashion website in two recent deals.
Monday, June 10, 2013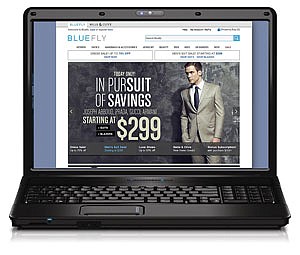 Santa Monica private equity firm Clearlake Capital Group has been putting a new fund to work with two acquisitions announced in recent weeks.
The firm last week said it agreed to buy a unit of Agilysys Inc., an IT company in Alpharetta, Ga., that provides services to retailers. The unit, called Retail Systems Group, will be renamed Kyrus Solutions after the acquisition, which is expected to close in the next few months.
The company provides products such as mobile points-of-sale systems – think smartphones and tablets equipped with credit card readers – that Clearlake Vice President Prashant Mehrotra said retailers are using more as they seek to make brick-and-mortar shopping more convenient.
"We think that Kyrus is well-positioned for future growth because the broader market is an attractive opportunity," Mehrotra said. "Retailers are continuing to invest in technology to enhance the consumer experience."
Clearlake will pay about $35 million, according to documents filed with the Securities and Exchange Commission.
That acquisition follows a roughly $13 million deal Clearlake closed in late May. It bought all outstanding shares of online fashion retailer Bluefly Inc. of New York. The company had been publicly traded on the Nasdaq.
Bluefly lost $4.4 million in the first quarter on revenue of nearly $20 million.
Clearlake declined to comment on the Bluefly acquisition.
The private equity firm is widely diversified, with investments in tech, manufacturing and even oil field services companies, but it has invested in a handful of e-commerce companies, including Buy.com. Bluefly executives said new ownership will reinvigorate their company.
"Clearlake brings an outstanding team with e-commerce and financial expertise, and they are dedicated to re-energizing this business and brand at a pivotal time in our sector," Joseph Park, Bluefly's chief executive, said in a statement.
Both acquisitions come a few months after Clearlake closed a new $785 million fund, its third.
Settled, Sold
Century City's PacWest Bancorp completed its acquisition of Westlake Village bank First California Financial Group Inc. on May 31 – the same day the Federal Deposit Insurance Corp. announced it had reached a settlement with First California over alleged deceptive business practices.
The settlement calls for First California and an Austin, Texas, company to pay $1.1 million in restitution to customers who used prepaid federal benefits cards issued by the bank.
The FDIC said First California and Achieve Financial Services LLP in Austin advertised free bill pay and other services, but cardholders did not receive those services. Also, it was alleged the companies charged fees that were not clearly disclosed.
Along with restitution, First California will pay a $600,000 penalty to the Treasury Department. In the settlement, First California neither admitted nor denied any wrongdoing. PacWest executives did not return calls for comment.
The settlement was signed May 28, just days before the PacWest acquisition closed, and it's not clear whether First California or its new owner will pay.
PacWest has at least one other bit of old First California business remaining: lawsuits filed against the bank by several political campaigns.
The campaigns of U.S. Sen. Dianne Feinstein and other California Democrats have alleged First California bankers knew about an embezzlement scheme by now-jailed campaign treasurer Kinde Durkee. Nine such lawsuits are pending against First California.
Union Merger
A year after calling off a merger with a massive Manhattan Beach credit union, Huntington Beach's NuVision Federal Credit Union announced it will merge with Carson's tiny Pacific Resource Credit Union.
Pacific Resource has about 9,000 members, $97 million in assets and two branches – one in Carson and one in downtown Los Angeles. NuVision, the second largest credit union in Orange County, has nearly 80,000 members, $1.2 billion in assets and more than a dozen branches.
The merger will take effect July 1, with Pacific Resource being folded into NuVision. Roger Ballard, NuVision's chief executive, will stay in that role, while James McHale, his counterpart at Pacific Resource, will stay on as chief risk officer.
In 2010, NuVision and Manhattan Beach's Kinecta Federal Credit Union, the second largest in Los Angeles County, announced a plan to merge, but both credit unions walked away from the deal last year.
C-Suite News
Bob Graziano has joined J.P. Morgan Private Bank in Century City as L.A. market manager. Graziano was previously a managing partner in the local office of Northern Trust Corp. but is better known as a former president of the Los Angeles Dodgers. … Chuck Davis, former chief executive of L.A.'s Fandango, has joined the Teaching Co. LLC as executive chairman. Teaching Co., based in Chantilly, Va., is a portfolio company of West L.A. private equity firm Brentwood Associates.
Staff reporter James Rufus Koren can be reached at jrkoren@labusinessjournal.com or (323) 549-5225, ext. 225.
For reprint and licensing requests for this article, CLICK HERE.