Citrus Partners Peeled Apart
FRUITS: Resnicks, Sun Pacific to take orange feud to food aisle.
Monday, June 3, 2013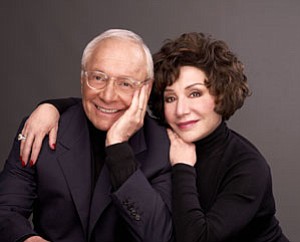 The alliance behind the Cuties brand of seedless mandarin oranges has officially gone sour, the long-fermenting relationship sending the principals down the path to a marketing war in the produce aisle.
Roll Global LLC, a West L.A.-headquartered agricultural empire led by billionaire couple Stewart and Lynda Resnick, said last month that it had ended its joint venture with Pasadena grower Sun Pacific Marketing, with Roll agreeing to sell its share to its former partner. The value of the transaction was not disclosed.
But Paramount Citrus, the Roll subsidiary that partnered with Sun Pacific, is by no means walking away from mandarins – a crop that, on an acre-by-acre basis, has grown into the most valuable citrus in the country. Rather, it plans to sell those same oranges under its own "Wonderful" label, a brand that also encompasses almonds, pistachios and pomegranates, in a partnership with Fowler Packing Co. Paramount and Fowler said that together they would control more than 60 percent of the state's mandarin and tangerine crop.
The split comes after a period of acrimony in the Cuties partnership that saw Paramount file a trademark lawsuit against Sun Pacific. Though the suit was eventually withdrawn, the public airing of grievances continues over a citrus brand that racked up almost $350 million in sales last year.
Partly at issue has been the Resnicks' aggressive marketing campaign to promote Cuties nationally. Sun Pacific executives have blamed that high-cost strategy for slicing into profits for the popular fruit.
But David Krause, Paramount's president, said Sun Pacific just didn't get how valuable that marketing is.
"They don't believe in consumer marketing in the ways the Resnicks do," Krause said. "It's about a comprehensive program and promoting a brand and crafting a message in a way they didn't grasp."
While Krause promised Paramount would unleash an onslaught of marketing for the fall in promoting the brand, Bob DiPiazza, president of Sun Pacific, argued the still-unbranded fruit will face one major hurdle.
"I don't think anyone knows what a Wonderful mandarin is right now," DiPiazza said. "Right now that brand awareness is good only for pistachios and almonds."
Market share
Indeed, as Paramount embarks on its journey to market its own mandarins, the company might find itself a victim of its own success. The two companies worked hard to establish Cuties as a big name in produce; as Kleenex is to tissues, the brand name is synonymous with the product. It might not be easy to peel customers away from a known brand like Cuties.
"It's not like 10 or 15 ago years when seedless mandarins were new," said Daniel Sumner, a professor of agriculture at UC Davis. "Every late fall, you walk into the store and expect Cuties to be there. The market is a harder place to launch into now."
The sparring fruit growers were first united in the late '90s, when Sun Pacific executive Berne Evans III brought the Spanish origin Afourer and Clementine varieties of seedless mandarins to California.
At the time, there were few brand names in the citrus market, which had been dominated by navel oranges, largely promoted by the Sunkist grower's cooperative.
Evans partnered with Paramount Farms, which owns more than 10,000 acres of orange groves throughout the San Joaquin Valley, to grow and market the fruit. The first mandarin groves were planted in 2000 and began bearing fruit in the 2003-04 growing season. (As legend goes, the name "cuties" was coined by Lynda Resnick, who, upon holding the tiny fruit, commented on how "cute" they looked.)
Under the terms of their agreement, Paramount and Sun Pacific would jointly own the Cuties brand, with each producing and selling in equal amounts.
Sales of the small fruit have been on a consistent upward trajectory. There were 21 million boxes of Cuties packaged and shipped during the 2005-06 growing season, according to a report from the Wall Street Journal. That has since rocketed up to 75 million boxes in the 2011-12 season.
Relations between the two sides began to deteriorate three years ago, however, in a dispute centering on whether and how to sell Cuties juice; Sun Pacific wished to bottle and sell the juiced oranges, both in fresh and concentrate form.
Trademark dilution?
Paramount alleged in a court filing that Stewart Resnick initially consented to the plan and that Paramount moved forward and paid for construction of a juicing plant. However, the suit alleges, Resnick later reneged on the verbal agreement, wishing only to participate in a juice concentrate business. The Sun Pacific juicing operation moved forward and Paramount sued, claiming the action diluted the Cuties trademark.
The fresh Cuties juice, featuring the brand's logo and smiling orange, hit store shelves in late 2011.
The lawsuit was later withdrawn. The two sides went to arbitration, which resulted in the dissolution of the partnership last month.
Creating two competing mandarin brands presents particular challenges for each side.
For Sun Pacific, the breakup with Paramount meant losing the resources of one of the largest agricultural landowners in the state. DiPiazza said his company is lining up outside growers to help meet demand. While he promised Sun Pacific will be able to stock Cuties this fall, it's still unclear if the smaller company can meet demand.
"That's a distinct possibility that we will not be able to service every customer as we did in the past," he said. "We'll need to see how many new groves are coming on and how the supply is."
DiPiazza said the company is still six to eight weeks from determining that possibility.
Meanwhile, Paramount's expectations for the Wonderful-brand mandarins, which will officially reveal its name June 10, are high. The Wonderful label of citrus is slated to include grapefruit as well; Roll purchased a pair of Texas grapefruit growers last year, giving the company a 70 percent stake in that market.
Krause predicted that within two or three years it could actually top Cuties sales.
He backed up this confidence with the success of the Resnicks' marketing prowess. It's a force that has turned once overlooked crops such as pomegranates and pistachios into the widely sold POM Wonderful and Wonderful Pistachios, respectively.
Much of that strategy has been led by aggressive, at times controversial, campaigns. The Federal Trade Commission rejected as misleading POM Wonderful's health benefit claims.
Most recently, Wonderful pistachios has been using a TV spot featuring South Korean pop star Psy dancing with man-size nuts.
The spot was created by Fire Station Agency, an ad firm owned by Roll. Although Krause declined to reveal any specifics about Paramount's upcoming mandarin campaign, he promised one thing: It will be big.
"It's going to be one of the unparalleled marketing efforts in produce," he said. "We're putting all the efforts and energy into the enterprise. We believe we'll be successful and eclipse what Cuties has achieved."
But television campaigns are only one part of the produce marketing game, said Lee Pearlstein, president of marketing firm Lee & Associates. For Paramount's mandarins to succeed, it all comes down to the placement in the produce aisle. No doubt, to be in firing distance of Cuties.
"All the advertising in the world doesn't mean a thing if the market doesn't cooperate," Pearlstein said. "Knowing Paramount though, my bet is they'll go all out."
For reprint and licensing requests for this article, CLICK HERE.