Beached Property
REAL ESTATE: Bank finally works to turn shoreline eyesore into luxury condos.
Monday, June 3, 2013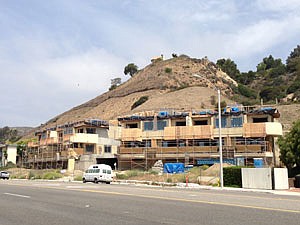 When construction on the last condo project in Malibu began, Wilson Phillips' pop hit "Hold On" topped the charts. That was 1990, and for the last 23 years, hold on is exactly what the unfinished project has done.
Now, after decades of financial and legal setbacks left the nearly completed eight-unit Pacific Coast Highway development languishing behind a chain-link fence, its transformation from a late-'80s eyesore into a sleek modern project is under way.
A unit of Builders Bank, a Chicago lender that foreclosed on the project in 2009, in April began rehabbing what is now called Carbon Beach Terrace and plans to deliver the high-end units to the market by fall.
"We are trying to turn it into a project of 2013 instead of 1983," said Greg Walls, the Builders Bank senior vice president overseeing the project.
The activity – particularly the redesign – comes as a relief to neighbors, who had called the early design for the 3-acre property at 22065 Pacific Coast Highway "atrocious." The original design called for a bubble-shaped, peach-colored structure with curved, greenhouselike windows. It was a look that stuck out in posh Carbon Beach, which, with residents like David Geffen and Larry Ellison owning beachfront property across PCH, is known as Billionaire's Beach.
Walls said the bank knew the beachside development needed a facelift if it was going to ever come to market.
"It might have been great back then, but not now. It was dated," he said.
Builders Bank, which took the property for $14 million at auction in 2011, decided to keep the layout of the development intact but change the design.
Remaining are eight 3,200-square-foot, three-bedroom residences, each with in-unit elevators, two two-car garages and private rooftops with hot tubs. But the white and grey exteriors now reflect a clean, modern geometric style, with some squared-off balconies and windows.
When completed, Carbon Beach Terrace will be the first condo project in at least 20 years in Malibu and the only condos on Carbon Beach.
Coldwell Banker broker Gail Copley, who had the listing for the project under an earlier ownership group, welcomed the improvements.
"I think all the choices they made are excellent," she said. "A lot of people call me about it. There's no new product with that kind of square footage. Those are like small homes. When you have listings in Carbon Beach, they are usually $35 million homes."
New plans
While the snake-bitten development has been stuck in place, two municipal governments and two recessions have swirled around it.
The initial plan for the site, drafted in the 1980s, envisioned a 16-unit project and was approved by Los Angeles County in 1990, the year before Malibu incorporated as a city. Once incorporated, city officials objected to the legacy project, but it was nevertheless allowed to move forward under county approvals.
But when the initial effort stalled and construction stopped in the mid-'90s, the city refused to reissue its permits. A court battle ensued; it was settled in 2001 and the city agreed to a scaled-down version of the project. Those plans, which called for eight units, were approved by 2003.
It was at that stage Builders Bank came into the picture, putting up more than $9 million to finance the pared-down project. Construction restarted in 2006, but the work carried on into the recession. In 2009, the bank foreclosed on the property after none of the units sold at the $3.2 million asking price and the developer defaulted on the loan.
The property was put into receivership, fell into disrepair and was put up for auction in 2011. Builders Bank, which bought it back with the highest bid at $14 million, is now into the project for more than $21 million
Despite the poor showing last decade, Walls said the bank saw potential in the project.
"There's not a lot of condo inventory in Malibu, but there's a great demand and no new projects, so we think it's a great time," Walls said. "There's nothing like Malibu anywhere else. We've always had great faith in Malibu and still do."
He said the units should be completed and ready for sale by the fall, though he declined to disclose new asking prices.
But even the previous $3.2 million price tag was well above the median price for condos in the city, which has hovered under $1 million in the last several years, according to Seattle brokerage Redfin.
In March, 11 condos in the city sold for a median price of $820,000. Only 20 were listed for sale, at a median asking price of $849,000.
However, on a square-foot basis, the price is more in line with the local market. The $3.2 million price comes out to $1,000 per square foot. The median price of five pending condo sales along the coast is $1,116 per square foot, according to Redfin.
Corina Galen, a Redfin agent who does deals in Malibu, said the units might benefit from the improving real estate market, though it could take time to find the right buyers.
"As far as 2013 goes, it's definitely a much more promising year than previous years," Galen said.
Also, assuming each unit sold for $3.2 million, gross proceeds would be $25.6 million – not much more than the bank's exposure.
Whatever the price point, Malibu officials are eager to see the construction completed. Mayor Lou La Monte said he's pleased to hear of the progress at the site and hopes it might inspire some modernizing in the surrounding area.
"It was just abandoned for such a long time; I'm glad that something is actually happening there," he said. "When things start to look better, other things around it start to look better."
For reprint and licensing requests for this article, CLICK HERE.