Beached Property
REAL ESTATE: Bank finally works to turn shoreline eyesore into luxury condos.
Monday, June 3, 2013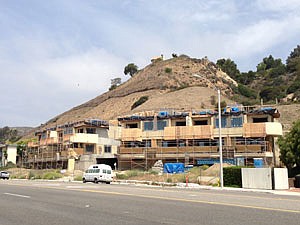 When construction on the last condo project in Malibu began, Wilson Phillips' pop hit "Hold On" topped the charts. That was 1990, and for the last 23 years, hold on is exactly what the unfinished project has done.
Now, after decades of financial and legal setbacks left the nearly completed eight-unit Pacific Coast Highway development languishing behind a chain-link fence, its transformation from a late-'80s eyesore into a sleek modern project is under way.
A unit of Builders Bank, a Chicago lender that foreclosed on the project in 2009, in April began rehabbing what is now called Carbon Beach Terrace and plans to deliver the high-end units to the market by fall.
"We are trying to turn it into a project of 2013 instead of 1983," said Greg Walls, the Builders Bank senior vice president overseeing the project.
The activity – particularly the redesign – comes as a relief to neighbors, who had called the early design for the 3-acre property at 22065 Pacific Coast Highway "atrocious." The original design called for a bubble-shaped, peach-colored structure with curved, greenhouselike windows. It was a look that stuck out in posh Carbon Beach, which, with residents like David Geffen and Larry Ellison owning beachfront property across PCH, is known as Billionaire's Beach.
Walls said the bank knew the beachside development needed a facelift if it was going to ever come to market.
"It might have been great back then, but not now. It was dated," he said.
Builders Bank, which took the property for $14 million at auction in 2011, decided to keep the layout of the development intact but change the design.
Remaining are eight 3,200-square-foot, three-bedroom residences, each with in-unit elevators, two two-car garages and private rooftops with hot tubs. But the white and grey exteriors now reflect a clean, modern geometric style, with some squared-off balconies and windows.
When completed, Carbon Beach Terrace will be the first condo project in at least 20 years in Malibu and the only condos on Carbon Beach.
Coldwell Banker broker Gail Copley, who had the listing for the project under an earlier ownership group, welcomed the improvements.
"I think all the choices they made are excellent," she said. "A lot of people call me about it. There's no new product with that kind of square footage. Those are like small homes. When you have listings in Carbon Beach, they are usually $35 million homes."
Prev Next
For reprint and licensing requests for this article, CLICK HERE.