Hotelier Finds Room in China
HOSPITALITY: SBE takes upscale brand into market.
Monday, July 29, 2013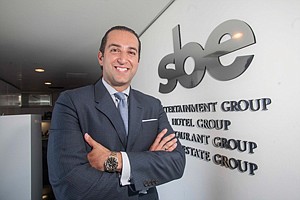 SBE Entertainment Group is checking into China.
The L.A. hospitality company said this month that it would expand its trendy SLS Hotels brand to the world's most populous country, starting with Shanghai, Beijing, Wuxi and Kunming. The Chinese outposts, expected to open in 2015, will be the first for the L.A. hotel chain outside the United States.
SBE President Sam Bakhshandehpour, who joined the company last fall, made the announcement at a private event in Shanghai. The company, he said, would license its hotel brand to the Chinese company Palace Hospitality, which will own and operate the first four hotels.
Sam Nazarian, SBE's founder and chief executive, said increased business and leisure travel to and within China made the region an attractive market.
"China is home to one of the fastest-growing tourism markets worldwide," he said in a statement.
Tourism in China has matured significantly in the last couple of decades, spurred on by the region's growing middle class and a relaxation of travel restrictions imposed by Chinese authorities. The United Nations World Trade Organization has predicted that by 2015 – the year SLS will open its first hotels in the region – China will have become the top inbound tourism destination in the world.
Naureen Ahmed, manager of marketing and analysis in London for STR Global, said China is a market many prominent hotel chains – and businesses in general – are eager to enter.
"I think hosting the Olympics in 2008 helped to put China on the map," she said. "But in general, now, whether you talk about hotels or economics, people are very much aware of China."
But Bakhshandehpour said the decision to launch the SLS brand in China was not just about market economics, it was also about investors.
SBE financed its $450 million renovation of the former Sahara Casino and Hotel on the Las Vegas strip in large part with money from Asian investors looking to gain a foothold in the U.S. Would-be emigrants from China and Thailand seeking green cards through the U.S. immigrant investment program known as EB-5 contributed more than $300 million toward the project. Throughout that fundraising process and a similar development project in New York, SBE developed important investor relationships.
"After financing the SLS Las Vegas and the SLS Park Avenue in New York, we know a lot of key opinion leaders in China," Bakhshandehpour said. "Their appetite for the SLS brand was flattering."
Entertainment opportunities
SBE, which will charge a licensing fee for the use of its brand, will work closely with Palace Hospitality to conceive distinct features and entertainment opportunities for each hotel. Details such as room counts and on-site restaurants will be determined when Bakhshandehpour and Nazarian fly to China in September. Bakhshandehpour, however, said he expects various mixes of SBE restaurants and nightlife venues – such as Spanish restaurant Bazaar by Jose Andres and sushi chain Katsuya – to populate the hotels at first. SBE already has some experience overseas, having licensed its Katsuya brand to Kuwait's M.H. Alshaya Co. last year.
"When we enter a new market, we lead with our own brands," he said.
He admitted that maintaining high standards for the luxury hotel brand halfway around the world will be a challenge, but said he thinks that SBE and Palace Hospitality are up to the task.
"We think the key to being successful and doing justice to your brand is having the right partner," he said. "We're confident, just like we were with Alshaya, that Palace Hospitality is best in class."
SBE, which employs about 4,000 people across more than 80 hotel, restaurant and nightlife properties, plans to open an office in Shanghai to work with Palace Hospitality and manage the L.A. hotel chain's marketing and branding efforts in China. The company owns and operates two SLS hotels – in Beverly Hills and Miami – and has two more under construction to open next year in Las Vegas and New York. Bakhshandehpour said SBE's rapid expansion plans for the SLS Hotel brand hinged on establishing the chain in those four gateway markets in the U.S. before venturing overseas.
"We wanted to make sure first and foremost that we developed the SLS Hotel brand in the United States," he said.
Now, in addition to its China projects, the company has plans to launch SLS hotels in secondary U.S. markets, including Seattle and Philadelphia, in coming years. The company is also evaluating real estate opportunities in Dallas, Chicago, Boston and Washington.
Bakhshandehpour said the move into Asia is the beginning of a larger plan for global expansion for the SLS brand. Other markets the company has considered for the hotel chain include Latin America and the Middle East.
"We never get complacent, nor sit back and say, 'We've reached the point where we want to be,'" he said. "We do have global expansion plans; we're always evaluating opportunities. But timing and strategy are very important to us."
For reprint and licensing requests for this article, CLICK HERE.