Veggie Restaurant Looks Out of State To Beef Up Chain
Monday, July 22, 2013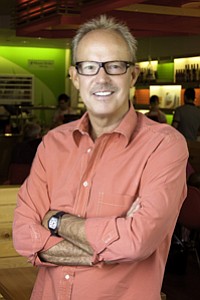 In Southern California, the birthplace of modern commercial burger culture, people aren't shy about eating the occasional cheeseburger and fries. But more and more, meals don't include meat, or any animal byproducts, for that matter.
Top of the plate in that effort in Los Angeles is vegan food chain Veggie Grill.
The Santa Monica fast-casual restaurant company, while certainly not the first in the area to cater to health-conscious vegetarians, is the first to act on an expansive national agenda.
Veggie Grill expects to double its total restaurant count from 19 to 40 by the end of 2014, beginning with outlets up and down the West Coast then soon thereafter taking on Texas and New York.
In addition to meatless and dairy-free cheeseburgers, the vegan chain serves plant-based comfort foods including macaroni and cheese; sweet potato fries; and fried "chick'n" sandwiches, made of wheat and soy proteins.
Darren Tristano, executive vice president at Chicago market research firm Technomic Inc., said he's seen an influx of health-focused restaurants, including vegetarian restaurants, open in recent years. He expects the trend will continue.
"Ten years ago, a concept like Veggie Grill had very little appeal," he said. "Today, healthy food is more top of mind. Time has caught up with this type of a concept, and it's allowing Veggie Grill to expand and be successful."
Greg Dollarhyde, who joined Veggie Grill as chief executive two years ago, said the chain plans to capitalize on the growing trend toward healthy vegetarian food.
"We really want to change the way people eat, think and talk about vegetarian food," he said. "And, like any business, we want to capitalize on our growing following while we can."
Veggie Grill has signed leases to open three restaurants in the next two months. They will be in Westlake Village, San Diego and downtown Seattle. A fourth location – in Carlsbad – is expected to begin construction soon, too.
The company is simultaneously looking for leases to open restaurants in Houston and Austin, Texas, and recently opted to cast it nets as far as New York.
Dollarhyde said the decision to take on the New York market didn't come lightly.
"When you start thinking about being 3,000 miles away from the restaurants you're opening, it's kind of a daunting task," he said. "But at the same time, we think New York is ready for our food. There's the start of a better-for-you food movement happening in New York now."
Prev Next
For reprint and licensing requests for this article, CLICK HERE.