Busted Homes Break Up Beverly Hills Buddies
INVESTMENT: Ray Irani sues friend over megamansion mess.
Monday, July 22, 2013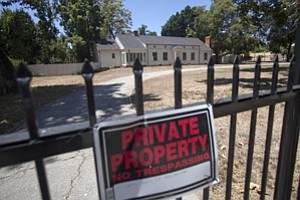 When celebrity developer Mohamed Hadid sold his Bel Air estate for $50 million, it was the priciest home sale in the country in 2010.
But some of the proceeds went to pay off an unlikely real estate financier – Ray Irani, the billionaire former chairman of Occidental Petroleum Corp.
The $2.5 million loan repayment to Irani's trust was part of a series of financial transactions related to residential real estate between the two high-profile friends. But their relationship soured after the real estate bust and the two are now fighting over who should shoulder losses.
Hadid, a developer to the rich and famous known for his recurring presence on reality TV shows such as "The Real Housewives of Beverly Hills" and "The Shahs of Sunset," claims he and Irani's trustee set up a joint venture in 2008 to develop residential properties in the L.A. area. They bought a $7.9 million home in Beverly Hills from rapper Kanye West and were targeting other projects when the market crashed, resulting in losses for both investors. Therefore, he claims, he owes Irani nothing.
Irani, however, says there was no partnership. He claims he was simply loaning his friend money, not investing in his projects, and that as a result, Hadid owes him some $6 million.
Whatever the nature of the relationship, the dispute has moved to the courts to be untangled.
That Irani, once one of the highest-paid executives in the world, and Hadid, one of Southern California's leading high-end residential developers, were jumping into doomed residential projects as late as 2008 shows how even the most sophisticated players were blindsided by the real estate crunch, said Bill Pham, a real estate attorney who reviewed the case for the Business Journal.
Case in point: West paid $7.15 million for his home in 2007 and made $750,000 when he flipped it to Hadid in March 2008. Hadid, in turn, lost $1.4 million when he was forced to unload the property in a short sale in 2009 for $6.5 million.
"There are a lot of sophisticated parties that were caught buying property high with nowhere to go," Pham said. "That looks like that's what happened here. They were just part of the market where everyone else was looking at the upswing and they went right off the cliff."
Once close – Hadid designed Irani's current home in Bel Air and has been a guest at dinner parties there – the two are now riven by the dispute.
"I would say the relationship is strained," said Lee Dresie, Irani's attorney. "Irani is very disappointed that his former friend is acting the way he's acting."
Hadid declined to comment through his attorney.
Power players
The Palestinian-born Hadid is known for building opulent homes in Beverly Hills and Bel Air that sport Turkish baths, ballrooms and movie theaters. They often are priced in the tens of millions of dollars and are snapped up by ultrawealthy foreign buyers. But he has also worked on homes for celebrities including Sylvester Stallone and built the Holmby Hills home that Michael Jackson was staying in at the time of his death. He has reportedly sold more than $250 million of residential real estate through his primary Southern California real estate agents.
"He builds large outrageous homes, which seems to appeal to the more international buyer who wants everything possible in a house," said one Westside residential broker who asked not to be named. He has toured one of Hadid's homes but has not done any deals with him.
Among his clients was Irani, born in Lebanon but likewise of Palestinian descent, and chief executive of Westwood's Occidental from 1990 to 2011. He remained chairman of Oxy until May, when shareholders forced him out. His compensation during that span was reportedly more than $1 billion, and the Business Journal estimated his net worth at $1.29 billion in May, ranking him No. 36 on its list of Wealthiest Angelenos.
Irani's Bel Air home, assessed by the county at $20.5 million, was just a five-minute walk from Hadid's former home at 630 Nimes Road, a 48,000-square-foot mansion known as Le Belvedere.
In February 2008, Hadid was approached by Kenneth Anderson, the trustee of the Ray R. Irani Trust, about investing in various residential properties, according to Hadid's Los Angeles Superior Court complaint, in which he is seeking a ruling that he does not owe Irani money.
The first property the two were involved in was West's mansion at 631 N. Crescent Drive, a "tear-down" project that the rapper reportedly had never lived in. The $7.9 million purchase was funded in part by Irani's capital infusion of $3 million, according to Hadid's lawsuit. Irani allegedly invested another $3 million for a second property and discussed investing an additional $4 million.
As part of the deal, Hadid claims he provided development services for a Palm Springs property owned by Irani's trust. Irani's attorney confirmed his client owns a home in the Palm Springs area.
Hadid alleges that the investments were secured by trust deeds on the 631 N. Crescent property as well as on Hadid's own Nimes home as a "bridge loan" until a partnership agreement was finalized.
Collapse
But the collapse of the real estate market in late 2008 halted any further plans or project work. The Crescent property was sold in October 2009 at a loss.
In February 2009, Hadid also put his Nimes home on the market. Though he eventually sold it in May 2010 for a whopping $50 million, he reportedly spent $66.5 million buying and developing the property and had priced it at $85 million.
His lawsuit claims that proceeds were "just enough money to pay off creditors" and that $2.5 million from the sale went to pay back Irani.
Irani's attorney told the Business Journal that because the relationship was strictly lender-borrower and not an investment partnership, Hadid owes the former Oxy chairman an additional $6 million in loans and interest. Anderson, the trustee, filed a cross-complaint last week.
Based on his review of the documents, Pham said it would be difficult for Hadid to get out of the loans.
"He has a tough road, because the documents are executed by him and he has to prove these are somehow invalid," he said.
It is not Hadid's first time getting caught in a real estate crunch.
He became prominent in the 1980s by building office buildings in Washington, D.C., and Ritz-Carlton hotels around the country. When the real estate market collapsed in the late '80s, he lost office buildings and his riverfront home to lenders. He moved to Los Angeles during the 1990s and reinvented himself as a megamansion developer, recently making appearances on reality television as a friend of "Real Housewives of Beverly Hills" star Lisa Vanderpump and ex-husband of another cast member, Yolanda Foster.
But ups and downs are part of the business, and Hadid is still making moves. This month, he reportedly sold a 48,000-square-foot mansion he built in Beverly Hills to Lola Karimova-Tillyaeva, the daughter of Uzbekistan's autocratic president Islam Karimov. The building was listed at $58 million, though the final purchase price was not revealed.
For reprint and licensing requests for this article, CLICK HERE.