Climbing Ladder
ALCOHOL: Fireman's Brew drafts industry veteran to help guide the beer maker's national expansion plan.
Monday, July 15, 2013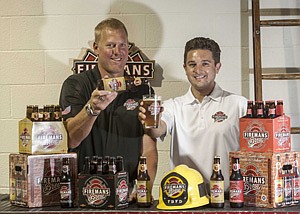 Beer maker Fireman's Brew Co. is spreading like wildfire.
In the last 10 months, the Canoga Park company expanded its distribution beyond California's borders, to Arizona, Colorado and Illinois. The new year brought distribution deals in Nebraska, Nevada and Rhode Island, and this month, the company announced it has signed contracts to expand even farther, to Iowa, Oklahoma, Virginia and New York state.
David Johnson, chief operating officer for Fireman's Brew, said the company wants a presence in all 50 states.
"Our goal has always been to become a national brand," he said. "It's finally starting to come to fruition now. We're in 11 states and we've got 39 more to go."
Fireman's Brew began getting attention from major beer distributors shortly after the company landed an order from Compton supermarket chain Ralphs in late 2011.
"Getting into Ralphs was a game-changer for us," Johnson said.
To keep the momentum going, Fireman's Brew recently bulked up its leadership team, hiring Don Lake, a 30-year veteran of the beer industry, as executive vice president of national sales.
Lake, former president of Warsteiner USA, the U.S. arm of German beer company Warsteiner Gruppe, is already working to nail down distribution contracts in New Jersey, Florida and the Pacific Northwest. He said the plan is to grow the beer brand's visibility on the coasts before focusing on states in between.
"We will be shortly hiring field managers and putting them in key places," he said.
To fund the company's latest growth spurt, Fireman's Brew in January announced a $5 million private stock offering to California residents, with shares selling for 80 cents each. The offering, the third for Fireman's Brew, will close in September. The minimum purchase is 6,250 shares for $5,000 for qualified investors.
Johnson said a previous offering that yielded $835,000 was instrumental in getting the company's initial out-of-state expansion efforts rolling. Fireman's Brew invested the money into expanding their brewing capacity in Ukiah, giving the company the means to make six times more beer in a single batch.
But nationwide expansion isn't cheap, particularly for a small beer company.
Julia Herz, program director for the Brewers Association, a craft beer trade group in Boulder, Colo., said shipping to the East Coast will be a challenge for the West Coast microbrewery.
"It's very expensive to ship beer," she said. "It's heavy."
It's also perishable. Most mass-produced beer is flash pasteurized before shipping, ensuring a longer shelf life. But smaller batch craft beers are often unpasteurized for optimal flavor. That means a shorter shelf life and the need to use expensive refrigerated trucks for shipping in warmer weather.
Johnson said the cost of shipping is a concern for Fireman's Brew, though one it hopes to address in the next year or so.
"Our next big move is to begin producing beer on the East Coast," he said. "But in order to do that, we need to get our sales volume up over there."
Brewing opportunity
Herz said the $99 billion U.S. beer industry is competitive, but that small craft brewers such as Fireman's Brew have begun to capture larger and larger shares of the market. Last year, craft brewers – independent beer makers producing less than 6 million barrels of beer a year – made up 6.5 percent of the total volume of beer sold in the United States and 10 percent of the industry's total revenue. Those numbers were up 15 percent by volume and 17 percent by revenue over the prior year.
Lake, who in the early '90s worked with a team to help grow Mexican beer brand Corona from a little-known import to a national household name, said he sees similar opportunity with Fireman's Brew.
"I think there's great upside potential for Fireman's Brew," he said. "The authenticity of the brand is incredible."
Firefighters Robert Nowaczyk and Ed Walker co-founded Fireman's Brew in 2000. The idea, which included donating 5 percent of revenue to the National Fallen Firefighters Foundation, occurred to them after battling a blaze in the Glendale mountains.
The duo had barely begun before the Sept. 11 terrorist attacks. Not wanting to seem like they were trying to profit from the outpouring of sympathy for firefighters at the time, they suspended the business for a few years before relaunching in 2007.
Today, Nowaczyk and Walker remain active-duty Los Angeles County firefighters at Station 7 in West Hollywood, though Walker opted out of the beer business a few years ago. He had a newborn at home and wasn't prepared to commit the time necessary to building the beer business.
Fireman's Brew sells three types of beer: a "blonde" pilsner-style lager, a "brunette" German-style doublebock and a "redhead" red amber ale. Prices for a six-pack vary by region, from as little as $7.99 in California to as high as $10.99 in Rhode Island.
In 2012, Fireman's Brew produced and sold just over 17,000 cases of beer. The company expects to sell more than 30,000 this year. A case of beer holds 24 bottles.
But the microbrewery's rapid growth, as exciting as it is, isn't enough to distract Fireman's Brew from its commitment to the firefighting community, Johnson said.
"We try to do as much as we can," he said. "(This week) we're doing an event to raise money for the 19 firefighters who just passed away in Arizona."
For reprint and licensing requests for this article, CLICK HERE.