Chip Maker's Turnaround Flips Switch on Wall Street
TELECOM: Vitesse's new leadership and products power up share value.
Monday, July 15, 2013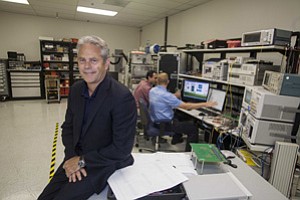 Bad timing and worse decisions brought Vitesse Semiconductor Corp. to the brink of bankruptcy. Now, with a new management team in place, a new product line to market and cash in its coffers, it is charting a new course.
Seven years ago, the Camarillo manufacturer's telecom components were quickly becoming outmoded as the industry moved from one technology standard to another. The strategy of turning the ship around required the company to take on $700 million in debt at a time its sales were falling.
Meanwhile, the Securities and Exchange Commission was investigating top executives over stock option backdating and inflating revenue. Vitesse was temporarily delisted by Nasdaq (it returned to the index in 2011). It settled a shareholder class-action suit for $10 million and the SEC case for $3 million.
Today, years after Vitesse hit rock bottom, the maker of telecom chips is selling a story of turnaround. There's a different executive team at the helm and the company's bets on the future of telecommunications are starting to pay off.
Vitesse raised $40 million in a late-June stock offering that gave it badly needed cash, helping to pay down debt and starting to convince investors it was once again on the right track. Shares of Vitesse, up 26 percent on the year, closed at $2.81 on July 10, down 1.1 percent for the week. (See page 27.)
Chris Gardner, installed as chief executive at Vitesse after the old management was removed by the board in 2006, said the turnaround was only possible once the company was able to start paying down its bond obligations.
"The debt kept investors from getting into the stock," Gardner said. "Once we raised enough capital, that's what allowed investors to believe that this was time to look again at the company."
Analysts bullish about Vitesse also point to the company's optimistic revenue projections. Revenue for its new products doubled from $7.8 million in 2011 to $15 million last year. That trend is projected to continue, with that revenue expected to reach $30 million this year and $60 million in 2014.
It's a rosy view, but one that is backed up by a market that is finally looking for the kinds of components for broadband networks made by Vitesse.
"What they've been doing is managing the transition from the legacy technologies to the new products, and that's been tough to do," said Quinn Bolton, an analyst with New York investment bank Needham & Co. "But their revenue is ramping up nicely."
The wilderness years for Vitesse were spent transitioning to meet the major shifts occurring in the telecom industry.
During the 1980s and '90s, the predominant standard for high-bandwidth communication was fiber-optic technology known as Sonet. Vitesse, founded in 1984, developed circuitry components for Sonet-based routers and other devices. Its customers were manufacturers of enterprise-level networking devices, including Cisco Systems Inc. and Hewlett-Packard Co.
But telecom standards in the 2000s began favoring Ethernet, a technology that had previously been confined to home area networks. The relatively inexpensive and upgradable technology was a better fit for a broadband era in which people watched and uploaded high-definition videos on their cellphones.
Expensive process
Moving from one industry standard to another is an expensive process for a company, Gardner explained. While many of Vitesse's onetime competitors fell away, unable to negotiate this shift, the company doubled down on the hope that Ethernet would continue its growth. The company raised significant debt financing, which it used to acquire other makers of Ethernet components and overhaul its product line.
"It was an all-in bet that Ethernet was the future. If it hadn't happened, we'd be gone," Gardner said. "I don't think five or six years ago people thought you'd be watching HD TV streaming through Verizon. That's what we managed to predict."
The company is still dealing with declining sales from its old tech components. Analysts project revenue from those products will dip 50 percent to $12.4 million this year from $24.9 million in 2012.
Another critical part of the company's rehabilitation has been moving past the aura of scandal.
The SEC's investigation into illegal stock option backdating, in which a stock is retroactively granted to an executive prior to a jump in price and without resubmitting the required paperwork, ensnared many tech companies in the last decade.
In total, two Vitesse executives were indicted, though all trials ended with hung juries. In 2007, the company and executives settled a class action over backdating allegations for $10.2 million, plus about 3 million shares of stock. In 2010, the company settled with the SEC for $3 million and without any admission of wrongdoing.
Gardner said the new team and direction for the company has made investors overlook past mistakes.
"At this point, most investors don't know and don't care. It's ancient history," he said. "We fought through those distractions and since then have been able to strengthen the balance sheet."
For reprint and licensing requests for this article, CLICK HERE.