Bank Parent Looks to Lock Up Recapitalization
LENDING: Broadway hopes to boost share price to remain on Nasdaq.
Monday, July 15, 2013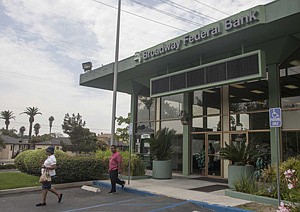 Struggling L.A. bank holding company Broadway Financial Corp. has been trying for nearly three years to recapitalize itself.
But if it can't pull off the long-stalled plan soon, its stock, which is trading at an all-time low, could be kicked off the Nasdaq exchange, making new capital even harder to obtain.
Nasdaq officials recently gave Broadway, parent of lender Broadway Federal Bank, until the end of the year to get its share price above the exchange's minimum bid price of $1. That's a six-month extension beyond the original deadline of July 2.
Standing in the way of that benchmark is the uncertainty surrounding the recapitalization plan, which calls for issuing millions of new shares of common stock. It was first announced in 2010 after bank regulators said the bank was in trouble. Nearly three years later, Broadway Financial executives and their advisers can't say when the plan will become reality – if ever.
Broadway, founded in 1946 to serve L.A.'s black community, became a major lender to churches. Many of those loans soured during the recent recession as church donations dipped. Church loans still make up more than half of Broadway's nonperforming loans, according to company filings.
Paul Hughes, a managing director in the L.A. office of Excelsior, Minn., investment bank BlackTorch Capital who is advising Broadway, said only that he is "in the process of trying to complete the transaction."
Wayne-Kent Bradshaw, Broadway's chief executive, referred the Business Journal to the company's filings with the Securities and Exchange Commission. He would say only that he's still working to execute the plan.
"We need to get the final approval of all the parties," he said. "It's a difficult process and we're working on that."
The number of parties involved is surely one reason the recapitalization has yet to happen.
Retiring debt
Broadway's plan, which hasn't changed since first announced, calls for the company to offer new shares of common stock to replace preferred stock, including preferred shares purchased by the U.S. Treasury through the Troubled Asset Relief Program during the financial crisis. Preferred shareholders have agreed to exchange their shares for common shares worth half of the preferred shares' face value.
Broadway also plans to offer shares as repayment for part of a $5 million line of credit that it has defaulted on. Still more shares will go to help raise about $4 million in new capital.
In all, Broadway estimates it will need to issue about 18 million new shares of common stock, nearly 10 times the number of current shares outstanding. That figure could be even higher if Broadway shares continue to trade near its July 10 closing price of 70 cents. Issuing that many new shares will require approval from current common shareholders.
That would be in addition to approvals from holder of the line of credit, the Treasury, other preferred shareholders and bank regulators.
People with knowledge of the recapitalization plan but not authorized to speak about it publicly said the deal is pending regulatory approval from federal agencies.
Officials at the Treasury Department, the Office of the Comptroller of the Currency and the Federal Reserve Board said they could not comment about individual banks.
In its most recently quarterly report to the SEC, Broadway said it had reached deals with the Treasury and some preferred shareholders, and that it had tentative deals with other preferred shareholders and with its lender. It still needs to find investors to provide new capital.
But those investors could be hard to come by as Broadway continues to struggle under the weight of bad loans. At the end of March, it had nearly $27 million in nonperforming loans. That's more than 10 percent of the bank's loan portfolio.
Among local banks of similar size, nonperforming loans average less than 5 percent of total loans.
With those problems still looming, it's not clear investors will want to buy into Broadway. They're likely to be even more hesitant if its stock falls off the Nasdaq. Many investors, especially institutional ones, cannot buy stocks traded over the counter, giving Broadway a big incentive to make sure its stock stays on the exchange.
In a statement last week, company executives said they would consider a reverse stock split to boost the price of shares and keep them on the Nasdaq.
For reprint and licensing requests for this article, CLICK HERE.