3-D Firm Sees Big Opportunity
FILM: RealD looks to launch large-format theater chain.
Monday, July 1, 2013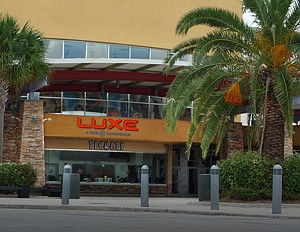 Movie theaters started spending big money a few years ago to prepare for the revolutions of digital projection and 3-D. They haven't stopped since.
The latest craze: the megascreen.
Now, the leading company in providing 3-D systems to theaters, RealD Inc. in Beverly Hills, is seeing the big picture, too. RealD announced last week that it is launching a brand of large-format theaters called Luxe: A RealD Experience, which will compete with other big-screen brands such as Imax.
Jim Goss, an analyst who follows RealD at Barrington Research Associates in Chicago, said it's a good move.
"I view this as a positive for RealD," Goss said. "(It's) an attempt to maintain and even broaden its image and position as a purveyor of high-quality video imaging."
The Luxe theaters will have massive screens, ultrabright displays, high-end audio equipment and luxury seating, the company said. They'll show movies in either 2-D or 3-D.
The rollout will begin in Europe this winter. Two of RealD's existing 3-D partners, Moscow-based cinema chain Karo Film and Bulgarian chain Arena Cinema, said in the announcement last week that they will use the Luxe brand.
The market for the theaters is growing since moviegoers have shown enthusiasm for bigger screens. A report last year from U.K. research firm Dodona Research predicts that admissions to large-format theaters will increase from 42 million tickets in 2011 to 170 million in 2016.
Theaters see bigger screens as yet another way to differentiate the movie experience from what's available at home. Tickets usually cost about $2 to $5 extra.
But RealD is coming late to the party. Along with industry leader Imax, many cinema chains, especially in the United States, have developed their own brands, such as Cinemark Holdings' XD, AMC Entertainment's ETX and Carmike Cinema's BigD.
There is still plenty of opportunity, however, to establish a new brand overseas, said Eric Wold, an analyst at B. Riley & Co.'s San Francisco office.
"Where it's a big benefit is in Europe, where there hasn't been a lot of development," he said. "Some of the smaller exhibitors that operate a handful of theaters or own one theater don't have the capital to build their own."
Crossing over
RealD's main business is installing 3-D systems in theaters at a cost of about $10,000 and then collecting a 50 cent fee for each ticket sold to the 3-D movies. It had installed about 22,700 screens as of March.
The company relies on a steady pipeline of content from studios, so it stands to gain from an uptick in 3-D output – there were 17 3-D releases between March and July this year, compared with eight in the same period in 2010. The format has even crossed beyond action pictures to artier fare such as "The Great Gatsby."
But there are concerns that moviegoers are either tiring of the format or simply becoming more selective when it comes to which movies they're willing to paying extra to see in 3-D.
In a research note last week, Wold wrote that two big June releases, Walt Disney Co.'s "Monsters University" and Paramount Pictures' "World War Z," had the lowest 3-D turnout as a percentage of total ticket sales ever recorded for a movie in their respective genres, animated feature and action, in their opening weekends.
Wold downgraded the company last week from "buy" to "neutral." Shares dropped 6 percent for the week ended June 26. (See page 27.)
He said it makes sense for RealD to diversify into large-format theaters since it opens up a chance to see returns from movies in addition to 3-D releases.
RealD hasn't disclosed how Luxe will make money. Wold said he expects the company will take a cut of box office revenue, similar to what it does in its 3-D business.
"They're going to look for a piece of the revenue share, (to get) more box office," he said.
Imax Corp., which is based in Ontario, Canada, also takes a share of box office as part of its business model.
But there are likely to be a few key differences between Imax and Luxe. For one, showing a movie on an Imax screen requires the film to either be shot in the Imax format, or converted, so there are only a limited number of releases. Many of them are big-budget superhero movies such as Warner Bros.'"Man of Steel."
But there's a far larger set of movies that aren't available in Imax, such as animated, family-friendly movies, Goss said.
With that in mind, he said it's no surprise that one of the first studio endorsements for Luxe came from Jeffrey Katzenberg, chief executive at DreamWorks Animation SKG Inc.
Goss said the Luxe name, if successful, could be used to brand movies, similar to how studios promote their Imax releases.
"It can facilitate advertising of movies and a premium experience," he said. "Part of it is the branding that conveys what the experience will be, (but) it's also delivering on that experience."
For reprint and licensing requests for this article, CLICK HERE.