Video Game Scores Online
ENTERTAINMENT: Maker taps crowdfunding website.
Monday, January 14, 2013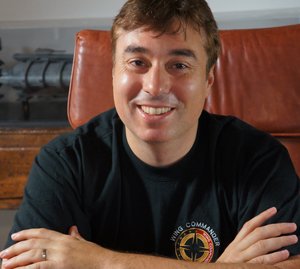 Chris Roberts could have gone the traditional route to develop "Star Citizen," a space flight simulator game for the PC.
Since he was once a top video game developer at Redwood City's Electronic Arts Inc. and did a game-publishing deal with Microsoft Corp., he could have asked one of those companies to bankroll his game concept.
Instead, Roberts chose to create his own company, West Hollywood-headquartered Cloud Imperium Games Corp., and finance the game's development through the crowd. People who wanted to back the game could pledge online anything between $5 and $10,000. The move paid off.
From October until December, "Star Citizen" took in $7.3 million through crowdfunding – a financing strategy where many people donate online to a common cause or project. Part of the money was raised through the company's website, and the rest on the high-profile crowdfunding site Kickstarter.
It set a crowdfunding record for a video game; at one point, according to Roberts, the campaign was bringing in $10,000 a day.
The decision to go outside the establishment to finance a game didn't come from any animosity on Roberts' part toward the big publishers. Rather, it was an opportunity to revive a flight simulator genre that no one was making anymore, while doing it on his terms.
"I'm still friends with the creative executives at EA and Microsoft, and they definitely had some interest in the game," Roberts said. "But I'm not keen on working in their development environment. And I didn't have to."
Last year was a record-breaking one for many tapping crowdfunding for video games. Campaigns for games and console systems on Kickstarter in 2012 brought in $83 million – compared with $3.6 million in 2011. It included banner raises such as Cloud Imperium's; $8.6 million for Ouya, a game console built to run on the Android operating system; and $3.3 million for "Double Fine Adventure," a game from San Francisco's Double Fine Productions Inc.
The uptick in crowdfunding comes during a shaky period for the video game industry. Shares of console makers Nintendo and Sony have been slumping, and Agoura Hills publisher THQ Inc. is mired in a recently declared bankruptcy. Santa Monica's Activision Blizzard has stood apart from the injured herd with its strong sales, but those are increasingly reliant on the success of its tent pole "Call of Duty" franchise and the billions of dollars it provides yearly.
Many in the industry feel this lean era has made the big companies hesitant to take risks on games that aim for modest success; instead, publishers and developers focus on games they believe will ring up blockbuster sales.
"Crowdfunding is an amazing opportunity to bring diversity in the game play where the major publishers are just doing iterations on the same game," said Mike Hickey, a video game industry analyst at the Denver office of National Alliance Capital Markets. "For the simpler games, all you need is funding and you can be really successful. It's like a tech gold rush."
Fan driven
While some campaigns have spurred tens of thousands of people to donate, most of them fall short. Last year, only 33 percent of Kickstarter campaigns for video games reached their goals. Under Kickstarter guidelines, projects that don't meet goals must refund all the money.
It takes more than a "build it and they will come" mind-set to run a successful campaign. The key, say fundraisers, is to tap into a community that's willing to come out in force.
Winterkewl Games LLC in Glendale raised $567,665 on Kickstarter for "Yogventures" – more than double the campaign's original goal. The game is a collaboration with Yogscast, a vast online empire centered on video games featuring a cast of cartoon characters. Among Yogscast's online properties is a YouTube channel with more than 1 billion views and 3 million subscribers.
Winterkewl is headed by Kristafer Vale, who is developing the game as a side project to his job as an animator at Glendale's DreamWorks Animation SKG Inc. He and his team of four had to keep the fans engaged and willing to part with money for an unproven product that's not scheduled to be released for at least two years.
"We really needed to continually update the Kickstarter presence because it's not enough to get the attention the first time," Vale said. "A lot of people like to sit on the fence before jumping in."
"Star Citizen" had the advantage of being led by Roberts, a well-known gaming industry figure. As the creator of the "Wing Commander" franchise of flight simulator games, he had a loyal following that was enthused enough about the potential product to contribute millions for something that has yet to reach initial public testing.
Even though Cloud Imperium's raise was record-breaking, the company has also taken in money from outside sources. The game's graphics and game play are designed to be on level with titles from a bigger publisher, which routinely spend upwards of $30 million on production alone.
But the swell of grassroots support did more than just fund "Star Citizen," it proved to Roberts and future backers that a strong demand was there.
"We're two years out from having the game, but the beauty of crowdfunding is you're basically validating all the investment," Roberts said. "It's nice to have an audience already built in."
Results first
Crowdfunding campaigns have spanned other artistic endeavors, including movies, web series and albums. While some of these projects have achieved success, video games might be uniquely designed to work in this system, given their fan base. In the last year, the money pledged for video game projects grew to 26 percent from 3 percent of the total funds pledged on Kickstarter.
At the varying pledge levels in a crowdfunding campaign, donors get benefits, such as a ticket for a movie's eventual screening or a mention in the credits. For video games, contributions are often presales for a game or product – most of Ouya's donations came as orders for the console.
But in-game purchases built into game play – and the players' mind-set – provide an even wider range for donations. At higher contribution levels for "Star Citizen," people can get access to special spaceships in the game, including, for $10,000, an exclusive ship that the player can name.
Despite the enthusiasm in 2012, National Alliance's Hickey is skeptical that the record-breaking will continue though this year. The nature of these crowdfunding efforts is to back a product that exists only in potential; there's a chance people might want to wait and see real results and successes before diving in again.
Last year, he said, "was off to the races with the compelling projects. But over time, the reality is probably going to be less than what backers expected. There will be some failures and scams, then you worry what the ongoing impression of crowdfunding will be."
A fall in that initial enthusiasm might also shake out some of the projects with less financial benefit to the donors. While many people's contribution takes the form of a preorder (and often at a discount from the retail price), crowdfunding a free mobile game like Angry Birds wouldn't have that benefit.
But Roberts believes that the big publishers and console makers leave enough gaps in the gaming landscape to continue to give opportunities to bigger campaigns.
"The fans are getting empowered by crowdfunding. When their voices are heard, they get to choose what happens," he said. "My bet is our record will fall this year."
For reprint and licensing requests for this article, CLICK HERE.