Video Game Scores Online
ENTERTAINMENT: Maker taps crowdfunding website.
Monday, January 14, 2013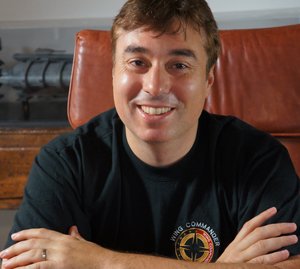 Chris Roberts could have gone the traditional route to develop "Star Citizen," a space flight simulator game for the PC.
Since he was once a top video game developer at Redwood City's Electronic Arts Inc. and did a game-publishing deal with Microsoft Corp., he could have asked one of those companies to bankroll his game concept.
Instead, Roberts chose to create his own company, West Hollywood-headquartered Cloud Imperium Games Corp., and finance the game's development through the crowd. People who wanted to back the game could pledge online anything between $5 and $10,000. The move paid off.
From October until December, "Star Citizen" took in $7.3 million through crowdfunding – a financing strategy where many people donate online to a common cause or project. Part of the money was raised through the company's website, and the rest on the high-profile crowdfunding site Kickstarter.
It set a crowdfunding record for a video game; at one point, according to Roberts, the campaign was bringing in $10,000 a day.
The decision to go outside the establishment to finance a game didn't come from any animosity on Roberts' part toward the big publishers. Rather, it was an opportunity to revive a flight simulator genre that no one was making anymore, while doing it on his terms.
"I'm still friends with the creative executives at EA and Microsoft, and they definitely had some interest in the game," Roberts said. "But I'm not keen on working in their development environment. And I didn't have to."
Last year was a record-breaking one for many tapping crowdfunding for video games. Campaigns for games and console systems on Kickstarter in 2012 brought in $83 million – compared with $3.6 million in 2011. It included banner raises such as Cloud Imperium's; $8.6 million for Ouya, a game console built to run on the Android operating system; and $3.3 million for "Double Fine Adventure," a game from San Francisco's Double Fine Productions Inc.
The uptick in crowdfunding comes during a shaky period for the video game industry. Shares of console makers Nintendo and Sony have been slumping, and Agoura Hills publisher THQ Inc. is mired in a recently declared bankruptcy. Santa Monica's Activision Blizzard has stood apart from the injured herd with its strong sales, but those are increasingly reliant on the success of its tent pole "Call of Duty" franchise and the billions of dollars it provides yearly.
Many in the industry feel this lean era has made the big companies hesitant to take risks on games that aim for modest success; instead, publishers and developers focus on games they believe will ring up blockbuster sales.
Prev Next
For reprint and licensing requests for this article, CLICK HERE.