Chinatrust Moves On Under Eye of Regulators
BANKING: Lender taps new CEO as it cleans up money-laundering issues.
Monday, January 14, 2013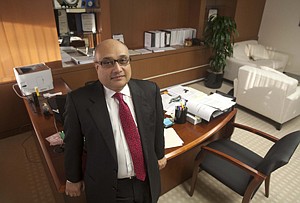 If Torrance's Chinatrust Bank U.S.A. wants to expand, move to new offices or hire executives, it will have to get approval from state and federal bank regulators, who are closely eyeing the bank over problems with its measures to prevent money laundering.
The bank and regulators in October agreed to a consent order that puts strict limits on what the bank can do without approval from the Federal Deposit Insurance Corp. and the California Department of Financial Institutions.
Yet since then, the bank has announced it will move its home office from Torrance to downtown Los Angeles and has hired a new chief executive, insider Noor Menai, apparently with regulators' go-ahead.
Menai was promoted after two years as an executive vice president with the bank's parent company, Chinatrust Commercial Bank in Taipei, Taiwan. Previously, he worked for Bank of America Corp.; Citigroup Inc.; and Charles Schwab Bank, where he served as chief executive.
Regulators said they could not comment, but Menai said his experience with large banks and familiarity with regulators made him an obvious choice to lead the bank while it is under increased scrutiny. He was announced as the new chief executive Dec. 20, two months after regulators issued the consent order.
"There was instant chemistry between myself and the regulators," Menai said. "During other parts of my career, regulators in California have known me."
Menai replaces Geoffrey Liu, who Menai said is still with Chinatrust Commercial Bank in another role.
Menai, a native of Pakistan who came to the United States for college, said he plans to grow Chinatrust's presence, particularly in California, New Jersey and the New York city area. The bank has assets of about $1.5 billion and 12 U.S. branches, most of them in the L.A. area.
Along with promoting Menai, Chinatrust has recently hired an executive to oversee its retail banking and lending groups, and it plans to bring in additional compliance and operations officers. The bank has leased two floors of a downtown office building at 801 S. Figueroa St. and plans to move its headquarters there by the middle of the year.
Increased oversight
Menai said those moves will help Chinatrust reach customers beyond its traditional base of local Asian businesses. Still, the bank will have to deal with increased oversight, likely for more than a year, as it works with regulators on money-laundering issues.
Chinatrust wasn't the only local bank tagged last year for problems complying with money-laundering regulations. Banamex USA in Century City, Security Bank of California in Riverside and Vibra Bank in Chula Vista all received consent orders last year similar to Chinatrust's.
Mikhail Reider-Gordon is a director in the L.A. office of Chicago risk-management firm Navigant Consulting Inc. She said enforcement of money-laundering rules increased last year due in part to new financial sanctions against Iran and Syria, and to regulators' renewed interest in tax evasion and other types of fraud.
"I think there is a renewed focus," Reider-Gordon said. "Last year had some of the most active anti-money-laundering enforcement that we've seen in a number of years."
Money-laundering rules require banks and other financial institutions to investigate and prevent customers from depositing ill-gotten money. For instance, if a customer deposits $10,000 or more in cash, a bank must ask the source of the money and file a report.
Banks also must be watchful for suspicious activity, such as a customer making multiple deposits worth upwards of $10,000 in a short period of time or depositing more money than makes sense for a respective line of business.
Reider-Gordon said big banks have been hit by the increased enforcement, too. Last month, London global bank HSBC Group agreed to pay $1.92 billion in fines for failing to monitor big cash transactions.
But she said smaller banks, such as Chinatrust, are more likely to run afoul of the rules because they generally have smaller compliance teams, might be friendly with clients to the point that they neglect to fully scrutinize transactions and often don't have the same analytical software used by big banks to suss out suspicious patterns.
"Smaller banks have far fewer personnel, and they don't always get the same level of training," she said. "There might not be any branch-level compliance officers. There might not be software to do data analytics."
Chinatrust's consent order does not spell out specific problems with the bank's anti-money-laundering practices. Menai said only that the scrutiny from regulators is part of a renewed focus on money laundering and that the bank's practices were adequate but could be improved.
To that end, Menai said the bank has brought in new software that will look for suspicious transactions and patterns. That software, he said, will make the bank's anti-money-laundering practices less prone to human error.
"Where do most mistakes happen? They happen at the point of sale, where a person is involved," he said. "Someone forgets to check a box – that's a big deal. But the software never does that."
Menai said companies that make such software typically don't reach out to smaller banks, assuming they aren't interested or can't afford the technology. He noted that Chinatrust was able to afford the software because of parent Chinatrust Commercial Bank, which has assets of about $65 billion.
For reprint and licensing requests for this article, CLICK HERE.