From the Reporter's Notebook: Jason Calacanis Talks 'This Week In'
Monday, January 7, 2013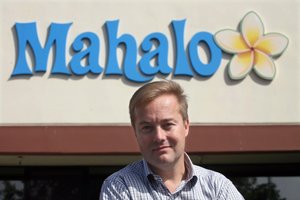 This is an excerpt from technology reporter Tom Dotan's interview with Jason Calacanis conducted for the Los Angeles Business Journal article headlined "Ex-Search Engine Finds Way to Video." The article, which was published in the Jan. 7 issue, can be found in full here.
Question: Your podcast network "This Week In" is ending, and Mahalo is becoming a YouTube original content channel, why the switch?
Calacanis: If you asked 100 people on the street what podcasting is, maybe 5 would be able to answer the question. If you asked if they consumed a podcast in last month maybe one would say they did. How many do you think would know what YouTube is?
90?
Right. As an entrepreneur if you're going to pick which vertical to play in – say you're a surfer and you're looking at a beach. Surf where the big wave is. Not in the bay but in the ocean. I like to surf on big waves, not small waves. Podcasting: small wave. YouTube: big wave. I'm a big-wave surfer. Not in the bay but in the ocean.
Is podcasting still growing?
Podcasting is not a growth industry. In order to make it work you need to have a set of circumstances: someone with incredible gravitas in the space like Kevin Pollack. Then you have to get that person to give up at least 3-4 years to build the brand. That's incredibly hard to do. And to build a network you need 10 egos to all say we're going to do one giant network
So did you overestimate its potential?
I tell young entrepreneurs: You're a detective, and your job is to put the case together. I put the case together and realized it's not going to be a great outcome. Best case scenario: it's an OK outcome. If I'm going to spend my time on something, it needs to be a giant outcome and the potential has to be giant. You don't want to fight a war where the victory is small. Overestimate? Nobody knew. I investigated it and the conclusion was it's not going to be big enough.
For reprint and licensing requests for this article, CLICK HERE.