Patched In
YouTube among tech giants moving into Silicon Beach
Monday, February 25, 2013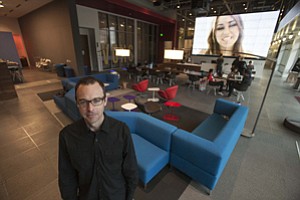 The melding of tech and entertainment might have found its perfect avatar in YouTube Inc.'s new production facility in Playa Vista.
Its central meeting room has the attendant goofiness of tech companies: long angular blue couches, exposed metal siding that's painted fire-engine red and a row of fixed-gear bicycles for content creators to pedal around the building's concrete floor.
The offices have opened at a time when several out-of-town technology giants are making major forays into entertainment and, by extension, Los Angeles. Suddenly, every major player has set up or built out local outposts as tech has gotten interested in content creation.
The latest: Microsoft Corp. It is nearing a deal to move into a Santa Monica building and set up offices there for its entertainment initiative, Xbox Entertainment Studios. The newest division for the Redmond, Wash., company is set to hire 150 employees to work on video content that will stream through the gaming console.
Netflix Inc., headquartered in Los Gatos but with a satellite office in Beverly Hills, has been ramping up production of original content delivered through its video streaming service. Amazon Studios Inc., an offshoot of Amazon Inc., has small offices in Sherman Oaks where the Seattle online retailer is developing video content to offer through its Amazon Prime platform.
"When we were looking for a city to open the space, we just followed our partners," said Liam Collins who heads the YouTube facility. "From the early days of YouTube, this has been one of our biggest markets so we felt like we needed a home for acreators in L.A."
YouTube, headquartered in San Bruno, is owned by Mountain View's Google Inc.
To those who have been working at the intersection of tech and entertainment for years, it's no surprise that Los Angeles has emerged as the center of the new movement. The entertainment industry continues to draw most of the country's writers, producers, musicians and designers – the parts that are necessary for content, digital or otherwise.
"For story creation, the belly of the beast is in L.A.," said Peter Levin, chief executive of Santa Monica new-media empire Nerdist Industries. "And the biggest sign that it's here to stay is the physical footprint these tech companies are establishing."
Former failures
Levin, who's been involved in L.A. tech for more than a decade, witnessed the merging interests of tech and media a few years ago. But he said it was done wrong then. That period was marked by media conglomerates buying upstart tech firms at high prices then letting them languish. It was the era where News Corp. bought IGN Entertainment, an online network of video game and other men's lifestyle magazines, in 2005 for $650 million only to sell it off this month for a fraction of that.
For reprint and licensing requests for this article, CLICK HERE.
Prev Next