Ad Pioneer Sees Online Opening
Internet: Rubicon fights larger rivals to stake out turf.
Monday, February 18, 2013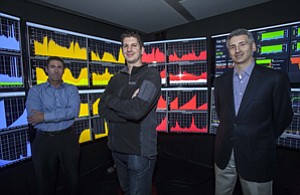 Frank Addante co-founded Rubicon Project five years ago with the goal of turning online advertising into a process more like buying an airline ticket.
People go to sites such as Expedia to compare rates for various airlines and book their travel, so why couldn't the online ad world have a central hub where websites, advertisers and the bunches of intermediary networks make easy transactions?
That concept has since caught on with a number of online publishers and turned the West L.A. firm into a fast growing presence in ad tech. Recently, Rubicon brought in two top executives that Addante hopes can push the company upwards as it takes on some larger competitors.
Greg Raifman is Rubicon's new president, and comes to the company after heading up San Francisco ad tech firm Dragon Media. Todd Tappin, who has taken the role of chief operating officer, was a founding member of Overture Inc., a search advertiser started in Pasadena's Idealab that was acquired by Yahoo Inc.
The newly assembled executive team arrives at Rubicon not long after the company achieved a milestone. Last year, the growing network of websites that Rubicon provides ad technology for, including the Wall Street Journal, Forbes and Time.com, eclipsed Google Inc. in terms of audience reach, according to Web analytics firm ComScore.
But the Mountain View search giant remains by far the biggest moneymaker in selling online advertisements – in 2012, revenue from Google's online advertising business was $43 billion. While Rubicon declined to disclose revenue, Forbes has reported it as $292 million. With Google, Facebook, Yahoo and AOL Inc. as the behemoths of online advertising, Addante hopes his new team can position itself as the biggest player outside their territory.
"The three of us in particular wanted to work together because we felt like we had unfinished business," Addante said. "We want to go for that No. 1 position and not hold out for No. 2."
As recently as last year, Addante had been talking openly about his company being on the road to an IPO. Raifman and Tappin both have experience taking companies public, but since they were hired Addante has actually backed off talk of any specifics about a public offering.
So far, Rubicon has raised $51 million in venture capital and made some significant acquisitions, including major ad tech house Fox Audience Network from News Corp. in 2010.
Acquisitions are a big part of ad tech, and that can create a landscape where a successful medium-size company such as Rubicon is faced with an ultimatum: get big or get bought.
For reprint and licensing requests for this article, CLICK HERE.
Prev Next