Ad Pioneer Sees Online Opening
Internet: Rubicon fights larger rivals to stake out turf.
Monday, February 18, 2013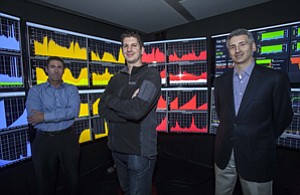 Frank Addante co-founded Rubicon Project five years ago with the goal of turning online advertising into a process more like buying an airline ticket.
People go to sites such as Expedia to compare rates for various airlines and book their travel, so why couldn't the online ad world have a central hub where websites, advertisers and the bunches of intermediary networks make easy transactions?
That concept has since caught on with a number of online publishers and turned the West L.A. firm into a fast growing presence in ad tech. Recently, Rubicon brought in two top executives that Addante hopes can push the company upwards as it takes on some larger competitors.
Greg Raifman is Rubicon's new president, and comes to the company after heading up San Francisco ad tech firm Dragon Media. Todd Tappin, who has taken the role of chief operating officer, was a founding member of Overture Inc., a search advertiser started in Pasadena's Idealab that was acquired by Yahoo Inc.
The newly assembled executive team arrives at Rubicon not long after the company achieved a milestone. Last year, the growing network of websites that Rubicon provides ad technology for, including the Wall Street Journal, Forbes and Time.com, eclipsed Google Inc. in terms of audience reach, according to Web analytics firm ComScore.
But the Mountain View search giant remains by far the biggest moneymaker in selling online advertisements – in 2012, revenue from Google's online advertising business was $43 billion. While Rubicon declined to disclose revenue, Forbes has reported it as $292 million. With Google, Facebook, Yahoo and AOL Inc. as the behemoths of online advertising, Addante hopes his new team can position itself as the biggest player outside their territory.
"The three of us in particular wanted to work together because we felt like we had unfinished business," Addante said. "We want to go for that No. 1 position and not hold out for No. 2."
As recently as last year, Addante had been talking openly about his company being on the road to an IPO. Raifman and Tappin both have experience taking companies public, but since they were hired Addante has actually backed off talk of any specifics about a public offering.
So far, Rubicon has raised $51 million in venture capital and made some significant acquisitions, including major ad tech house Fox Audience Network from News Corp. in 2010.
Acquisitions are a big part of ad tech, and that can create a landscape where a successful medium-size company such as Rubicon is faced with an ultimatum: get big or get bought.
"There's a bit of a battle for survival in online advertising," said Joanna O'Connell, an analyst with Forrester Research in Cambridge, Mass. "There are always more ad dollars to be had, but there is some finite set of big players through which many ad dollars will flow."
Advertising hub
Online advertising is a fragmented marketplace with publishers, advertisers and middleman networks. Rubicon acts as a broker that can, in a sense, negotiate deals among all these parties.
"Rubicon was a pioneer," said Jason Fairchild, a top executive at Pasadena ad tech firm OpenX. "Those guys said, 'We'll manage all the networks.' That was a real innovation."
The ad tech company has 240 employees at offices around the world; most work is done in the West L.A. headquarters – a wide warehouselike space. With its rows of computer terminals and walls of TV monitors showing real-time metrics, the setting doesn't look too different from the building's previous role as the production studio for TV show "24."
Adding to the sophistication of modern advertising technology was the advent of real-time bidding, in which ad companies were able target their campaigns at customers who would have the most value and price them accordingly.
For example, if someone has been browsing through car sites, he would be more valuable to an auto manufacturer that's placing ads on the Wall Street Journal's website than an advertiser selling, say, mattresses. When this person visits the newspaper's website, Rubicon communicates with its network of ad companies to determine the best fit and highest bidder; the winner gets to place the ad in front of the potential customer. For each ad sold, Rubicon takes a small cut.
This entire interaction between Rubicon, the ad buyer and the destination website happens in the microseconds before the page loads. Currently, Rubicon handles 6 billion transactions every day, which is a volume three times greater than the Nasdaq.
That prevalence of real-time bidding online and the ability for ad buyers to target particular people is the reason some ads seem to follow you around from site to site.
"Historically, advertisers only had one way to communicate with consumers and it's all passive," Tappin said. "What's fascinating about digital is you can be interactive and much more relevant."
It's a growing field. According to New York market analysis firm eMarketer, real-time bidding was a $1.9 billion industry in 2012 and is projected to hit $3.3 billion this year. That amount is still only a portion of the projected $17.7 billion online advertisers will spend in 2013, but the growth of real-time bidding will help companies such as Rubicon that are heavily involved in the process.
"Real-time bidding is something that a lot of advertisers are looking at more closely," said Clark Fredriksen, a spokesman for eMarketer. "The exchanges and publishers who use it are definitely poised to benefit."
Rare company
Should Rubicon decide to have an IPO, it would be among the few companies dedicated to the ad exchange market that are publicly traded. Many of its biggest public competitors, namely Google or Yahoo, have well-known properties attached to their names. But among Rubicon's smaller ad tech competitors, such as Redwood City's Turn Inc. or New York's Pubmatic Inc., most have remained closely held. They are often considered desirable takeover targets from their larger public competitors. Rubicon has been rumored as an acquisition for Yahoo, but Addante said the company has no plans to sell anytime soon.
One of the reasons so few ad exchange companies have gone public could be that their sophistication and behind-the-scenes relationship would be a tough sell for public markets.
"The ad tech market is overwhelmingly complex, there are even people inside the industry who have a difficult time understanding it," eMarketer's Fredriksen said. "So it's understandable that people outside the industry would have the difficulty grasping the nuances of these systems."
For now, Addante and his new top executives say they're only focused on growing the firm's reach online as well as expanding to new platforms.
Last May, Rubicon acquired MobSmith, an ad tech firm focused on mobile devices. That purchase has served as the company's gateway into the growing smartphone and tablet market. It's still a developing field for advertising and it's one where Rubicon executives say the firm will continue to expand its focus.
"This company is uniquely positioned to be the alternative to the big players in advertising," Raifman said. "We believe there's Facebook in social, Google in search and Rubicon in everything else."
For reprint and licensing requests for this article, CLICK HERE.