Stretching Out
APPAREL: Joe's Jeans looks to pocket more retail revenue with strategy to launch additional stores.
Monday, February 11, 2013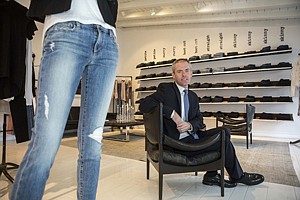 In the $10 billion U.S. denim industry, a few big names dominate the market. But little guy Joe's Jeans Inc. isn't intimidated.
The Commerce company, which sells premium denim jeans that retail for about $200 a pair, has only a small share of the massive jeans market today – about 1 percent.
But it's growing.
Marc Crossman, chief executive at Joe's Jeans, said the company's best opportunity for growth in coming years is to open retail stores, a segment that now makes up only about 20 percent of sales for the company.
"It's probably the biggest focus for the company right now, to make that shift to retail to augment our wholesale business," he said.
The company appointed retail expert Joanne Calabrese, founder of retail consulting firm JCR3, to its board last year, when Joe's had 23 stores. With her guidance, Joe's Jeans opened seven stores and now has 17 outlet and 13 full-price stores. One on Melrose Place opened in August. Three other full-price stores, in San Diego; Dallas; and Paramus, N.J., opened in the last two months. The company plans to open up to 10 stores in 2013, then 10 more in 2014.
The retail growth strategy might be encouraging to investors. Last week, Joe's Jeans was one of the biggest gainers on the LABJ Stock Index, closing up almost 12 percent to $1.29. Joe's Jeans stock has risen 77 percent in the last year. (See page 32.)
Marshal Cohen, chief industry analyst at market research firm NPD Group Inc. in Port Washington, N.Y., said companies that sell jeans in their own stores tend to see better profitability than those that rely on selling wholesale to retailers such as department stores or boutiques.
"It's a big advantage to be able to tell the consumer your story yourself rather than rely on others to tell it, like the game of telephone," he said. "The message is always going to be more and more diluted as it gets farther and farther away from the source."
Joe's Jeans is expected to report 2012 revenue of about $116 million next month, up almost 26 percent from the previous year. Those sales would be one-fourth those of another local competitor, True Religion Apparel Inc. in Vernon, which reported 2012 revenue of about $467 million last week. Much bigger still is downtown L.A.'s Guess Inc., which expects 2012 revenue of about $2.6 billion.
Joe's Jeans is growing quickly. It reported third quarter net income of about $1.4 million, up 168 percent from the same period the previous year. Revenue was $30 million, up more than 25 percent.
But as Joe's Jeans fights for its share of the denim market, it also has been fighting to keep its stock price up. In December, the company received a Nasdaq delisting warning because its stock had been trading below $1 a share for 30 consecutive days. The warning was one of several the company has received in recent years, after trading below $1 for most of the year in 2006, 2009 and 2011. Joe's Jeans stock hit bottom in February 2009 when it fell to 25 cents. The company regained compliance last month.
Suffering stock
Jared Schramm, an analyst at Roth Capital Partners LLC in Newport Beach who resumed coverage of Joe's Jeans last month, said the company's low-trading stock has suffered from lack of visibility in investment circles.
"It's a relatively underfollowed name, so when there aren't many analysts covering it, things like that just happen," he said. "But they've executed on their plans for the last several years."
Crossman, the chief executive, said it's important for the company to keep getting good results and for him to keep relaying those good results to Wall Street.
"For us, it really is about getting the attention of fund managers," he said. "The only way to do that is to post strong growth and profitability, and to make sure I'm on the road speaking at conferences and investor meetings. Balancing the two of those on a day-to-day basis is tricky."
Joe's Jeans, which now has 187 full-time employees and is based in a sprawling warehouse, was founded in 2001 by L.A. fashion designer Joe Dahan. He pushed the idea that jeans should be made to fit specific body types and introduced skinny jeans, which have become exceedingly fashionable in the last decade.
Dahan designed and sold his premium jeans wholesale, but licensed out the use of his brand to third-party private-label companies that designed, manufactured and sold clothing items and accessories stamped with the Joe's name. In October 2007, Joe's Jeans merged with Innovo Group Inc., a public company in the private-label business that had been making Joe's brand clothing for a few years. Innovo took on Joe's name, and Dahan stayed as creative director. After that, the company turned its focus to retail.
Joe's Jeans opened its first two full-price retail stores a year later in Chicago and San Francisco. But that was when the recession hit hard.
"That was a difficult time to be launching much of anything, because we were undergoing a national meltdown," Crossman said. "So we took a half-step back and were very tentative about rolling out stores."
The company focused on opening outlet stores first because they cost less to lease and build out, and because they were easy to fill with wholesale overstock.
"It gave us a testing ground, a way to build out a retail team taking a more moderate level of risk," Crossman said.
But now that the recession has eased and the company has had time to hone its retail strategy, Joe's Jeans is prepared to be more aggressive rolling out full-price stores.
Crossman said the company has already picked eight of the 10 locations where it will open stores next year.
"The primary focus right now is getting into all the A malls out there," he said, "like Bellevue Square Mall near Seattle or Fashion Show Mall in Las Vegas."
Other places of interest for future stores include the Upper East Side in Manhattan and Rush Street in Chicago.
The average size for Joe's Jeans stores is about 2,100 square feet, but Crossman said he's aiming to bring it down closer to 1,500 feet to increase profitability.
"That really gives us the ability to have a full assortment of denim for both women's and men's, and also have our full collection on display," he said.
Schramm said the plan for smaller stores is another good sign for investors.
"As you get that aggregate footprint smaller, you start to see better metrics in terms of sales per square foot," he said. "In the retail space, Joe's has a clean balance sheet, no debt and positive free cash flow. Those measures alone are attractive."
For reprint and licensing requests for this article, CLICK HERE.