Microsoft Big On Westside
Real Estate: Tech titan doubles up on office leases.
Monday, February 11, 2013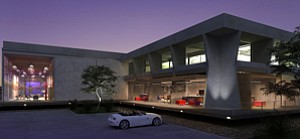 Microsoft Corp. is close to signing two leases that would significantly expand its presence in L.A.'s Westside tech hotbed.
The Redmond, Wash., company is near a deal for an undisclosed amount of space at 520 Broadway in Santa Monica for its new entertainment division. The planned production studio will house teams creating original entertainment content for its Xbox game system, sources told the Business Journal.
The second deal, a 25,000-square-foot lease at 13031 Jefferson Blvd. in Playa Vista, would see its customer-focused software and sales divisions relocate from downtown Los Angeles, according to people knowledgeable about the leases.
The moves come after the company signed a lease in November for an 11,000-square-foot retail space on Venice's trendy Abbott Kinney Boulevard to showcase new products. Together, they bring all of Microsoft's L.A. operations – including 10,000 square feet of office space in Westwood and at Santa Monica's Water Garden complex, in addition to a retail store in the Westfield Century City mall – into the Westside.

It's not a surprise that Microsoft is making a larger push into Silicon Beach as it tries to forge a better connection with advancing technologies and Hollywood, according to Arty Maharajh, vice president of research at Cassidy Turley Inc.
"Microsoft's desire to expand in the Silicon Beach area in order to leverage tech, entertainment and media resources is a natural progression for their presence here in Los Angeles," he said. "With production, sound and tech talent located on the Westside that has migrated as a result of Google, YouTube, Facebook and hundreds of other startups, it comes as no surprise to those familiar with the L.A. tech scene over the past two years that Microsoft wants to increase its footprint on the Westside."
Another indicator of its incursion into L.A.'s tech and entertainment scene, Microsoft chose a Hollywood studio last June at which to unveil its Surface tablet.
Creative lure
Indeed, as the personal computer market has continued to struggle, Microsoft has been moving in a new direction. In an October letter to shareholders, Chief Executive Steve Ballmer said the company was moving away from being purely a software maker.
"(T)he full value of our software will be seen and felt in how people use devices and services at work and in their personal lives. This is a significant shift, both in what we do and how we see ourselves – as a devices and services company," he wrote.
Prev Next
For reprint and licensing requests for this article, CLICK HERE.