Microsoft Big On Westside
Real Estate: Tech titan doubles up on office leases.
Monday, February 11, 2013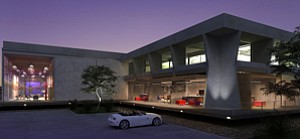 Microsoft Corp. is close to signing two leases that would significantly expand its presence in L.A.'s Westside tech hotbed.
The Redmond, Wash., company is near a deal for an undisclosed amount of space at 520 Broadway in Santa Monica for its new entertainment division. The planned production studio will house teams creating original entertainment content for its Xbox game system, sources told the Business Journal.
The second deal, a 25,000-square-foot lease at 13031 Jefferson Blvd. in Playa Vista, would see its customer-focused software and sales divisions relocate from downtown Los Angeles, according to people knowledgeable about the leases.
The moves come after the company signed a lease in November for an 11,000-square-foot retail space on Venice's trendy Abbott Kinney Boulevard to showcase new products. Together, they bring all of Microsoft's L.A. operations – including 10,000 square feet of office space in Westwood and at Santa Monica's Water Garden complex, in addition to a retail store in the Westfield Century City mall – into the Westside.

It's not a surprise that Microsoft is making a larger push into Silicon Beach as it tries to forge a better connection with advancing technologies and Hollywood, according to Arty Maharajh, vice president of research at Cassidy Turley Inc.
"Microsoft's desire to expand in the Silicon Beach area in order to leverage tech, entertainment and media resources is a natural progression for their presence here in Los Angeles," he said. "With production, sound and tech talent located on the Westside that has migrated as a result of Google, YouTube, Facebook and hundreds of other startups, it comes as no surprise to those familiar with the L.A. tech scene over the past two years that Microsoft wants to increase its footprint on the Westside."
Another indicator of its incursion into L.A.'s tech and entertainment scene, Microsoft chose a Hollywood studio last June at which to unveil its Surface tablet.
Creative lure
Indeed, as the personal computer market has continued to struggle, Microsoft has been moving in a new direction. In an October letter to shareholders, Chief Executive Steve Ballmer said the company was moving away from being purely a software maker.
"(T)he full value of our software will be seen and felt in how people use devices and services at work and in their personal lives. This is a significant shift, both in what we do and how we see ourselves – as a devices and services company," he wrote.
To that end, it hired Nancy Tellem, who had been president of the television entertainment group at CBS, late last year to head a newly created entertainment division to produce original and interactive programming for its popular Xbox Live gaming and streaming system. Just last week, entertainment website TheWrap.com reported Microsoft had hired Jada Miranda, a former NBC and HBO executive, to head production for the division.
David Toomey, a principal at Cresa who brokers tech leases on the Westside, said the move is beneficial for the overall area.
"L.A.'s tech scene definitely benefits from large players like Microsoft expanding in the marketplace, because it obviously provides jobs but it also serves as a seal of approval for this market and for the talent we have here from Hollywood," he said.
Microsoft declined to comment.
L.A.'s tech scene has expanded rapidly in Santa Monica and the Westside over the last two years, driven by the expansion of tech giants such as Google Inc. and its YouTube business, as well as hundreds of new locally grown entrepreneurial firms.
Given the creative dynamic created by the concentration of film and online production in the region, it makes sense that Microsoft would look toward Los Angeles to launch its own media operation.
Its Xbox Live service already streams programming from Netflix, Comcast Corp. and ESPN to more than 40 million subscribers, and the new entertainment division is expected to create original linear and interactive series, some of which might be linked to its games, which would be available only through Xbox.
Microsoft's new production studio, at 520 Broadway, is owned by Vornado Realty Trust in New York and will be designed by architecture firm HLW.
Listing brokers did not return calls, and the exact amount of space the company will occupy is unclear. The building has vacancies of about 16,000 square feet on the sixth floor and 10,000 square feet on the second floor. Rent was not disclosed, but CoStar Group Inc. lists the average monthly rate at $2.90.
High rents
It is likely that Microsoft searched Santa Monica for a single 25,000-square-foot space to accommodate conventional office needs, but with a vacancy rate of only 12 percent in the submarket last quarter, offices of such size are difficult to identify.
At $4.73 a square foot monthly, Santa Monica's rents are among the highest in Los Angeles County, and so Playa Vista, with more available space and lower rents, has become an appealing alternative.
In concentrating its offices in the Westside region, Microsoft is vacating 37,000 square feet at the Wells Fargo Tower, 333 S. Grand Ave., downtown. It's yet another loss for owner MPG Office Trust Inc., which is faced with billions in debt and is seeking a capital partner or new owner as it has been hemorrhaging tenants in its downtown buildings.
In making the move, Microsoft joins a growing group of tech companies moving into the Westside's Playa Vista area. YouTube is opening an office across Jefferson Boulevard at Ratkovich Co.'s Hercules Campus. Video company Vevo and digital media group 72&Sunny also plan to open nearby offices.
Microsoft's new home, known as the Reserve, is a 368,000-square-foot former U.S. Postal Service distribution center being redeveloped as creative space by Worthe Real Estate Group. Chief Executive Jeff Worthe declined to comment about the deal.

Worthe has also signed celebrity gossip website TMZ.com, which plans to take occupancy when the project opens in April.
Microsoft would move in later in the year. Downtown L.A. architecture firm Gensler has been hired to design the Playa Vista space.
For reprint and licensing requests for this article, CLICK HERE.