Let's Date Hopes to Connect With Singles
Thursday, February 7, 2013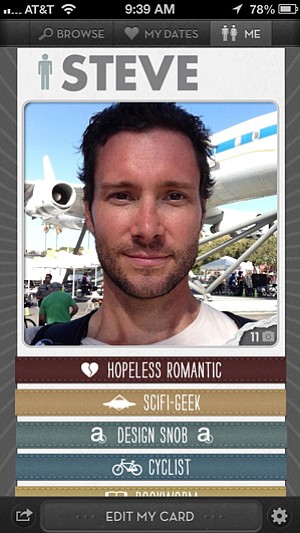 For all the e-commerce companies coming out of Santa Monica incubator Science recently, it may come as a surprise that the group's latest venture is an online dating app.
Let's Date launched Thursday as a free mobile app for matchmaking and date recommendations.
Like other dating apps, Let's Date requires people to sign in through Facebook, which helps verify that they are real people and creates a dating profile for them. After filling out a few questions, people can browse their matches.
When two people agree, "let's date," they can chat through the app. Let's Date also then suggests a date to the man provided by Yelp. It is based on the couple's mutual interests and locations.
If people select "no thanks" to a potential match, they are asked to indicate what they didn't like about that person's profile. Let's Date uses that data to try to better predict future matches.
The mobile dating market has quickly become crowded in recent years, especially with apps that will match people who are in close proximity.
But Founder and Chief Executive Sean Suhl said "Let's Date" wanted to focus more on predicting good matches than getting people together just because they were near each other. The company has developed algorithms to determine who someone might want to date. Those people are placed at the top of the digital stack of profiles.
"We've gotten good at predicting who you'd want to date," Suhl said. "We're hyper focused on providing the best matches and getting people to go on dates."
Let's Date has been available in test markets San Francisco, Los Angeles and New York. The company said it sent 8,000 people on dates in one day in January during the test.

Suhl said the test also provided some interesting dating statistics. In San Francisco, for example, couples are more likely to meet for coffee on a first date than in New York, where meeting for drinks is more common.
Suhl, who co-founded website SuicideGirls for pin-up photos, has been a longtime friend of Science Founder Mike Jones. So when he decided to create a dating service that operated solely on mobile devices, joining Science was a natural choice.
The company currently works out of Science's offices and employs four engineers.
Peter Pham, one of Science's co-founders and partners, said the incubator saw the prospect in creating a dating app just for mobile devices. While sites eHarmony, Match.com and OkCupid rule the online dating market, they have made only small steps into mobile dating.

"We think there's a big opportunity where no large incumbent is," he said. "They haven't really touched mobile, even though we're in a mobile first world."
Although Let's Date has started small, Suhl has ambitious goals for the app. The company's data on users' date choices could eventually be used to monetize the site.
While dating websites have reputations for the types of people they attract, Suhl hopes to attract all types with Let's Date.
He said a 40-year-old divorcee could use the app the same way a 20-year-old party girl might.
"Our sub pool of dates is like your nightclub," he said. "We are creating a nightclub specific to each person."
For reprint and licensing requests for this article, CLICK HERE.