Pheed Reopens to the Public
Wednesday, February 6, 2013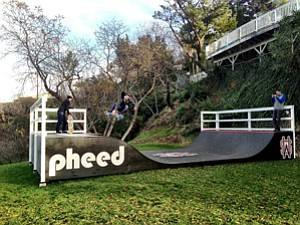 Pheed, a social networking startup that lets users share photos, videos and songs a la Twitter and Instagram, launched in October to surprising success. In only two months Pheed reached 1 million users.

Then in December, Instagram caused a frenzy when it announced new terms of use that gave the social networking site access to photos for advertising. In the wake of that news, new members flocked to Pheed, which allows users to retain ownership of their posts.
Pheed's audience grew so quickly that it stopped accepting new members at the end of December. One month later, Pheed has quietly reopened, allowing the public to sign up again.
Co-founder and Chief Executive O.D. Kobo said the 30-day lockdown allowed the company to reevaluate its strategy and develop a timeline for releasing new features.
"In Web, sometimes the faster you rise, the faster you fall," he said. "We had a milestone to reach after year one and we reached it after two months, so we got scared. We started looking at how we could focus more and protect this community."
Since reopening on Feb. 1, Pheed has grown roughly 50 percent, Kobo said.
Pheed, which employs 20 people from its headquarters in a house off Mulholland Drive, shows people content based on who they follow. They can interact with that content, say a photo, by liking it, disliking it or remixing it – essentially sharing it with their followers.
They can also post their own content. Unlike many social services, such as Twitter or Instagram, which limit the types of media that users upload, Pheed works with text, photo, video and sound files.
The social network so far has attracted primarily creative types such as celebrities, artists, photographers and the skateboarding community.
Dan Levy, assistant editor at Sherman Oaks skateboarding, surfing and music magazine Juice, said he and the magazine have started using Pheed as a way to connect with the tightknit skateboarding community.
"We post more exclusive, original content on Pheed than we do on other social media sites," he said. "It's a very intelligent community on Pheed. We're able to share some of our more valuable content on Pheed."

The creative communities are attracted to Pheed's free website and mobile phone app, in part, because of its monetization feature. Pheed allows any user to charge for content. A photographer, for example, could charge a monthly subscription fee for anyone who wants to view his stream of photos. Or a skateboarder could charge for a live pay-per-view broadcast of him skating.
Pheed makes money by participating in a revenue share with some of its premium accounts.
Kobo, who spent years as an entrepreneur and computer programmer in Hong Kong, said he's always been focused on having a reliable business model for Pheed – unlike many social networks that build an interesting product and worry about monetization later.
"I don't know why but a lot of startups come into the business world without business models," he said. "We decided to come out of the gate with a business model. We don't push the monetization, we just give you the tools."
For reprint and licensing requests for this article, CLICK HERE.