Ellie Launches With $2 Million in Funding
Friday, February 1, 2013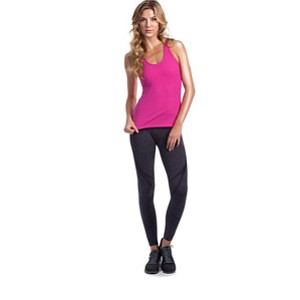 Why spend $100 on a pair of yoga pants when you can buy similar pants elsewhere for only $50?
That's the question startup Ellie hopes women will start asking after the Friday launch of its e-commerce website for active wear.
Ellie, the latest e-commerce company to come out of Mike Jones' incubator Science Inc., has created a hybrid subscription service for women who want to buy high-end workout clothing without the high-end prices.
The company, which was founded by e-commerce veteran Marcus Greinke and fashion veteran Lindsay Daniels, will start by selling 16 pieces of active wear, including tank tops, pants and long-sleeved shirts, this month. It will eventually expand to 24 pieces a month.

Customers can either pay for the items a la carte, for between $35 and $75, or can sign up for a monthly membership to receive two pieces for $50. The membership also comes with perks such as early access to new lines of clothes and other deals.
Although Ellie's clothes look and feel like those found at top active wear retailer Lululemon, Ellie is able to offer them for a cheaper price by moving most of its production in house.
The company's spacious headquarters in a Santa Monica warehouse district has room for design, pattern making and fulfillment. By manufacturing the clothes in Los Angeles, the 50-person company can produce a new line in less than two months.
"The idea behind Ellie is to create cute clothes that are a lifestyle brand with the same quality and fit as a Lululemon or Nike, but for an affordable price," Daniels said. "It shouldn't cost you $90 for those pants because to make them is actually very inexpensive."
Ellie is one of dozens of L.A. startups looking to capitalize on the trendy subscription e-commerce model. Science alone has incubated online retailers such as Dollar Shave Club for men's shaving products, TripleThread for men's clothing and Wittlebee for children's clothes.
Greinke said the company recognizes that subscriptions aren't for everyone.
"Not everybody likes subscriptions," he said. "There's always going to be fatigue around e-commerce models, but subscriptions are only one thing that we do."
Though the popularity of these models could quickly fizzle, investors seem bullish on Ellie.
The company announced Friday that is has raised $2 million in seed funding from Rustic Canyon Partners, Trinity Ventures and Blumberg Capital. Greinke said the company is currently extending the round to $5 million and plans to raise a series A round this spring.
Ellie's website was crashed early Friday, making it impossible for new members to sign up for the service. A spokeswoman for the company said the site crashed due to "excessive traffic from early anticipation on the brand."
The website is now back up and running, but has is limiting access to invite-only sign-ups.
For reprint and licensing requests for this article, CLICK HERE.