Note for Note
INTERVIEW: Manatt Phelps' George Kieffer has made time for civic affairs and music while working at the law firm for four decades.
Monday, December 2, 2013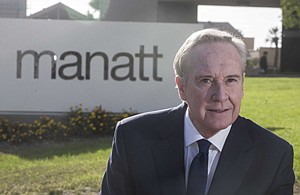 George Kieffer chairs the government and regulatory affairs practice at prominent Westside law firm Manatt Phelps & Phillips, where he's worked for 40 years. But the 66-year-old attorney is best known for his civic work outside the courtroom. He led one of the commissions that reformed the city's charter and served as chairman of the Los Angeles Area Chamber of Commerce. He now leads the Los Angeles Civic Alliance, a group of two dozen business and non-profit leaders that has stepped into some high-profile situations, including the recent effort to retain John Deasy as Los Angeles Unified School District superintendent. In addition, he's now in the midst of his second stint on the UC Board of Regents. Kieffer has kept up his other great passion: music. He's written and performed dozens of songs and is embarking on an ambitious album of orchestral music. Kieffer met with the Business Journal last month in his West L.A. office to talk about how Elton John and Carole King spurred him to take a leave of absence, learning how to travel without too much planning and how he served as an adviser to Maria Shriver.
Question: What made you decide to go into law?
Answer: My interest in the law and politics dates back to my days as an undergraduate at UC Santa Barbara. I was living in the first off-campus dormitory and the building was unfinished – things like the stairwells being incomplete. I joined a group of students who sued the owner, Isla Vista Realty; we sought and won substantial rent rebates. That was my first exposure to the law. As for the
politics, it was the late 1960s and there was a lot of unrest on campus. I became a student body officer. That sparked my interest in politics.
But weren't you also interested in music?
Yes, and starting with piano lessons as a child. I found that I really couldn't read music very well; instead, I played by ear and started tinkering with themes that I heard around me. Soon, I was composing songs, though I couldn't write them down – I just played them from memory. By the time I was in college, I was composing songs regularly on the piano.
Why did you choose law over music?
When I graduated, my plan was to take a year off before applying to law school. Plan A was to get a job in Washington, D.C., as a legislative assistant. Plan B was to travel to Europe and play in piano bars. I was about ready to go try Plan B when I knocked on the door of Rep. Michael Harrington, a freshman Democrat from Boston. I was really determined to get a job, so I and another friend took it upon ourselves to organize all his mail. I then talked my way in as his first hire, running the mimeograph machine. Eventually, I became a speechwriter.
Prev Next
For reprint and licensing requests for this article, CLICK HERE.