Arts District Growth Attracts Campus Buyer
REAL ESTATEL: Boulevard Partners snaps up creative space in off-market deal.
Monday, December 2, 2013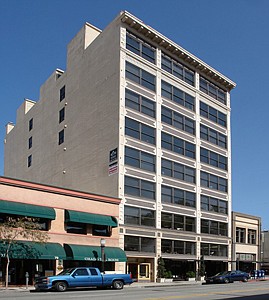 Developers and investors are taking notice as the Arts District in downtown Los Angeles continues to draw the attention of creative people and businesses.
Culver City real estate company Boulevard Partners purchased a seven-building mixed-use campus at 2118-40 E. Seventh Place in partnership with an unnamed Los Angeles family office. Industry sources estimate the off-market deal, which closed Oct. 22, was valued at about $12 million, or about $176 a square foot.
The buildings, used for live-work lofts and for commercial office and manufacturing space, total about 68,000 square feet.
Scott A. Ginsburg, managing partner at Boulevard, said the company plans to cash in on the evolving neighborhood by renovating the property and converting commercial manufacturing space into creative office and retail.
"I'm excited about the urban renewal and redevelopment happening in the Arts District," he said. "I think the neighborhood is going through an evolution, and we hope to meet and be a part of that evolution."
Before renovations can begin, the seller, Modernica Inc., needs to move out. The modern furniture manufacturer, owned by brothers Frank and Jay Novak, is said to be actively looking for new digs.
The deal was helped along by Andrew Kirsh, a partner at Century City real estate law firm Sklar Kirsh, who introduced Boulevard to the family office.
In addition to that money, New York private equity fund Pembrook Capital Management loaned Boulevard $8.5 million.
Pasadena Play
A package of three Old Pasadena buildings – a nine-story office tower and two neighboring low-rise properties – sold last week for an estimated $11 million, about $181 a square foot.
The Class B office buildings with ground floor retail at 75-95 N. Raymond Ave., formerly owned by a joint venture between Beverly Hills real estate firm Cambra Realty and New York investment firm Angelo Gordon & Co., sold to downtown L.A. real estate firm Rising Realty Partners.
The properties – totaling about 61,000 square feet – were on the market for 45 days and in escrow for 60 days before closing on Nov. 26.
Bob Safai, founding partner of West L.A. real estate services firm Madison Partners, represented the sellers in the deal.
"They're selling assets that are in an old fund, and this is one of them," he said.
Angelo and Cambra acquired the properties in 2007 as part of a portfolio that also included an office building across the street for $16.3 million, or $234 a square foot.
Safai said the property, which was about 57 percent leased at the time of the sale, has a lot of upside potential for Rising Realty.
"It's a great asset in a good location in the heart of Old Pasadena," he said. "I'm sure they're planning on putting some capital into it, leasing it up, and then holding it as a nice stable asset."
Jazzy Italian
The nightlife scene in Beverly Hills is about to get a little jazzier.
Seal Beach restaurateurs Cary Hardwick, Laurie Sisneros and Glen and Debbie Bickerstaff, working in partnership with smooth jazz musician Dave Koz, have completed demolition at leased space at 184-88 N. Canon Drive and will begin construction on a second iteration of their 25-year-old Italian restaurant Spaghettini.
The Beverly Hills location will be called Spaghettini and the Dave Koz Lounge.
The partners gutted the ground floor of the 87-year-old building last month. When a nearly two-month long Beverly Hills construction moratorium ends Jan. 6, they will begin installing a commercial kitchen and all the acoustic trappings necessary to host late-night jazz concerts. The venue is expected to open in the summer.
The lease with Koss Real Estate for the 5,600-square-foot restaurant was signed months ago, but was held up this fall by city parking requirements, which were eventually resolved.
Jay Gilberg, vice president of Koss Real Estate, was pleased the city was willing to work with Spaghettini to bring the business to the area.
The restaurant, he said, "really shows the continuing evolution of Canon Drive, solidifying it as a restaurant and now nighttime entertainment zone in Beverly Hills."
Staff reporter Bethany Firnhaber can be reached at bfirnhaber@labusinessjournal.com or (323) 549-5225, ext. 235.
For reprint and licensing requests for this article, CLICK HERE.