Restaurateurs Study Up to Add Obamare to Mix
INSURANCE: Industry expo serves up chance to discuss employee coverage.
Monday, August 26, 2013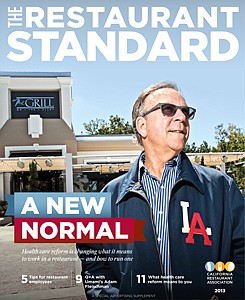 The hottest topic at last week's 2013 Western Foodservice & Hospitality Expo wasn't the latest in ergonomic chef knives or the annual Culinary Clash cook-off. It was Obamacare.
Many of the 8,500 people at the three-day trade show at the Los Angeles Convention Center snapped up thick new handbooks on how the restaurant industry can handle the Affordable Care Act. They also mobbed a California Restaurant Association booth dispensing advice on the new health insurance laws from a variety of experts on human resources and the health care industry.
More than 1.4 million people work in California restaurants, about 283,000 of them in Los Angeles County, according to the association, and compliance with the employer mandate is of great concern. The Obama administration has postponed enforcement of the employer mandate to provide health care until January 2015, and the delay gives restaurateurs more time to consider the costs, said Jot Condi, the association's chief executive.
"We are an industry with extremely thin profit margins, but we believe there is a way to do it," Condi said.
The association devoted the current edition of its magazine, the Restaurant Standard, to stories of three L.A.-area chief executives who are planning for the changes: Bob Spivak of Grill Concepts Inc. in Woodland Hills, Adam Fleischman of Umami Burger in Los Angeles and Phil Singerman of Norm's Restaurants in Long Beach.
Spivak, who co-founded the Daily Grill chain 30 years ago, told the Business Journal that his company already offers to share the cost of health insurance with full-time workers.
"In a country that is a great and advanced as the United States, it's an embarrassment that we don't have health care for all our citizens," he said. "The Affordable Care Act isn't the total answer, but I'm a businessman who thinks we've got to make it work."
A key component of the act requires everyone to carry insurance or pay into an exchange. Spivak noted that more than half his workers typically forego the benefit.
"Many of our employees are young and think they're going to live forever, so we think that a vast majority of them will continue to opt out when the time comes, at least until the penalties for not having coverage become too large," he said.
Back to School
Debbie L. Walsh will be in charge of the integration of USC Verdugo Hills Hospital with Keck Medicine of USC, which acquired the Glendale community hospital last month.
Walsh was chief executive of USC University Hospital, now known as Keck Hospital of USC, and USC Norris Cancer Hospital from 2006 to 2009, prior to their April 2009 purchase by USC from Tenet Healthcare Corp.
"Debbie Walsh's skills, experience and familiarity with USC make her the ideal choice for the position," Tom Jackiewicz, chief executive of USC Health, said in a statement.
The university plans to spend $30 million to upgrade Verdugo Hills Hospital, near the Glendale-La Cañada-Flintridge border.
Walsh was most recently chief executive of Fountain Valley Regional Hospital and Medical Center. She takes over from Leonard LaBella, who has announced that he would retire later this year.
News in Brief
Staar Surgical Co. in Monrovia has received permission from regulators in India to begin marketing an updated version of its Visian ICL implantable lens that treats nearsightedness in a safer and less complex procedure than Lasik surgery. The company expects the product will be well received in that country, because the Indian population generally has thinner corneas, which makes Lasik a more difficult procedure. ... IPC the Hospitalist Co. Inc. in North Hollywood has announced an expansion of its business in Massachusetts. The company signed a deal with Steward Health Care System LLC and its wholly owned medical group, Steward Medical Group Inc., to take over acute care hospitalist services at Steward's nine hospitals. Hospitalists coordinate patient care with primary physicians. ... UCLA Health System's Jules Stein Eye Institute in Westwood and the Doheny Eye Institute north of Koreatown announced that they are in negotiations to form an affiliation for ophthalmic patient care, vision research and education. Doheny researchers are likely to gain faculty privileges at UCLA's Geffen School of Medicine under the partnership. The board of Doheny, which was established in 1947 by Carrie Estelle Doheny, wife of L.A oilman Edward L. Doheny, has been exploring potential partnerships with larger institutions for several months. "With UCLA and the Jules Stein Eye Institute, we have identified a partner whose mission statement is complementary to ours and who shares our values and high standards for education, patient care and research," said Ed Landry, Doheny's chairman. "We look forward to fruitful negotiations."
Staff reporter Deborah Crowe can be reached at dcrowe@labusinessjournal.com or (323) 549-5225, ext. 232.
For reprint and licensing requests for this article, CLICK HERE.