Two Bit Circus Looks to Bring Technology to Carnival Classics
Tuesday, April 30, 2013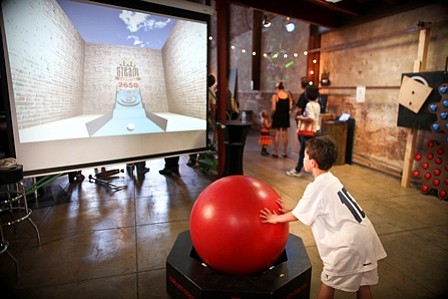 A downtown Los Angeles company is putting a high-tech twist on the traditional carnival games and prizes that many adults remember from their childhood days.
Two Bit Circus, which bills itself as a think tank for amusement and education, held its first tech-focused STEAM Carnival (STEAM stands for Science, Technology, Engineering, Art and Math) last weekend at the Brewery Art Walk in east downtown.
The carnival, which hosted about 2,000 visitors, showcased technological takes on classic carnival games. For example, there was a ring toss where the bottles ignited in flames or a strength test where a bolt of electricity shot up instead of a metal puck.
Two Bit Circus launched a Kickstarter crowdfunding campaign on Tuesday to raise $100,000. The company wants to use to money to take the carnival on the road – starting with Los Angeles and San Francisco – next spring.
As of noon Tuesday, the Kickstarter had raised 4 percent of its goal.
Two Bit Circus is the brainchild of Brent Bushnell, son of Atari founder Nolan Bushnell, and a team that came over from L.A. engineering and design firm Syyn Labs. The five-person founding team began working on the company a little over a year ago and has grown to a staff of 25.
Bushnell said the goal of the carnival is to teach school children about science and technology in an engaging way. In addition to hosting the carnival, Two Bit Circus wants to sell kits for kids to make their own robots and other projects that they can showcase when the carnival rolls into town.
"Our excitement around getting kids excited about science, technology, art and math is really a fundamental piece for us," Bushnell said. "We're creating a fun event for the whole family, but we have a secret agenda. We've got a whole bunch of ways that kids can get involved."
The company plans on making most of its revenue by selling tickets to the carnival (between $15-$25) and concessions inside the carnival. It will also charge for some of the carnival games. That's in addition to selling the kits.
Bushnell acknowledged that putting on a large-scale carnival comes with its own set of challenges. But he added that Two Bit Circus is working with an entertainment company – he would not specify which one – that is accustomed to hosting large events.
"The logistics around event planning and production are huge," he said. "Our whole group has been throwing parties for years. So organizing a thousand people is nothing new to us."
For reprint and licensing requests for this article, CLICK HERE.