Asian Accents
TOURISM: Hotels and shops offer cultural comforts to serve wave of Chinese visitors.
Monday, April 29, 2013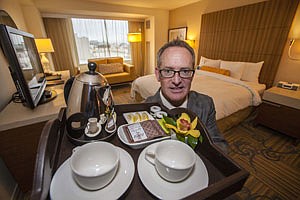 Before then-Vice President Xi Jinping checked into his suite at the JW Marriott Los Angeles at L.A. Live last year, employees set out a pot of hot tea and laid a mat and slippers near the bed so his bare feet needn't touch the floor directly.
Those gestures, which might seem over the top to most Americans, reflect the cultural niceties that a growing number of Chinese tourists look for, regardless of status, when they visit Los Angeles.
"We try to take that extra step, whether it's having the China Daily newspaper on hand or Chinese-language channels on TV," said Bill Buckley, director of sales and marketing at the Marriott.
There's ample reason for the local hospitality and retail industries to take Chinese expectations into account.
The number of Chinese tourists visiting Los Angeles exploded last year: Nearly one-third of the 1.5 million Chinese tourists who visited the United States last year came to Los Angeles, which was an increase of 35 percent from the previous year.
For the first time, Los Angeles had more tourists from China than any other overseas market, an influx spurred in part by a visa process that was cut to a few weeks from as much as eight months.
With the average Chinese tourist spending more than $1,300 in Los Angeles – about $600 million overall last year – tourism officials, hoteliers and shopping center managers in the region have retooled their marketing efforts to capture a greater share of the growing market.
As part of that effort, earlier this month a group from the city's L.A. Tourism & Convention Board, took a 10-day trip to China, where they met with regional tourism ministers and attended travel conventions. Ernest Wooden Jr., the group's chief executive, traveled to China a few days in advance as part of Gov. Jerry Brown's trade mission.
The aim, Wooden said, was to glean information they could use to further an initiative they've been pushing hard with hotels and retailers to make Los Angeles "China ready."
Chinese visitors to Los Angeles fall predominantly into two groups, he said: young, independent travelers eager to book their trips online and business people traveling in groups for meetings, conventions, expositions and as a reward for good performance. Both groups, however, like a little taste of home while abroad.
Broadening appeal
Today, many Chinese travelers stay at hotels in the San Gabriel Valley, which has a large population of emigrants from China, when they visit Los Angeles.
Bruce Baltin, senior vice president at the L.A. office of PKF Consulting, said that for Los Angeles to attract more Chinese tourists, hotels need to have Mandarin- or Cantonese-speaking staff, Chinese TV channels and food compatible with Chinese palates.
In addition to cultural touches like the slippers and bedside mats at the J.W. Marriott, L.A. Hotel Downtown, which will be rebranded a Hyatt hotel after completion of a $20 million upgrade this summer, offers a traditional Chinese breakfast on its menu. Universal Studios Hollywood, which offers a Mandarin studio tour, recently had many of its restaurants add at least one Chinese item to menus to keep Chinese visitors from leaving at lunchtime.
The increase in Chinese travelers has not gone unnoticed by area retailers, many of which are providing Chinese-language directories and translations for in-store promotions.
Wooden said watches, high-end handbags and other luxury items are often high on Chinese visitors' shopping lists.
"Often, the price of luxury goods in China can be 40 to 60 percent more than what it costs us here," he said. "So when they come here, they want to spend quality time shopping."
To make shopping easier for Chinese tourists, a number of retailers, including most stores at the Beverly Center and Citadel Outlets, have recently begun accepting China UnionPay, the most widely used Chinese credit card. The card, which requires a different technology to process payment than MasterCard or Visa, for example, is not yet widely accepted by retailers in the United States.
About 85 percent of the stores at the Citadel Outlets, a 120-store retail complex near the 5 freeway southeast of downtown Los Angeles, accept CUP. Cynthia Schmitt, director of tourism, sales and marketing for Citadel Outlets, said a recently opened VIP lounge, designed to cater to large, free-spending tour groups, was also being marketed to Chinese tourists.
"I've made sure we have the types of drinks that the Chinese would be looking for, hot teas and juices," she said. "We also have a place where they can store their luggage. Overseas flights to the Pacific Rim tend to be in the evening, so they can visit us and then head straight to the airport."
But all of this is just the beginning. The Commerce Department estimates that from 2010 to 2016, the number of Chinese tourists visiting the United States will grow by 232 percent.
Wooden said that's why the Tourism & Convention Board is eager to dig in early.
"We want to make sure that when that happens, we have a strong guanxi (network) of tour operators and political affiliates in place," he said. "That's why we're investing our tourism dollars early in China."
For reprint and licensing requests for this article, CLICK HERE.