Privacy Apps' Popularity Spreads
INTERNET: WhisperText and Snapchat step into social gaps.
Monday, April 22, 2013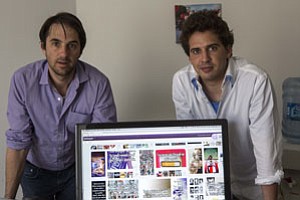 It took WhisperText LLC's app a good three months to really take off.
The app, which lets people post anonymous confessions on a public bulletin board, quietly launched last May and puttered around the lower rungs of the iPhone app rankings.
It was only later, after the school year started, that the growth – that word-of-mouth, pandemiclike transmittal – suddenly set in.
This month, Whisper announced that it had just crossed 1 million downloads, had racked up 1 billion page views in March and, most recently, had raised a $3 million seed round led by Menlo Park's Lightspeed Venture Partners.
It was Lightspeed's second recent pass at funding a local social media app, and while Whisper and Venice's Snapchat Inc. take different approaches to the market, both intersect in their appeal to late adolescents for whom Facebook is already passé. As the service loses cool points among the age group, these apps provide an alternative that is free of the endless self-promotion on Facebook, as well as the daunting permanence of every post.
The kinds of posts that Whisper seems to attract are of the raw, confessional kind, such as "Lying to myself that she is still in love with me" or "I wish my life was as perfect as my Facebook page makes me seem." It's hardly Goethe, although one could imagine the German Romantic taking a shine to the yearning and searching within the messages.
So it was no coincidence to Whisper's 25-year-old co-founder Michael Heyward that his company's success was hitched to the start of the school year.
"We really took off with college students because people in college are at a time of their lives where they really are being thrown into this culture shock," Heyward said. "It's all about self-discovery."
Whisper isn't alone in its success.
Snapchat, a 10-person firm, makes a messaging app that lets people send their friends pictures and videos with a built-in self-destruct feature. Once a picture is opened up, recipients have a fixed amount of time to look at it before it's gone forever.
Since launching in late 2011, Snapchat has achieved an even steeper takeoff than Whisper, and said it currently handles more than 150 million picture messages a day. That's a 150 percent jump from February when it last revealed numbers.
Snapchat received funding from Lightspeed in its seed round. In March, the company raised $13.5 million in a series A round led by Menlo Park's Benchmark Capital.
Prev Next
For reprint and licensing requests for this article, CLICK HERE.