Privacy Apps' Popularity Spreads
INTERNET: WhisperText and Snapchat step into social gaps.
Monday, April 22, 2013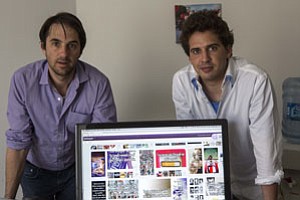 It took WhisperText LLC's app a good three months to really take off.
The app, which lets people post anonymous confessions on a public bulletin board, quietly launched last May and puttered around the lower rungs of the iPhone app rankings.
It was only later, after the school year started, that the growth – that word-of-mouth, pandemiclike transmittal – suddenly set in.
This month, Whisper announced that it had just crossed 1 million downloads, had racked up 1 billion page views in March and, most recently, had raised a $3 million seed round led by Menlo Park's Lightspeed Venture Partners.
It was Lightspeed's second recent pass at funding a local social media app, and while Whisper and Venice's Snapchat Inc. take different approaches to the market, both intersect in their appeal to late adolescents for whom Facebook is already passé. As the service loses cool points among the age group, these apps provide an alternative that is free of the endless self-promotion on Facebook, as well as the daunting permanence of every post.
The kinds of posts that Whisper seems to attract are of the raw, confessional kind, such as "Lying to myself that she is still in love with me" or "I wish my life was as perfect as my Facebook page makes me seem." It's hardly Goethe, although one could imagine the German Romantic taking a shine to the yearning and searching within the messages.
So it was no coincidence to Whisper's 25-year-old co-founder Michael Heyward that his company's success was hitched to the start of the school year.
"We really took off with college students because people in college are at a time of their lives where they really are being thrown into this culture shock," Heyward said. "It's all about self-discovery."
Whisper isn't alone in its success.
Snapchat, a 10-person firm, makes a messaging app that lets people send their friends pictures and videos with a built-in self-destruct feature. Once a picture is opened up, recipients have a fixed amount of time to look at it before it's gone forever.
Since launching in late 2011, Snapchat has achieved an even steeper takeoff than Whisper, and said it currently handles more than 150 million picture messages a day. That's a 150 percent jump from February when it last revealed numbers.
Snapchat received funding from Lightspeed in its seed round. In March, the company raised $13.5 million in a series A round led by Menlo Park's Benchmark Capital.
What they're not
The philosophy and appeal behind these two apps are slightly different. Whisper works as an anonymous note that someone posts to a public forum and remains permanent. Snapchat messages are sent only to acquaintances and are ephemeral by design.
But they emerge at a time when studies have shown teenagers and college students losing interest in Facebook, the dominant social network.
"Facebook has become so central that it's more of a public utility rather than a platform for frivolous play. Kids are looking for the next opportunity to have fun interactions with each other," said Karen North, a social media professor at USC's Annenberg School for Communication and Journalism. "With these apps you're announcing to the world, one way or another, 'I'm not trying to be judged for this. It's just a moment.' "
Whisper was born as a spin-off of another secure messaging app, TigerText Inc., which was designed to be a self-destructing messenger aimed at consumers (not unlike Snapchat), though has since pitched itself as a tool for health care professionals to communicate with patients.
Founder Brad Brooks hired Heyward as an early employee of TigerText – the two are childhood friends – and when Whisper was conceived, Heyward headed up that project. Brooks is listed as co-founder at both companies, and splits his time between the two offices, both on Montana Boulevard in Santa Monica.
Whisper, currently available only for Apple Inc.'s iOS devices, works as both a browsing and creation app. Once a message is posted, people can either respond with another message or send a direct private communication for a small fee.
The only identifying mark on each confession is an optional location tag that gives a general idea of where the user is when posting the message.
These location tags are what creates Whisper's community feel. People on a college campus can sort through nearby messages from fellow students, and thanks to an aggressive marketing push, Facebook fan pages showing Whisper posts have popped up for nearly every major college.
That reliance on Facebook to build the community is what keeps Whisper from ever being a true threat to the social site.
"I don't see us as competitive with Facebook," Heyward said. "Whisper is a different type of interaction and it's not something Facebook can do."
Snapchat, however, has not been quite as chummy with the uber social network.
As the app began to gain popularity in late 2012, Facebook rushed to release its own take on a self-deleting messaging service.
Designed to be the Snapchat killer, the feature was an unmitigated flop. Not only did it fail to stem the upstart's popularity, the increased attention Snapchat got from the controversy might have spurred even more downloads.
Executives at Snapchat did not return requests for comments, but Lightspeed partner Jeremy Liew believes Facebook's copycat was doomed from the outset.
"When people join a social media site, they learn to use the community in an organic, specific way," Liew said. "What Facebook did is they pushed through their app and it didn't have the ability for organic growth. People didn't know what to do and it dropped away really quickly."
Ad revenue
When it comes to scaling these new companies, building the audience might have been the easy part.
Whisper has a revenue stream from its private messaging service. People who want to reach out directly to posters are charged 99 cents to participate in a single conversation, $5.99 for a month of unlimited messages.
Heyward and Brooks said the paid messages are not directly intended to make money, but rather to deter spammers. Charging people a nominal fee to weed out robot messengers is something Facebook has used as well.
These private messages on Whisper have turned out to be a popular feature; Company executives said people send nearly 1 million each day.
They didn't specify exactly how these messages break down in terms of single 99 cent payments and ones from monthly subscribers, so it's hard to determine how much money it brings in. Heyward said this revenue is covering a "decent amount" of the company's costs.
For both Snapchat and Whisper, the big money will likely come from advertising toward their massive audiences. But each one presents some interesting problems.
Snapchat, since its inception, has been dogged by accusations that it's the ideal tool for "sexting," sending explicit images through cell phones.
Co-founder Evan Spiegel has repeatedly minimized those charges, but the aura of an app transmitting explicit content could scare off higher-paying advertisers. Still, he mentioned at a recent tech panel that Snapchat had been toying with a few ad prototypes.
Whisper has a different problem. No doubt the confessional nature of the posts would give advertisers access to a wealth of information to create targeted ads. But there's also an expectation of privacy that Whisperers might come to expect. Would it be a violation if, say, a person who anonymously comes out on Whisper starts getting ads targeted at a gay audience?
"They're going to make more conservative decisions first," said USC's North. "You can say the decisions being made are in part for financial reasons but they'll walk a fine line of how to advertise based on what people choose to reveal."
Heyward and Brooks maintain that advertising on Whisper, in whatever model the company uses, will remain discrete and respectful. The emphasis now is on continuing to build the sense of community and making it a safe space for people to confess.
The balance between business and personal service has perhaps been the alchemy behind the lightning-fast adoption of the new social media apps.
"It speaks to the notion of people wanting to connect on an authentic level and see things they can't see anywhere else," Heyward said. "It's post-Facebook."
For reprint and licensing requests for this article, CLICK HERE.