Jeans Maker Sowed Fate
APPAREL: Litigious Guess co-founder fights bankruptcy.
Monday, April 22, 2013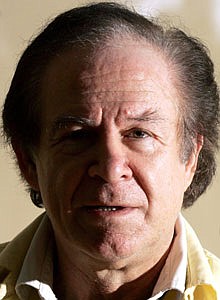 When a judge ordered Guess Inc. co-founder Georges Marciano to pay hundreds of millions of dollars to former employees in 2009, it marked the sudden and improbable erasure of a local fortune amassed over decades.
But nearly four years later, the legendary designer is still embroiled in a bitter fight to save his wealth. His scorched-earth tactics have included an avalanche of appeals, no-shows at legal proceedings and the relocation of his assets – and person – to Canada. He's managed to hold on to most of his possessions, including an 84-carat diamond and a fleet of Ferraris – despite a forced bankruptcy and a bench warrant issued for his arrest.
Now, there are signs that the circle might finally be closing. Last week, a judge in Canada ordered his assets there frozen after the U.S. Court of Appeals for the Ninth Circuit upheld his forced bankruptcy earlier this year. Trustees also have sold or found buyers for all his real estate holdings in Los Angeles this year, including three apartment buildings in Beverly Hills.
Legal observers say Marciano's behavior in bankruptcy has been just as combative – and ultimately self-destructive – as the legal battle that bankrupted him in the first place.
"It's very unusual to find a very wealthy person behaving in a completely irrational way in a bankruptcy," said Dan Schechter, a law professor at Loyola Law School who reviewed the case for the Business Journal. "He is going to lose everything just because of his hardball tactics, and it's just a pity."
The fall of Marciano, long one of the region's most prominent fashion industry icons, can be traced entirely to his belief beginning in 2006 that employees had stolen from him. Though outside accountants and a Los Angeles County Sheriff's Department investigation never found proof of a crime, he sued his former employees. They countersued for defamation, and in 2009 he came up on the wrong end of judgments totaling $425 million; those have since been reduced to about $86 million. His delays in paying them pushed him into involuntary bankruptcy in 2010.
Michael Reznick, an attorney representing Marciano, maintained his client was unfairly placed into bankruptcy and has asked for a rehearing of the Ninth Circuit decision.
Reznick denied Marciano was delaying the bankruptcy process, and accused the trustees and other attorneys of stretching it out to collect on administrative fees, which are now estimated at around $20 million.
"Mr. Marciano has done what he's entitled to do under the legal system in the United States and in Canada," he said. "This is an injustice that occurred and we seek justice."
Until recently, Marciano's life was a classic rags-to-riches immigrant story. He dropped out of school as a teenager and in 1977 moved to California from France with $5,000. Three years later, he and three of his brothers launched Guess in a 600-square-foot room on Broadway in downtown Los Angeles, selling clothing designed by Georges to department stores such as Bloomingdale's and Saks. The company grew into an empire, and today Marciano is credited with popularizing denim in high fashion. The Los Angeles County Museum of Art named him California Designer of the Year in 1987; former Mayor Tom Bradley named a day in his honor.
Shrewd investor
He sold his stake in Guess for $220 million in 1993 and turned to several other ventures, including real estate.
He proved a shrewd real estate player, buying an office building on the northwest corner of Beverly Drive and Wilshire Boulevard in Beverly Hills for $27 million that year, and selling it for a reported $135 million in 2005. He also self-financed a little-noticed run for governor in 2009.
A 2009 court filing by Marciano listed assets worth $175 million upon liquidation, though some media reports placed his value at up to $500 million.
But since his court losses that year, he's left the country and taken his assets with him, according to court documents. He has taken up residence in a hotel he purchased in Montreal, where he now owns 18 buildings, according to documents. The hotel, L'Hotel, has housed his massive collection of hundreds of pop art pieces, including a painting of Marciano by Andy Warhol that hangs in the lobby.
Court records also show he took a collection of jewelry and watches worth more than $30 million and sports cars worth more than $3 million. Reznick said Marciano had handed over his jewelry and cars to a third party for safekeeping, and was not hiding assets.
From his new home in Montreal, he has continued a legal battle against his creditors in Los Angeles. He has argued that many of the assets attributed to him are not his, though the court found his asset listings incomplete. He has also failed to show up to debtor examinations related to his bankruptcy case in federal court in Los Angeles. In January, a judge found him in contempt of court and issued a bench warrant for his arrest.
"He's used every avenue available to him to delay," said Peter A. Davidson, an attorney at Ervin Cohen & Jessup representing the creditors' committee. "He's appealed virtually every order that the bankruptcy court has issued. And when the district court's affirmed, he's appealed in the district court. It has become time consuming and expensive."
R. Rex Parris, an attorney representing several creditors, believes Marciano has run out of options. Parris, who also serves as mayor of Lancaster, thinks his clients will likely get paid in the next four to six months and added that he did not think it would ruin Marciano, whom he believes understated his assets and could be worth up to $700 million.
"All this was to Marciano was a game, because it's not going to affect him in any way," he said.
Attorneys for the bankruptcy trustee last month filed a new plan of liquidation, which still needs to be approved by the court and voted on by creditors. Marciano's liabilities are estimated at more than $100 million, and legal and administrative fees of the bankruptcy could end up costing around $20 million.
Still being litigated is what will happen with his alleged assets in Canada. Davidson said that under a best-case scenario, creditors could see money by the end of the year, but that further delays could drag the process out for years.
The bankruptcy trustee has been able to recover Marciano's real estate in Los Angeles, including three homes and three apartment buildings worth more than $50 million.
Schechter called Marciano a case study in how not to handle a bankruptcy, blaming his apparent unwillingness to compromise for what is increasingly looking like a disastrous legal outcome.
"Everything's going against him," he said.
It would be quite a fall for one of the L.A. fashion industry's biggest success stories. He described his rise thusly to the Business Journal in an interview in 2009:
"When I was 13, I was selling vegetables in a market. It was a privilege. I worked all my life. It doesn't mean because you're selling food at 13 that you're a lazy guy or you're going to turn bad. It took me 45 years to get here."
For reprint and licensing requests for this article, CLICK HERE.