Online Platform Gets Marketing Firms Talking
Internet: Shift's cloud service allows businesses to network and access apps.
Monday, April 15, 2013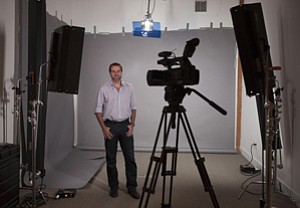 Shift, a Santa Monica firm that makes apps for marketers, is continuing to tweak its formula. After dropping its old name, GraphEffect, a few months back, it has now launched a product that places it in a new marketplace.
Shift's new platform, called Open Marketing Cloud, is a mix between a social network and an app platform. The service allows marketers to communicate with each other through a site that looks similar to Facebook as well as purchase and use various third-party apps that assist in running marketing campaigns.
Of the dozen apps listed on the site, many are designed to help marketers tap the chatter in social media – a constantly evolving landscape that Shift executives said requires a nimble platform.
"Digital marketing moves so fast that marketing deserves to be able to use any technology," said Chief Executive James Borow. "And the Shift marketing cloud has more firepower than other clouds out there."
Shift will continue to sell its GraphEffect application, which lets marketers monitor feeds on hundreds of different social networks and manage campaigns through them.
In a sense, Shift is fashioning itself after Apple Inc. and its app store. Just as Apple uses the service as a place to sell company-made apps as well as those made by others, Shift is still pitching its GraphEffect application within its larger marketplace.
Marketers can communicate on the Open Marketing Cloud platform at no charge. Shift makes money when users buy the GraphEffect software; it also takes a cut from sales of third-party apps listed in the marketplace. So far, Shift's software has been used by corporations including American Express, Marriott and Toyota.
As Shift tries to establish itself in this new sector, the company is in competition with software makers Adobe Inc. and Salesforce Inc., both of which sell cloud-based marketing products.
Shift, with 65 employees, also has offices in New York, Chicago and Palo Alto. It has received funding from a bevy of local venture capital firms, including Santa Monica's Siemer Ventures and Baroda Ventures.
Joining Office
DocStoc Inc. in Santa Monica has recently teamed up with Redmond, Wash.'s Microsoft Corp. to sell its business documents through the Office suite's online store.
With the arrangement, users of Microsoft's Word can purchase and download 10 different document templates created by DocStoc. So someone wanting to draft a partnership agreement, for instance, or a resignation letter that's more official looking than one scrawled in crayon, has the option to purchase one DocStoc has designed; each template costs $24.99.
The primary business for DocStoc, headed by co-founder Jason Nazar, is a subscription-based online library for small businesses that houses a variety of documents and tutorials.
This is the first partnership between Microsoft and DocStoc.
California Moves Up
Milken Institute in Santa Monica has released its biennial ranking of the tech and science capabilities of all 50 states, and once again California ranks well – though not at the top. The Golden State, home to Silicon Valley and, more recently, the L.A. tech boom, ranks third, trailing Maryland and Massachusetts; this placement is actually a one-spot improvement from the last time the list came out. The Institute looks at several criteria, including a state's research and development activity, venture capital funding landscape, and technology and science workforce.
For California, the list highlights the resurgent tech scene, driven by growth in Silicon Valley as well as L.A.'s performance, as strong reasons for the state's improved ranking compared with 2010.
Tech Titles
Jason Rapp has joined Santa Monica's Science Inc. as the tech incubator's managing director. Rapp was previously president at Culver City's Mahalo.com and left the online how-to site last year. Science, founded by former Myspace Inc. Chief Executive Mike Jones, has been actively churning out startups – many with an e-commerce angle – since it was founded in 2011. … E-commerce software maker Magento has named Glenn Hansen vice president of global sales and channels. Hansen has previously worked as the head of worldwide operations at Cupertino's Zend Technologies, a maker of business software. Magento was acquired in 2011 by eBay Inc. and is part of the online auction site's suite of e-commerce service providers.
Staff reporter Tom Dotan can be reached at tdotan@labusinessjournal.com or (323) 549-5225, ext. 263.
For reprint and licensing requests for this article, CLICK HERE.