Foreclosure Boom Busts Attorney
LAW: Bankrupt Gene W. Choe also faces possible loss of license.
Monday, April 15, 2013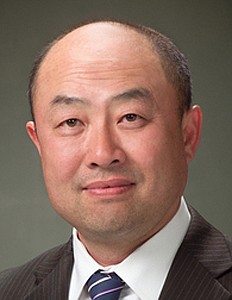 The Law Offices of Gene W. Choe has been one of the region's biggest and most active law firms fighting home foreclosures, its staff of about 40 attorneys handling 800 clients at one point last year.
Now, in a rapid turnabout, Choe is battling accusations that he perpetrated a long-running scam. The attorney is scheduled to appear at a hearing this week where the State Bar of California will seek to discipline and potentially disbar him for allegedly taking money from clients without performing legal services.
Some former clients and business associates said Choe directed the Koreatown firm to bring in new clients on retainer, although the firm didn't have the means to follow through and provide them with proper legal services. Some clients lost their homes as a result.
"His business plan was almost a Ponzi scheme," said Marc Collins, who headed the firm's bankruptcy department until late 2011. "It was to have a steady stream of new retainers signed no matter what, whether it violated the law, whether it violated ethical duties, whether the case was properly analyzed, whether there was competent legal advice."
Former associates and clients described a sales-driven environment in which hundreds of troubled homeowners signed up by the firm's sales team were dumped on an understaffed legal department. Mistakes and delays led to clients losing their homes or paying for legal filings that were dismissed, and in some cases hardly getting any legal services at all, they said.
At one point, Collins said, he was the only attorney in the firm's bankruptcy department, responsible for 300 pending cases with only one paralegal.
The accusations have leveled the firm, which now has three lawyers after a mass exodus last year. Facing a wave of lawsuits and legal fee disputes from former clients, Choe has also filed for personal bankruptcy.
But Choe, 50, said he successfully saved many of his clients' homes, only losing a small minority of them.
He also said the firm became difficult to manage as its workload exploded and that the mistakes made were by his underlings.
"We've done a lot of good work, no question about it," he said. "When you service as many as 1,000 clients, some of them are going to be unhappy. And when you rely on 40 or so attorneys, some of them are not going to be as professional as I would like them to be."
Choe was one of the biggest local players in the area of foreclosure law, and he's not the only attorney in that area to come under scrutiny. The State Bar has pursued disciplinary charges against 179 California lawyers working in the area of loan modification since February 2009. Of those, 28 have been disbarred.
Desperate clients
In 2011, Steven Capuano was desperate. His Camarillo house was scheduled for a foreclosure sale, the payments becoming impossible after budget cuts slashed his overtime pay as a law enforcement officer. So he dipped into the stream of mailers flooding in from local foreclosure attorneys, picked the most professional-looking one and set up a same-day appointment at Choe's firm.
At the firm's bustling offices, Capuano was shown to a conference room and met with a member of the firm's sales team. In walked Choe himself, flanked by other lawyers and brimming with confidence. Choe claimed he had "cracked the code" to saving homes from foreclosure. His firm could help Capuano by applying for a loan modification and could also sue Capuano's bank, all for a $5,000 retainer, four postdated monthly checks of $3,500 and a final check of $1,000.
"It looked like an expensive New York law firm," Capuano said. "I was impressed."
He wrote out checks that day for $20,000, of which $12,000 was deposited by the firm, but he said he never received a loan modification nor was a lawsuit ever filed for him. He then paid the firm an additional $33,000, borrowed from his mother, to file for bankruptcy as a last-ditch effort. But his bankruptcy filings were dismissed due to filing errors by the firm. He lost his house to a foreclosure sale within six months of hiring Choe.
He now believes he was scammed.
"You have no way of verifying that he's ever done the work," Capuano said. "The scam is that he takes the money upfront, he promises the loan modification and litigation with the bank. Once he's taken money for that, he steers clients into bankruptcies."
Capuano is one of a half-dozen former clients cited by the State Bar in its disciplinary charges against Choe. It alleges that Choe's firm did not perform any legal services for Capuano until the bankruptcy filings. It similarly alleges that the other five cited clients paid for services they did not receive. The State Bar did not make prosecutors available for comment.
Capuano eventually got his money back after winning a court ruling against Choe. Other former clients have sued or filed legal fee challenges. In his personal bankruptcy filing in December, Choe listed 25 recent and pending legal cases against him, most of them filed by former clients.
Choe declined to discuss his first meeting with Capuano, and blamed Collins, who has since been hired by Capuano for bankruptcy services, for the mistakes made in the case. He said his mistake was in expanding to the point where he could no longer properly oversee his firm.
"As these homeowners came, we had to keep on adding people and I think that was a mistake," he said. "I should have said no, I should have turned them away. Because when it got too big, I could not manage it."
Indeed, the expansion was rapid. Choe has been a practicing lawyer in California since 1997, working on cases including immigration and creditors' rights with a handful of other attorneys, but turned his attention to foreclosures in 2009.
"President Obama was on the screen saying we can stem the tide of foreclosure with loan modifications and I felt this was my calling," he said.
Profits elusive
But there are several obstacles to making foreclosure defense work as a profitable business. Firms deal with clients who cannot afford an hourly rate for time-consuming litigation services. Since payouts are not generally as large as in personal injury cases, where punitive damages are often awarded, taking cases on contingency isn't very profitable either.
Making matters trickier was the passage of a 2009 California law making it illegal for attorneys to receive money upfront for loan modification services.
"A lot of attorneys were being discouraged from helping people out," Choe said.
As a solution, Choe's business model was to have clients pay a retainer and postdated monthly checks for litigation services. In this way he could also provide loan modification services to the same client without having to take money upfront for the service. The State Bar, however, is alleging that he did in fact take money upfront for loan modifications.
He proved adept at marketing. He held seminars, sent out mailers and ran commercials on Korean-language television. Many of his early clients were Korean and Spanish speakers, though they soon expanded beyond those communities.
The firm was also known for an aggressive sales team, though Choe rejected the label, calling them "intake paralegals" who "decided to call themselves salespeople." He said they were paid a nonpercentage performance bonus, but declined to elaborate.
For a while, the business was a success. The firm grew to around 20 attorneys in Los Angeles in 2011 and around 35 in 2012, moving to more expensive offices also in Koreatown.
"I think they were up there in the top five (foreclosure) firms in L.A.," said Deborah R. Bronner, another home foreclosure attorney.
Choe hired a handful of attorneys to open a second office in San Jose in 2011. That office recruited at least 200 clients in 10 months, according to court filings.
"He had this grand vision of opening offices all over the state," said Luis Camacho, an attorney who ran the firm's San Jose office.
But it crumbled. Complaints to the State Bar from angry clients reached a critical mass and employees began leaving en masse last year after receiving calls from investigators. Furthermore, one of the firm's main sources of client referrals, the Gordon Law Firm in Los Angeles, was shut down last year after federal investigators charged it with taking an upfront fee for loan modifications, then doing little or nothing to help clients. Gordon was already under a State Bar investigation when Choe struck the referrals deal, but Choe said he didn't know about it at the time.
Collins said he quit in December 2011 when he discovered his name on a payment agreement with a client that he had not authorized.
Choe said that in one instance, he fired an employee after catching him soliciting money from clients to falsify documents but denied awareness of any other document falsification.
Choe filed for bankruptcy in December. It's unclear how much profit the firm generated; he claims not very much. In his initial bankruptcy filing, he listed an income of $170,000 a month, but later amended that to about $200,000 a year, telling the Business Journal that he had confused corporate and personal incomes. Also listed on the bankruptcy filing are BMW 7-Series and Mercedes S-Class vehicles.
Collins said Choe often had clients make checks out to cash and had a cash-counting machine in his office, an allegation that Choe declined to comment on.
For now, he has a date with the State Bar. Choe said he is a "sacrificial lamb" to political scrutiny of the foreclosure process.
"Anybody who wants to do loan modification and foreclosure litigation, you're going out of business," he said. "If you do it like once or twice per month, I think the bar is going to leave you alone. But if you do it on any type of mass-scale basis, forget it."
For reprint and licensing requests for this article, CLICK HERE.