Set-Up, Delivery
ENTERTAINMENT: Laugh Factory sees online platform as next stage in club chain's expansion.
Monday, April 8, 2013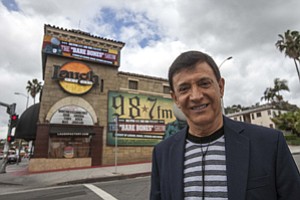 When Jamie Masada opened Hollywood comedy club Laugh Factory in 1979, his idea of paying every comedian who took the stage was still a novel concept.
More than 30 years later, the model seems to still be working. His Laugh Factory added locations in Chicago and Las Vegas last year, and the flagship Hollywood venue still pulls in big names such as Dave Chappelle, who stopped by unannounced last month to do a set.
But Masada's new challenge is reaching consumers on the couch.
To do that, he is trying to adapt his company to the fast-changing digital entertainment landscape, entering a market with an array of entertainment options and platforms. What's more, he's trying to do it while continuing to assure comedians they'll be paid.
In the coming weeks, Masada's company will launch the Laugh Factory Comedy Network on its website. The new offering, which will feature performances from its clubs and original sketches from comedians who appear at its venues, will pay contributors 50 percent of the income, after fees, from subscription and online ad sales.
"We want to give the tool to comedians to be funny and do everything they want to do. We want to give freedom of creativity to everybody in the comedy business," Masada said.
Laugh Factory has been trying to define its digital strategy for some time. It already offers some streaming video on its website and last year launched an app for Sony's PlayStation 3 video-game platform. The comedy club also has a popular YouTube channel that will pay contributors through a revenue-sharing model.
But Masada is now doubling down on the digital strategy. Laugh Factory recently spent about $1 million to upgrade its digital production hardware as it prepares for the launch of its online video service.
In addition to the new website channel, Laugh Factory plans to launch companion apps for the digital network on Apple and Android mobile platforms and eventually expand to offer apps on other platforms.
To oversee the new digital initiative, Masada hired Lance Koenders, formerly Intel Corp.'s liaison to Hollywood, as president of Laugh Factory New Media.
Koenders' mission is to create low-cost content with high production values, something he said standup and sketch comedy is well-suited to.
"Comedy is the lowest cost to produce," Koenders said. "If you're going to build the next-generation network, this could be the place."
Digital destination
The comedy network will be housed on the Laugh Factory website, which is being redesigned to present a sleeker, better organized layout.
Content will include The Fresh Faces Channel, which will showcase up-and-coming talent, as well as The Kevin Nealon Show Channel, which will features the "Weeds" actor and "Saturday Night Live" alum chatting on stage with other comedians.
Koenders said he plans to use viewer preferences to recommend future videos and to add custom pages for comedians on the Laugh Factory site that can serve as a kind of one-stop destination for fans to see a performer's bio, tour dates and social media posts.
Laugh Factory will sell advertising on the videos, many of which will be available for free viewing. Viewers also will have the option of subscribing for premium content. Pricing has not yet been determined, but will likely be about $3 per month or $20 to $30 per year, Koenders said.
Underlying it all is the challenge of directing traffic to the website in an environment where there are already a large number of outlets for comedy content.
To that end, Masada said he's hired four social media employees and plans to tap into the online fan bases of the comedians who appear in the videos. He hopes they will view themselves as partners in the effort and encourage fans to sign up.
It's an ambitious strategy that is hoping to take advantage of the increasing fragmentation of audiences.
Many comics have already taken to podcasting, which allows the creators to either self-distribute through iTunes or use a network like Santa Monica's Nerdist Industries for greater exposure.
The self-distribution strategy has drawn particular interest after comedian Louis C.K. sold a standup special as a download through his website for $5 each in 2011 and generated more than $1 million in revenue within weeks, although few other comedians have the following to pull off such a feat. Other performers have formed their own online portals, such as Funny or Die Inc., co-founded by Will Ferrell.
Perhaps the greatest appeal in doing such digital productions is the ability for the comics to side-step the creative constraints of television networks and studios while also taking advantage of the Internet's nearly infinite distribution.
But winners and losers online are already being chosen, and Laugh Factory will face competition with Netflix, Hulu and others.
Peter Levin, chief executive at Nerdist, said the Laugh Factory plan has potential if the content is good.
Consumers will be looking for more ways to purchase content a la carte through so-called microsubscriptions that cost a few dollars a month, he said.
"I think subscription services inevitably are going to have a very material role in the suite of product offerings out there," he said. "It depends on the execution."
But Masada has faith that Laugh Factory can cash in on its reputation as a place that guarantees people funny stuff.
"People trust the brand," he said. "They know if they go to the club, they'll laugh."
For reprint and licensing requests for this article, CLICK HERE.