Set-Up, Delivery
ENTERTAINMENT: Laugh Factory sees online platform as next stage in club chain's expansion.
Monday, April 8, 2013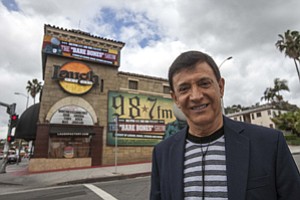 When Jamie Masada opened Hollywood comedy club Laugh Factory in 1979, his idea of paying every comedian who took the stage was still a novel concept.
More than 30 years later, the model seems to still be working. His Laugh Factory added locations in Chicago and Las Vegas last year, and the flagship Hollywood venue still pulls in big names such as Dave Chappelle, who stopped by unannounced last month to do a set.
But Masada's new challenge is reaching consumers on the couch.
To do that, he is trying to adapt his company to the fast-changing digital entertainment landscape, entering a market with an array of entertainment options and platforms. What's more, he's trying to do it while continuing to assure comedians they'll be paid.
In the coming weeks, Masada's company will launch the Laugh Factory Comedy Network on its website. The new offering, which will feature performances from its clubs and original sketches from comedians who appear at its venues, will pay contributors 50 percent of the income, after fees, from subscription and online ad sales.
"We want to give the tool to comedians to be funny and do everything they want to do. We want to give freedom of creativity to everybody in the comedy business," Masada said.
Laugh Factory has been trying to define its digital strategy for some time. It already offers some streaming video on its website and last year launched an app for Sony's PlayStation 3 video-game platform. The comedy club also has a popular YouTube channel that will pay contributors through a revenue-sharing model.
But Masada is now doubling down on the digital strategy. Laugh Factory recently spent about $1 million to upgrade its digital production hardware as it prepares for the launch of its online video service.
In addition to the new website channel, Laugh Factory plans to launch companion apps for the digital network on Apple and Android mobile platforms and eventually expand to offer apps on other platforms.
To oversee the new digital initiative, Masada hired Lance Koenders, formerly Intel Corp.'s liaison to Hollywood, as president of Laugh Factory New Media.
Koenders' mission is to create low-cost content with high production values, something he said standup and sketch comedy is well-suited to.
"Comedy is the lowest cost to produce," Koenders said. "If you're going to build the next-generation network, this could be the place."
Digital destination
The comedy network will be housed on the Laugh Factory website, which is being redesigned to present a sleeker, better organized layout.
Prev Next
For reprint and licensing requests for this article, CLICK HERE.