Card Punchers
SPECIAL REPORT: Banking & Finance Quarterly
Monday, September 24, 2012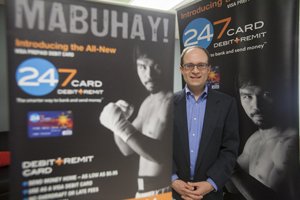 Lance Rosenzweig had never given much thought to prepaid debit cards.
As the founder of a large outsourcing company, he didn't work in the financial services industry and wasn't interested in using a prepaid debit card. It was a niche product for people without bank accounts as far as he was concerned.
But Rosenzweig's perspective changed completely one day in 2010 when his 10-year-old son came home with one. The boy got the prepaid card to shop online, and Rosenzweig immediately saw the potential for widespread use of the cards.
"I started researching it and it looked like a great product," he said. "I thought it was a really excellent industry."
Rosenzweig, 49, quickly quit his job and dove headfirst into the burgeoning prepaid debit card industry. He recruited several former colleagues, raised $10 million in startup funding and launched his Brentwood company, 24/7 Card, late last year.
"We're really excited about the opportunity in this market," he said.
Prepaid debit cards function like traditional debit cards but pull from money paid in advance rather than a bank account. They first became popular among low-income consumers who have limited access to banks. More recently, the cards have caught on with mainstream consumers – and that's led to explosive growth.
The products barely existed a decade ago, but the market is now one of the fastest growing areas in the financial services industry. The amount of money loaded on prepaid cards in the United States last year was up more than 600 percent from the total five years ago, according to industry research firm Mercator Advisory Group in Maynard, Mass.
The growth is due in part to the down economy, which has driven many customers away from fee-heavy bank products toward alternative payment options. At the same time, middle-class consumers have become more aware of prepaid cards and have started using them. Some parents, for example, give their kids a card and regularly load money on them as a form of allowance.
The growing popularity of the products has prompted a number of players to introduce their own prepaid cards, including local and national banks, credit card companies, credit unions and even the Los Angeles County Metropolitan Transportation Authority. Celebrities, too, are jumping on the bandwagon as endorsers.
The cards are not without controversy. They have been called predatory by critics who object to what they see as excessive fees, and at least one local company is under investigation for its practices.
Prev Next
For reprint and licensing requests for this article, CLICK HERE.