Card Punchers
SPECIAL REPORT: Banking & Finance Quarterly
Monday, September 24, 2012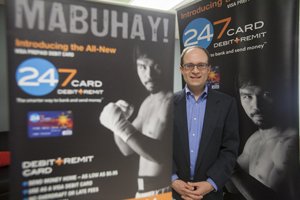 Lance Rosenzweig had never given much thought to prepaid debit cards.
As the founder of a large outsourcing company, he didn't work in the financial services industry and wasn't interested in using a prepaid debit card. It was a niche product for people without bank accounts as far as he was concerned.
But Rosenzweig's perspective changed completely one day in 2010 when his 10-year-old son came home with one. The boy got the prepaid card to shop online, and Rosenzweig immediately saw the potential for widespread use of the cards.
"I started researching it and it looked like a great product," he said. "I thought it was a really excellent industry."
Rosenzweig, 49, quickly quit his job and dove headfirst into the burgeoning prepaid debit card industry. He recruited several former colleagues, raised $10 million in startup funding and launched his Brentwood company, 24/7 Card, late last year.
"We're really excited about the opportunity in this market," he said.
Prepaid debit cards function like traditional debit cards but pull from money paid in advance rather than a bank account. They first became popular among low-income consumers who have limited access to banks. More recently, the cards have caught on with mainstream consumers – and that's led to explosive growth.
The products barely existed a decade ago, but the market is now one of the fastest growing areas in the financial services industry. The amount of money loaded on prepaid cards in the United States last year was up more than 600 percent from the total five years ago, according to industry research firm Mercator Advisory Group in Maynard, Mass.
The growth is due in part to the down economy, which has driven many customers away from fee-heavy bank products toward alternative payment options. At the same time, middle-class consumers have become more aware of prepaid cards and have started using them. Some parents, for example, give their kids a card and regularly load money on them as a form of allowance.
The growing popularity of the products has prompted a number of players to introduce their own prepaid cards, including local and national banks, credit card companies, credit unions and even the Los Angeles County Metropolitan Transportation Authority. Celebrities, too, are jumping on the bandwagon as endorsers.
The cards are not without controversy. They have been called predatory by critics who object to what they see as excessive fees, and at least one local company is under investigation for its practices.
But the market has considerable momentum, and it is becoming particularly robust in Los Angeles. Besides 24/7 Card, other local startups are WikiLoan Inc. in Westwood and Kaiku Finance in Westlake Village. Of course, the L.A. area is home to the nation's largest card provider, Monrovia's Green Dot Corp., which created the product here.
Los Angeles remains the birthplace for so many new companies in part because the area has some of the nation's largest populations of immigrants, low-income individuals and those without bank accounts, which collectively represent the bulk of prepaid debit card customers.
"Los Angeles probably has the (largest prospective) market in the nation," said Edward DeFeudis, co-founder of WikiLoan. "The opportunity, we think, is very large."
The modern prepaid debit card was created only about a decade ago in one man's Southern California bedroom.
Steve Streit, a former radio disc jockey looking for a new line of work, wanted to provide a way for children and teenagers to buy products online even if they did not have a credit card. Beginning in 1999, he began developing prototypes modeled on similar products, including store-specific gift cards and prepaid calling cards, and by 2001 he launched what would become Green Dot.
"Green Dot is pretty widely credited as being the inventor of what is today the prepaid debit card," Streit said. "That's something we're very proud of."
Paycheck deposit
Prepaid cards, which can be used to buy things online or in stores, function like standard debit cards, but instead of drawing money from a bank account, they deduct from an amount that the cardholder had previously loaded on the card. The loading can be done at cash registers in many retail stores. Most allow cardholders to withdraw cash from ATMs. Some even allow direct-deposit of paychecks.
The products can be purchased relatively cheaply at tens of thousands of retail locations such as Wal-Mart; many of Green Dot's cards, for instance, go for $4.95. The card companies often charge fees, typically under $5, for monthly maintenance, loading money and other services.
The cards first caught on with a different crowd than Streit had expected.
Rather than attracting teens, prepaid cards have been mostly purchased by adults who use them as alternatives to checking accounts. The largest portions of customers are those who have limited or no access to credit cards or traditional bank products – the so-called underbanked or unbanked.
A report released this month by the Federal Deposit Insurance Corp. found that more than 28 percent of U.S. households – accounting for 68 million adults – fall into one of these categories and rely on prepaid debit cards and other nontraditional payment methods. About one in 10 households reported using a prepaid card in the last year, and use is up significantly in the past two years among the unbanked.
Daniel Tellalian, director of Emerging Markets Inc., an L.A. consulting firm that helps banks access low-income communities, estimates that Los Angeles County is home to about 1.25 million unbanked individuals and many more who would qualify as underbanked. He cited the area's large immigrant population as a driving force behind the prevalence of unbanked consumers.
"Our demographic is a classic unbanked demographic," said Tellalian, who has researched underserved banking markets for more than a decade. "We probably have the single greatest population of unbanked individuals in the country."
Reaching unbanked
The county's transit authority recently became the first in the nation to offer a transit fare card with prepaid debit card capabilities. Program organizers said they hoped the initiative, which is in an experimental phase, could capitalize on the significant overlap between unbanked individuals and public transportation users.
Metro has been offering versions of its Tap transit fare cards with a Visa logo that can be loaded with money and used for nontransit purchases. Mark Kroencke, a consultant for the Tap program, said the cards have been growing in popularity among Metro riders and most of the money loaded on the cards is used for "groceries, clothing stores, etc.," rather than transportation.
He declined to say how many people have used the cards or how much money has been loaded on them. However, he noted that program administrators were surprised to see a large number of customers treat the cards as alternatives to bank accounts, even using them to deposit paychecks.
"There have been a lot more folks who want to sign up for the card and attach their direct deposit," he said.
Another way companies are reaching the unbanked crowd is by appealing to the specific needs of niche groups.
Rosenzweig, for instance, founded 24/7 Card to cater to immigrants, a disproportionately unbanked population that often has specific needs when it comes to payment options. The company's cards offer remittance services for those who want to send money to family in their home countries.
"What we saw was that the existing players in the industry weren't addressing the needs of immigrants," he said.
The company, which launched last year, initially catered to local Filipino immigrants and enlisted boxing superstar Manny Pacquiao as a spokesman. More recently, 24/7 Card, which now has 15 employees and about 50 call center workers, has entered the local Hispanic market.
"Los Angeles is a perfect market for us to be headquartered because it's got such a large and vibrant Hispanic community," Rosenzweig said.
Recently, prepaid cards have begun to catch on with a more mainstream crowd.
As much as one-third of card users today have annual incomes over $45,000, according to a report from Aite Group, a research firm in Boston. About one in seven prepaid users make more than $70,000 a year.
Some consumers use them while traveling or to give as gifts; parents sometimes use them to help teach their children to use personal finance tools; other customers are simply tired of the hassles and fees of traditional banks.
Ben Jackson, a senior analyst with Mercator, said the upmarket trend can be largely attributed to greater awareness of the products, which is due in part to efforts by state and federal agencies to use the cards to distribute government benefits.
"The thing that lent the greatest legitimacy to the prepaid business was the government adopting those cards for things like Social Security," he said. "It's only been in the last few years."
Green Dot, which has broadened its focus beyond the unbanked population, announced last month that it will team up with student lender Sallie Mae for a program that will give student borrowers prepaid cards. The student cards will be loaded with loan money that is left over after the colleges get their tuition from Sallie Mae.
Streit said the program will be an effective way to introduce the cards to a younger generation of educated consumers.
"We think that's a great opportunity for us," Streit said.
Kaiku was started recently specifically to appeal to mainstream consumers. The company partnered with First California Bank, also headquartered in Westlake Village, to introduce a prepaid card that officially launched in July.
Jon Round, Kaiku's chief executive, said by offering more features and lower fees, the company hopes to attract discerning, educated consumers who see the cards as an attractive value proposition – particularly at a time when many consumers are turning away from banks.
"Prepaid (cards) can actually be used by all different types of demographics at different points in time," he said.
The growing popularity has led to a dramatic increase in the size of the market.
A decade ago, there was only about $1 billion loaded on prepaid cards, according to Mercator data. The market last year hit $74 billion and some projections suggest it could triple in the next couple of years.
"The market is growing and it's growing at a double-digit growth rate," Jackson said.
Those numbers are attracting plenty of companies.
Locally, Los Angeles Federal Credit Union in Glendale and OneWest Bank in Pasadena have introduced cards recently. This summer, OneWest also unveiled a branded card with Lakers legend Earvin "Magic" Johnson.
Nonbank institutions are getting involved as well. WikiLoan, which started in 2008 as a peer-to-peer lending platform, is preparing to launch a prepaid card this year.
"The consumer prepaid space is a crowded and competitive space," Round said. "And it's getting more crowded by the day."
Competitive pressure
It is not just local players getting into the business, though. And that is causing some concern.
Several major national companies, including banking giant JPMorgan Chase & Co. and credit card behemoth American Express Co., have begun heavily marketing their newly introduced cards. Both have started pushing the cards in national television ad campaigns.
The competition has some stakeholders worried that existing players could get squeezed out. In late July, Green Dot's stock price plummeted 60 percent in one day after the company reduced its guidance and warned that its retail partners would soon start selling competitors' prepaid debit cards. Its stock debuted in 2010 at $36, but shares have recently traded for less than one-third of that.
In addition to competitive pressures, many prepaid card companies are still dogged by criticism that the products are predatory and laden with excessive fees.
That notion resurfaced in 2010, when the Kardashian sisters were widely criticized for introducing a prepaid card with high fees. The Attorney General's Office of Connecticut released a statement condemning the Kardashian Kard, which cost as much as $99.95. The celebrity sisters killed the card within weeks.
The incident heightened media scrutiny of celebrity-endorsed cards, which have become ubiquitous. Among many famous names, rapper Lil Wayne introduced a card last year through his record label, and New York Yankees slugger Alex Rodriguez this month endorsed a card.
Meanwhile, the Florida Attorney General's Office is investigating "possible deceptive and unfair practices" in the industry. The state issued subpoenas to five prepaid debit card companies, including Green Dot. A spokesman for the attorney general said the investigation is ongoing.
Green Dot, which said it has been cooperating with the investigation, is typically considered one of the more transparent prepaid card providers. Gil Luria, an analyst with Wedbush Securities Inc. in downtown Los Angeles, said most companies in the space these days operate above board.
"Those bad actors have been constrained over time," he said. "That's an issue that has probably been overstated."
Mercator's Jackson said he is already seeing the stigma of the cards disappear. As that continues, he said he expects the industry to blossom.
"I think what we're going to see is as more people come to understand what these cards could do, more people will make use of them," he said. "There are a lot of companies – both banks and independents – that want to be in this business. I think we're going to see a lot more of the banks get into this business."
For reprint and licensing requests for this article, CLICK HERE.