3-D Image Firm Gets Flattened
BIOTECH: FDA snub pushes Imaging3 into bankruptcy.
Monday, September 24, 2012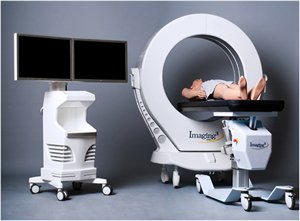 When Imaging3 Inc., a nine-employee medical device maker on a nondescript street near Burbank's Bob Hope Airport, filed for bankruptcy earlier this month, it was more than just another penny stock quietly running out of cash.
The filing also marked an extraordinary fall for a company that once had a market capitalization of more than $700 million, its hyped shares rising some 6,000 percent in mere months in 2009.
Imaging3's then-bright promise was based on one product – a medical scanner that was supposed to create 3-D images of the human body. But the company has not been able to get approval from the Food and Drug Administration, which rejected an application in 2010. Subsequent efforts to reapply sputtered, and even before the bankruptcy filing, shares had dropped from a high of $1.95 to around four-tenths of a cent.
Its fall speaks to the risks of the biomedical industry, a business where small companies with technological breakthroughs can provide spectacular returns – but also end up in spectacular blow-ups.
Shares of Valencia's MannKind Corp., a well-known company backed by billionaire Alfred Mann, have tumbled nearly 80 percent amid setbacks to gain FDA approval for its revolutionary Afrezza insulin inhaler, which the company has sunk at least $1.5 billion into developing.
"There are many of these rags-to-riches stories within biotech – and vice versa," said Ian Somaiya, an analyst at Piper Jaffray in New York who covers the biomedical industry. "The industry is fairly fragmented, and that's what creates a lot of excitement that the right company with the right drug (or device) can be a commercial success."
The company did not return calls for comment. But in its bankruptcy pleading, it stated that it was pursuing a strategy to "emerge from bankruptcy as a stronger company." It also indicated it would continue to pursue FDA approval of its 3-D imaging technology.
"The potential applications of this technology in the health care market are almost unlimited," it stated.
Big promises
Imaging3 went public in 2005 on the OTC Bulletin Board, touting a breakthrough in medical technology that could produce 3-D images of a patient's body in real time to be used in everything from cardiology to sports medicine.
Prior to that, the company had been privately operating since 1993, primarily as a maker of 2-D, real-time X-ray-imaging systems used in surgery and other applications.
In 2007, it constructed the first prototype of its 3-D device, the Dominion Volumetric Imaging Scanner, and announced it had filed for FDA approval. Years of waiting for approval followed without much attention from investors, with shares generally trading between 3 and 15 cents.
For reprint and licensing requests for this article, CLICK HERE.
Prev Next