Berth Pains
Long Beach port expansion could sink businesses
Monday, September 17, 2012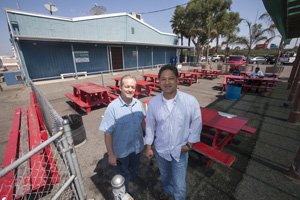 Sail down Channel Three at the Port of Long Beach, and you'll first pass a modern cargo terminal with huge cranes and stacks of containers. But then you'll start moving backward in time, passing a 60-year-old warehouse and ending up at a set of wooden piers where a waterfront shack sells fried shrimp and cold beer.
Called Berth 55, it's been a lunchtime hangout for longshoremen for decades and home to a small sport-fishing fleet served by a bait shop.
But as the port undergoes a massive expansion and improvement project to accommodate more cargo, the berth's time looks to have come to an end. The handful of businesses that operate at Berth 55 have been given until Oct. 16 to leave the property they lease from the port.
"It's like we're on death row," said Lawrence Maehara, whose family has owned the Berth 55 Fish Market and Seafood Deli since 1988. "Every port has a fish joint. But they'd rather see cargo. They don't want people down here."
While the port isn't building a container terminal at Berth 55, plans for the site are motivated by a desire to squeeze as much cargo infrastructure into the 3,200-acre complex as possible – and to get rid of or consolidate everything else.
Plans are far from final, but the port intends to hand the site over to the Long Beach Fire Department for a new station to serve the port and west Long Beach. Port planners also want to move support services, including a team of maintenance divers, to Berth 55, where they'll be out of the way of construction projects and the massive cargo vessels the port hopes its new infrastructure will attract.
"The big ships just take up so much room," said port spokesman Art Wong. "We're running out of room to put all these other things."
Business owners at Berth 55, including Maehara and owners of several sport fishing boats, said they have nowhere else to go and have petitioned the port and its owner, the city of Long Beach, for a reprieve.
Port officials said they're looking for an alternative and they could let the businesses stay past the Oct. 16 deadline, but the long-term prospects for Berth 55 aren't good. The businesses there are the last of their kind on port land, evidence of the port's goal to bring in more cargo.
"We've had to maximize the land we have for the highest and best use: cargo handling," Wong said.
Fish and fire
The Port of Long Beach used to be home to several sport-fishing landings and restaurants, including the notorious Pegasus Restaurant, a dockside diner with lingerie-clad waitresses that closed in 1993. But for decades, the port has tried to push nonindustrial waterfront businesses into downtown Long Beach or onto city-managed land near the Queen Mary.
Compared with businesses in downtown's Rainbow Harbor and Shoreline Village areas, Berth 55 isn't much to look at. The bait shop, an office for the sport-fishing boat operators and a seafood market and take-out restaurant share a single corrugated metal building, painted a sun-faded blue and surrounded by buckled red picnic tables.
Next door is the Queen's Wharf, a nautically themed bar and restaurant that mostly serves as indoor seating for the seafood shop. It hasn't operated as a true restaurant in years, but the bar is open daily and the space is rented for parties.
SRM Corp., a family business founded by Maehara's parents, leases the entire berth, and subleases the piers to Long Beach Sportfishing, which manages ticket sales and advertising for the independent fishing boat owners who dock there.
Maehara acknowledged there are signs of neglect, but he said that's because his family's 20-year lease was up in 2008 and since then operations have been month to month.
"If there's no lease, there's no future. You can't invest if you don't have a lease," he said.
But even if it looks run down, he said Berth 55's businesses are viable and successful. The seafood shop, restaurant and bar employ 16 workers, most of them full time, and Maehara estimated he has annual sales upwards of $1 million.
Mike Redlew, who manages the berth's sport-fishing fleet and co-owns a fishing boat there, said fishing and diving customers bring in about another $1 million.
Still, the port collects just $17,000 a month from the operations at Berth 55, and doesn't take a percentage of the revenue. That's a pittance for a port that recently signed a 40-year, $4.6 billion lease with a Hong Kong shipping line – amounting to $9.6 million a month – for its Middle Harbor pier that is under construction.
Indeed, that kind of expansion is what prompted the port in 2008 to not renew the lease at Berth 55. That year, the port started the yearslong process of replacing the aging Gerald Desmond Bridge, which links Long Beach and Terminal Island, with a taller bridge designed to open the port's inner harbor to larger ships. One footing of that new bridge will be built on top of what's now a Long Beach fire station.
Long Beach fire Capt. Mike DuRee said Berth 55 was the best available site for a replacement station, even though Berth 55 supporters have argued the site puts a fire boat at the back end of a channel. But DuRee said the location on Pico Avenue just north of Ocean Boulevard will mean faster response times for fire engines.
"It's the most strategically advantageous for us," DuRee said. "We can still meet response times for the water side and have way better response times for the land side."
Also planned for Berth 55 are a storage location for Long Beach Police Department boats, a port survey vessel, which measure the depth of port channels, and a vessel used by divers that check for corrosion under port piers.
Harbor views
Whatever the larger motives of the port, Maehara and others said that if they have to leave Berth 55, their businesses will suffer or go under. Fishing boat owners said they don't know if or where they'll find new homes where they can still make a profit.
Bill DeWitt, who operates an 85-foot fishing boat from the berth, said moving his business involves more than simply finding another pier. His boat Liberty distinguishes itself from others at Berth 55 by offering daylong fishing trips to Catalina. Finding another sport fishing boat landing where such a service isn't already offered could prove difficult.
"So we'd have to find a new place, and then whether we'd be able to get a run we could survive on would be an issue," said DeWitt, who also is a South Gate city councilman.
As a restaurant owner, Maehara could likely find a new location, but he said he would lose nearly all his current customers if he were farther from the working waterfront. The berth is relatively close to port terminals with free parking and easy access. And its low prices – lunch plates start at $4.99 – have made it a longtime favorite for longshoremen, truckers other workers at the harbor.
"There's nothing else around," said Gary Vaneede, an electrician working at the port. "There used to be more places, but now the only places to eat are roach coaches."
Berth 55's business owners and loyal customers have petitioned city and port leaders to keep things the way they are or perhaps find a way for the restaurant and fishing operations to coexist with a fire station. Port officials haven't promised anything, but said they are taking supporters' concerns seriously.
Port Executive Director Chris Lytle attended an Aug. 30 rally at the berth. Last week, after Maehara presented the Harbor Commission with a petition signed by 4,600 supporters, Lytle said he has asked port staff to "be absolutely thorough" in exploring options that would leave the berth intact.
Even so, it seems unlikely the businesses will get more than a temporary reprieve. While port officials are looking at other options, they're asking Berth 55 businesses to do the same.
"Lytle said he's going to meet with the Maeharas. That does not mean them staying there indefinitely," said port spokesman Daniel Yi.
Even among Berth 55's customers, there's a sense that the waterfront businesses could be past their time. Chris Viramontes, secretary-treasurer of the International Longshore and Warehouse Union Local 13, rued the potential loss of Berth 55, one of the few convenient lunch spots for workers in Long Beach.
But he also guessed that most longshore workers would rather see the port continue to expand and bring in more cargo.
"You can always bring a lunch. You can't bring a job," he said.
For reprint and licensing requests for this article, CLICK HERE.