Air Apparent
INTERVIEW: KCRW General Manager Jennifer Ferro is dialed into fundraising after taking the reins from local icon Ruth Seymour.
Monday, September 3, 2012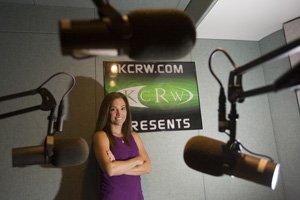 Jennifer Ferro's path to the top at KCRW-FM (89.9) began with a simple favor asked of her two decades ago by veteran General Manager Ruth Seymour, who had turned KCRW into the Southern California flagship of National Public Radio. Ferro, a recent UCLA graduate, was just volunteering at the time, but Seymour liked her work so much that she was offered a job. The local radio legend retired in 2009, and Ferro, who had stayed on, won the top post at the station – inheriting a whole new set of challenges. For one, another NPR affiliate in town, KPCC-FM (89.3), had begun investing heavily in its all-news format. But first and foremost, she was tasked with leading the station into the digital age. Ferro has been investing in KCRW's mobile apps and Internet streams, bringing the station an international audience. But her ambitions are bigger yet. She's now leading a $20 million fundraising campaign to underwrite the digital transition and upgrade its longtime dwellings beneath a cafeteria at Santa Monica City College to a shiny new building with a state-of-the-art studio on a satellite campus. Ferro recently sat down with the Business Journal to talk about mixing high culture and the "Real Housewives," why she wrote a letter to an unusual pen pal – and how Southern California needs a new generation of philanthropists.
Question: How did you get started here?
Answer: When I was in college, I started listening to KCRW and I just really loved it. I started to volunteer and I came here and loved all the people. But nobody could get a job here.
So how did you get one?
Ruth needed something transcribed and I had just bought a Macbook – dark gray and plastic. I did the job for her, I left, and her assistant came in and said, "I'm going to the Peace Corp in Cameroon – I'm quitting." So (Ruth) said, "Oh, get that girl with the laptop back and see if she wants this job."
What was it like being Ruth's assistant? Was she demanding?
When I was her assistant she was demanding. It was tough for me. I wasn't the type of person who liked taking direction from people. I used to talk back a lot, but I don't think I do it so much anymore, because I'm so much older. I would say, "I disagree with you," and she appreciated that. She would always say, "Let's spar. Let's fight this out."
Prev Next
For reprint and licensing requests for this article, CLICK HERE.