Side Shows
Webisodes, games augment TV viewing experience
Monday, October 22, 2012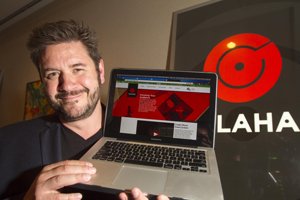 Cable network AMC this month premiered the fourth season of its hit show "The Walking Dead" to record ratings. But long before the postapocalyptic zombie program made its return, AMC kept fan excitement for the undead alive with webisodes and a free Facebook game that featured the show's characters and filled in their backstories.
The method of using multiple formats to get fans deeply involved in a story's world is called transmedia, and the entertainment industry has embraced it in a big way. Today, nearly every major production has some transmedia content, be it online-only stories, live web chats with actors in character or mobile apps that take fans deeper into a show's fictional world.
Alex LeMay, who recently moved the headquarters of his seven-person transmedia production company Shadow Gang LLC to Los Angeles, hopes to ride the wave of deep, multiplatform storytelling. Last week, his company released software designed to help productions that want to get in on transmedia distribute their videos and content online, track people's interaction with it and create a social network for fans.
LeMay believes transmedia's appeal comes through the freedom it gives people to explore the intricacies of a story. Main characters can now have full histories, minor characters can get separate storylines, and because the content is online, fans are free to consume however they choose.
"Stories told in a straight line don't work on the Internet," he said. "It's a three-dimensional space that I as a fan get to pick and choose from in any way I feel like. Transmedia makes viewers into participants."
Hollywood is also starting to give some credibility to transmedia producers. Last month, Fourth Wall Studios Inc. in Culver City, which is backed by billionaire L.A. entrepreneur Patrick Soon-Shiong, won an Emmy for its darkly comic web series "Dirty Work." Acclaimed Mexican filmmaker Guillermo del Toro recently launched Mirada LLC, a transmedia studio in Marina del Rey. And the Producers Guild of America has even created a special "transmedia producer" credit to acknowledge the people who create the extra layers of storytelling.
It wasn't always like this. John Heinsen, who founded Alta Dena transmedia studio Bunnygraph Entertainment Inc., recalled in a previous job with Fox Broadcasting Co. how resistant network executives were to pushing any web content.
"They wouldn't even put the website for 'That '70s Show' at the end of the program," Heinsen said. "They thought viewers would get up and leave and stop watching the show."
The rise in transmedia's popularity has come hand in hand with the growth of mobile technology, namely smartphones and tablets. These devices that were once feared by the industry as threats to TV are now considered "second screens" that deepen a viewer's engagement with a show.
In Fourth Wall's "Dirty Work," when a nervous character is on the phone, the show simultaneously dials up viewers' phones and lets them listen in on his frantic internal monologue.
In an episode of the CBS drama "Ghost Whisperer," when the main character had a baby, fans of the show were instantly emailed a "birth announcement" that had exclusive photos of the baby before any pictures appeared on TV.
Kim Moses, one of the executive producers of "Ghost Whisperer" and the creator of its online content, credits transmedia for establishing the show's hardcore fan base. It's a group that kept the supernatural drama running for five seasons, even though the show aired in the notoriously bad Friday night time slot.
"What we did on the show with transmedia created a lot of loyalty among our fans," Moses said. "We have to remember that they are the client and if they're demanding a deeper engagement in our world we're going to give that to them."
Creating a buzz
LeMay and others point to 2004 and a guerilla marketing campaign known as I Love Bees as an unofficial birthday for transmedia. The name comes from a web address that flashed on screen during a TV trailer for the video game "Halo 2." People who checked out the site, which was designed to look like a beekeeper's page that had been hacked, were presented with a series of mysterious puzzles and missions that teased storylines from the upcoming game. Three million people checked out the site prior to the launch of "Halo 2," creating a buzz about the game and putting transmedia on the map as a successful marketing tool.
LeMay said he was inspired by the I Love Bees promotion and used similar concepts in some of Shadow Gang's transmedia projects. One of them, called Go Bzrk, is part of a new science-fiction franchise that's been published as a book series and is in development to become a feature film produced by Sony. Before the book was published, Shadow Gang created an authentic-looking website for a fictional cult in the story's world that introduces people to the series' dystopian environment. It also links to a mobile game app.
The transmedia elements in Go Bzrk and I Love Bees are intended to make people curious about a new property, all while studios or video game makers test the waters about how to craft a full-blown marketing campaign.
"It gets people used to a new world before a movie or game immerses them into it," LeMay said. "And it's much cheaper to build fan enthusiasm using transmedia than it is through traditional TV and billboard marketing campaigns."
Because transmedia is rolled into a movie or video game's marketing budget, it isn't as squeezed as other online content to produce its own revenue. LeMay said that transmedia fans respond poorly to the traditional Internet models of making money through banner ads.
But because the content often explores the day-to-day life in a story's world, incorporating product placements might fit naturally. A character that's explicitly shown eating a certain brand of potato chips or driving a specific car wouldn't seem out of place in a transmedia piece.
For example, the end of the birth announcement in "Ghost Whisperer" mentions that the family is going to be driving the baby around in a GMC Acadia. Moses said the partnership the show developed with Detroit's General Motors Co. just for the transmedia content later became a full ad buy in the TV program.
More than promo
As transmedia grows in popularity and sophistication, the inevitable question arises of whether it can stand on its own without a larger product to tie into.
Jim Stewartson, founder and chief executive at Fourth Wall thinks it can. His "Dirty Work" series, which was directed by a writer from "The Office" and featured some established TV actors, wasn't designed to promote anything. The show and all its storytelling devices are the total product.
"Transmedia can mean a big movie that has a lunchbox and a social game and that's a reasonable definition, but for us it's not a terribly interesting one," Stewartson said.
LeMay thinks the technique still works best with a big event that acts as a hub to transmedia's spokes. As much choice as fans are given to explore the vast reaches of a story, giving them a destination can help them from being overwhelmed by the amount of content.
But he agrees that part of the joy in transmedia is using the loose narrative format and the freedom that comes from mobile technology to let fans go exploring on their own.
"This isn't just a movie or a TV show," LeMay said. "This is a universe."
For reprint and licensing requests for this article, CLICK HERE.