Side Shows
Webisodes, games augment TV viewing experience
Monday, October 22, 2012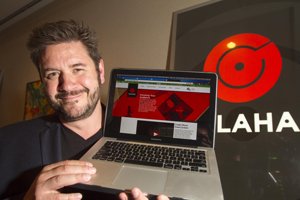 Cable network AMC this month premiered the fourth season of its hit show "The Walking Dead" to record ratings. But long before the postapocalyptic zombie program made its return, AMC kept fan excitement for the undead alive with webisodes and a free Facebook game that featured the show's characters and filled in their backstories.
The method of using multiple formats to get fans deeply involved in a story's world is called transmedia, and the entertainment industry has embraced it in a big way. Today, nearly every major production has some transmedia content, be it online-only stories, live web chats with actors in character or mobile apps that take fans deeper into a show's fictional world.
Alex LeMay, who recently moved the headquarters of his seven-person transmedia production company Shadow Gang LLC to Los Angeles, hopes to ride the wave of deep, multiplatform storytelling. Last week, his company released software designed to help productions that want to get in on transmedia distribute their videos and content online, track people's interaction with it and create a social network for fans.
LeMay believes transmedia's appeal comes through the freedom it gives people to explore the intricacies of a story. Main characters can now have full histories, minor characters can get separate storylines, and because the content is online, fans are free to consume however they choose.
"Stories told in a straight line don't work on the Internet," he said. "It's a three-dimensional space that I as a fan get to pick and choose from in any way I feel like. Transmedia makes viewers into participants."
Hollywood is also starting to give some credibility to transmedia producers. Last month, Fourth Wall Studios Inc. in Culver City, which is backed by billionaire L.A. entrepreneur Patrick Soon-Shiong, won an Emmy for its darkly comic web series "Dirty Work." Acclaimed Mexican filmmaker Guillermo del Toro recently launched Mirada LLC, a transmedia studio in Marina del Rey. And the Producers Guild of America has even created a special "transmedia producer" credit to acknowledge the people who create the extra layers of storytelling.
It wasn't always like this. John Heinsen, who founded Alta Dena transmedia studio Bunnygraph Entertainment Inc., recalled in a previous job with Fox Broadcasting Co. how resistant network executives were to pushing any web content.
"They wouldn't even put the website for 'That '70s Show' at the end of the program," Heinsen said. "They thought viewers would get up and leave and stop watching the show."
Prev Next
For reprint and licensing requests for this article, CLICK HERE.