State Ban on Foie Gras Tough to Swallow for Some Chefs
Restaurants hope fans of bird liver flock to farewell deals.
Monday, May 28, 2012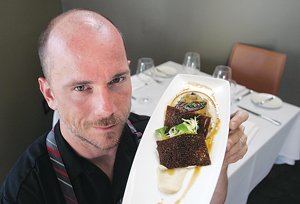 Californians must bid adieu to the French delicacy foie gras in a little more than a month. But until then, some L.A. chefs are serving the fatty bird liver in excess. They're betting that Angelenos, like the birds raised to produce foie gras, will be getting gorged before a statewide ban on the production and sale of the enlarged liver goes into effect.
While some L.A. chefs have been serving foie gras to raise money toward reversing the ban, others are simply looking to stuff those who want to feast on the delicacy while they still can.
Maison Akira, for example, a French restaurant in Pasadena, will serve a three-course tasting menu featuring foie gras in each dish through June for $55 a person; Petrossian Inc., a restaurant and gourmet food boutique in West Hollywood, will do the same with five courses for $100; N Naka, a Japanese restaurant in Culver City that specializes in a series of small servings known as kaiseki, will serve seven foie gras courses for $180 a person; and Melisse, a contemporary American restaurant with French influences in Santa Monica, has been serving an eight-course prix fixe feast it calls Foie for All for $185 since January.
Niki Nakayama, owner and executive chef at N Naka, said one of the reasons she decided to create a foie gras tasting menu was to pay tribute to the ingredient in haute cuisine because her customers love it.
"We're trying to celebrate foie gras before it's going to be banned," Nakayama said. "I know some of our guests will be disappointed to not be able to have it anymore."
But Karen Hatfield, who owns Hatfield's in Hollywood along with her husband, Quinn, doubts that restaurants preparing special foie gras tasting menus will make much money. Although customers pay a lot for it, foie gras costs the restaurants a great deal.
"Foie gras is not a cheap item," she said. "If you decide to serve it, chances are it's just not profitable. You're not losing money, but you don't have the profit margins you'd get off other dishes."
Hatfield pays vendors $35 per pound for unprocessed foie gras; she charges $25 for a foie gras appetizer on the menu, an apple-rosemary spread.
At Petrossian, a one-pound loaf of chef-prepared duck foie gras that serves six to 10 people retails for $298.
However, Jorge Chicas, executive chef for restaurant RH at the Andaz West Hollywood hotel, said he thinks the recent foie gras craze has been driven at least partly by food vendors trying to unload their liver before the ban.
"I've been getting calls from my vendors saying, 'Hey, would you be interested in foie gras?' It's clear they're really trying to push it right now and market it with the chefs as well," he said. "But it's clear to me the demand has dropped."
While RH served foie gras in the past, Chicas stopped using it in January.
Force feeding
The foie gras ban is a result of political lobbying by animal rights activists. They take issue because foie gras is most commonly produced by force-feeding birds. Foie gras comes from the livers of ducks and sometimes geese. Food is funneled into a bird's upturned beak and down its throat with a long tube, a technique called "gavage." Gavage defenders say the technique mimics the birds' natural behavior, such as when a mother feeds her chicks. But animal rights activists label it harmful and cruel.
California banned the production and sale of any product derived from force-feeding birds in 2004. The law – the first of its kind in the United States – gave the foie gras industry until July 2012 to find an alternative production method. California's sole foie gras farm, Sonoma Foie Gras, announced earlier this month that it will cease operations after June 30.
Earlier this month, 23 California chefs collaborated at four L.A. restaurants to host a foie gras-laden fundraiser to benefit the Coalition for Humane and Ethical Farming Standards, an organization they founded in an effort to reverse the ban. They served prix fixe dinners for $200 per person. At Melisse, one of the hosting restaurants, the event brought in about $9,000. But so far, despite signatures from 100 chefs denouncing the ban, not one lawmaker in Sacramento has offered to sponsor a bill to overturn the 2004 law.
Some L.A. restaurants that promote foie gras have come under attack.
Chef Josiah Citrin at Melisse said that in recent weeks activists have been calling his restaurant and others that serve foie gras to make bogus reservations, leaving them with empty tables when no one shows up.
Furthermore, he believes at least three activists posted negative reviews to the restaurant's page on Yelp.com.
"I had an idea this might happen, but they're very aggressive," Citrin said. "To make me want to go out of business because I serve foie gras, that's crazy."
Several chefs declined to comment for this article, saying they feared political repercussions.
Animal rights organizations estimate that about 300 restaurants in California serve foie gras, although some have already stopped ahead of the ban. An Internet search for restaurants that serve the fatty liver in the L.A.-area returned more than 100 results.
Nakayama of N Naka said she usually buys two or three loafs of foie gras a month to incorporate into her prix fixe tasting menus. But for June, she plans to order more than triple that amount.
"I'm planning to have all seven courses feature foie gras in some form or another," she said. "We might use it in a broth, where it will season the broth and give it an essence of foie gras. And I'm thinking of making a foie gras terrine as well."
The $180 price tag for the seven-course foie gras tasting menu at N Naka will be the most expensive option on the menu in June. Regular options include a 13-course tasting for $165 per person and a 10-course vegetarian tasting for $110 per person.
Nakayama said she's excited about creating a foie gras tasting menu, seeing it as a culinary challenge
"Part of the challenge is to use an ingredient where you're not repeating the same technique over and over," she said. "This is a good time for me to try something like this."
For reprint and licensing requests for this article, CLICK HERE.