Downtown Neighborhood Homes In on High End
Luxury residences make comeback in L.A.'s South Park.
Monday, May 28, 2012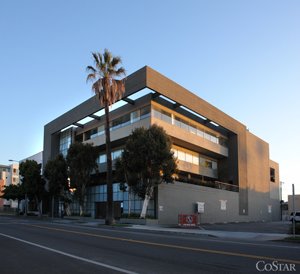 The first new luxury apartment development since 2008 in downtown L.A.'s South Park neighborhood broke ground last week.
Century West Partners, a partnership of Chicago's Fifield Cos. and West L.A.'s Cypress Equity Investments, started construction May 22 on the first phase of a three-building, 440-unit complex, called Avant, on Figueroa and Flower streets south of West Pico Boulevard.
The first phase, at 1340 S. Figueroa and 1355 S. Flower, comprises two seven-story buildings with 247 apartments above 11,000 square feet of ground-floor restaurant and retail space. The apartments will include live/work units, studios, and one- and two-bedrooms. It is scheduled for completion in November 2013.
Construction on the second and final phase, at 1500 S. Figueroa, with 194 apartments, is scheduled to start early next year. The completed project will include a fitness center, lounge, roof deck, pool and theater screening room.
"As the country has moved toward a rentership society, the timing is right to bring a new upscale residential property to this … L.A. market," said Michael Sorochinsky, Cypress Equity principal.
Carlyle Group, a prominent Washington, D.C., private-equity group, is providing equity financing, while Comerica Bank and Bank of the West are providing construction financing.
Rental prices have not yet been announced, but as a yardstick, the last luxury multifamily complex built in South Park – the 311-unit Evo South at 1155 S. Grand Ave. – available units rent for $2,600 to $5,900 monthly depending on the unit.
Booming Demand
If anyone needs any more evidence of the growing demand for housing in the greater downtown area, a new report shows the apartment vacancy rate is dropping faster than on the Westside.
The report, from Marcus & Millichap Real Estate Investment Services, shows that downtown's apartment vacancy rate fell 1.3 percentage points to 3.2 percent in the first quarter compared with a year earlier.
That's one-tenth of a point better than the Westside submarket's vacancy rate, which dropped eight-tenths of a point to 3.3 percent during the same period. The strong demand prompted downtown landlords to raise monthly asking rents 1.5 percent to $1,354, while Westside asking rents rose at a slower 1.3 percent pace to $1,929 during the period.
The report notes that recently employed new college graduates are moving into downtown neighborhoods that are more affordable than the Westside but still considered trendy and up and coming. It also said developments such as the City Center Target at downtown's Fig at 7th retail center as well as the possible downtown National Football League stadium are drawing young renters.
Creative Financing
A 25,000-square-foot building in Santa Monica recently received a $12.3 million recapitalization in yet another sign of the strength of the area's creative office market.
Owner Brentwood Capital Partners, a local real estate investment group, took out the senior loan to retire the existing debt that was set to mature this year on its Pacific Ocean Plaza, 1437 Seventh St. The four-story building, near the Third Street Promenade, is 100 percent leased to four tenants including visual effects studio Entity FX Inc.
Brentwood Capital acquired the 18-year-old building in 2007 with an $11.6 million loan that was set to mature in April. The recapitalization covers the principal balance and interest on the original debt. It has an interest rate of about 6 percent.
Lucent Capital, a Beverly Hills real estate finance advisory firm, arranged the new senior loan from an undisclosed national mortgage real estate investment trust.
Farzin Emrani, managing director of Lucent, said his company talked to a variety of lenders and finally found the best terms with the mortgage REIT.
"We were able to demonstrate to the lender the strength of sponsorship and the tremendous demand for creative office space in Santa Monica, which boasts an overall vacancy rate of 5 percent," said Emrani. "Brentwood Capital has a strong track record. They own quite a bit of office and this is their second creative office that we helped them refinance this year."
Lucent most recently secured $10 million in permanent financing for Brentwood to retire the existing debt on the Citizen News Building, a 49,000-square-foot creative office building at 1545 Wilcox Ave. in Hollywood.
Staff reporter Jacquelyn Ryan can be reached at jryan@labusinessjournal.com or (323) 549-5225, ext. 228.
For reprint and licensing requests for this article, CLICK HERE.