Studios Seek Extended Run for Online Talk Shows
Producers switch to longer content to draw viewers and ad dollars.
Monday, May 21, 2012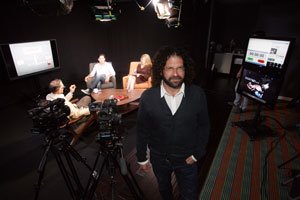 His initial slate included "BYOD: Bring Your Own Doc," a show about independent films and documentaries. Another show, "Media Mayhem," hosted by Century City attorney-turned-journalist Allison Hope Weiner, features interviews with people in the media.
But he's already had to cancel one of his original productions – a parenting show called "TIP: The Intentional Parent," that never caught on with fans. The show came to an end in March when the host decided to promote her book instead.
Jason Calacanis, tech entrepreneur and co-founder at ThisWeekIn, said keeping on-air talent is his biggest challenge at the network, which launched in 2010 and has about 10 million overall video views on YouTube.
Shows such as "This Week in Social Media" and "This Week in Venture Capital" haven't aired a new episode in months, and Calacanis said it's due to the challenge of getting his hosts to commit. For example, Mark Suster decided to focus on his main career at Century City venture capital firm GRP Partners for the time being.
"We are being flexible about the frequency of shows with the A-List talent. If they want to do 10 a year or 40 a year we will accommodate both in this experimental time," Calacanis said in an e-mail.
Fan favorite
TYT, which is credited with pioneering and popularizing web talk, is the genre's success story. The show "Young Turks" started as a satellite radio talk show in 2002, moved to YouTube in 2005 and has been growing its audience ever since.
TYT's Town Square channel features a 50-minute talk show called "The Point" that deals with topics such as "Hipster Racism? Hip Hop Conspiracy? Obama, Jay-Z & More."
Steven Oh, chief operating officer at TYT Network, which employs 21 people, said the network's advantage is that it already has a following. The new channel has about 1.5 million total YouTube views.
"The YouTube landscape is changing quickly," Oh said. "There are established winners and it's getting easier for the winners to get bigger. It's very difficult for those starting from scratch right now."
Oh said all of this year's Town Square ad revenue will go toward repayment of YouTube's investment. When that is paid off, likely next year, the network and YouTube will split ad revenue.
Lustig is aware of the challenge of starting from scratch, but said that he hopes to grow his programming to 10 shows and have hundreds of thousands of views per month by next year. He acknowledged that web success is rarely immediate.
"It's not going to happen overnight," he said. "That's the difference between TV and the web."
Prev Next
For reprint and licensing requests for this article, CLICK HERE.