50 Wealthiest: Eli Broad #2
SPECIAL SECTION: Wealthiest Angelenos 2012
Monday, May 21, 2012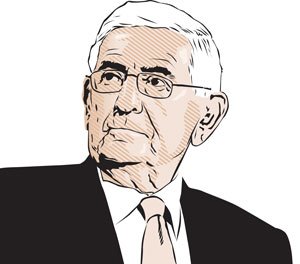 NET WORTH: $6.6 billion +5%
LAST YEAR: $6.3 billion
AGE: 78
RESIDENCE: Los Angeles
SOURCE OF WEALTH: Homebuilding, insurance
THE MONEY: L.A.'s most prominent philanthropist and civic leader saw across-the-board appreciation in diversified investment portfolio. Boom in global art market boosted value of his $1.8 billion contemporary collection. Shrunken stake in insurance giant AIG nearly doubled to $19 million.
BUZZ: Savvy entrepreneur and arts patron finally got around to putting down on paper his secrets to success with "The Art of Being Unreasonable: Lessons in Unconventional Thinking." Part memoir, part how-to book describes how asking right questions and setting seemingly unreasonable expectations enabled son of Lithuanian immigrants to build two Fortune 500 companies. Also tweets and blogs wit and wisdom.
Supports roughly 16 L.A. arts, medical and educational institutions including Los Angeles County Museum of Arts' Broad Contemporary Art Museum and USC's Broad Center for Regenerative Medicine and Stem Cell Research. Still talks about participating in bid to bring Los Angeles Times back to local ownership.
Declared in a recent interview that the nation's wealthy are largely coddled by federal tax code and ought to pay greater percentage of wealth in taxes. Among billionaires who signed the pledge formulated by Warren Buffett and Bill Gates to donate more than half their wealth to charity. Broad and wife, Edythe, actually expect to donate up to 75 percent to favorite causes.
Longtime supporter of downtown L.A. revitalization on track to see his latest arts institution, a contemporary art museum dubbed the Broad, open in early 2014 on Grand Avenue. Museum will house part of Broad Foundation's collection next door to Walt Disney Concert Hall, another Broad beneficiary. Art collection includes Jeff Koons' stainless steel sculpture "Rabbit," featured on the cover of "Unreasonable."
Born in Bronx and raised in Detroit, started out as a certified public accountant. After making first fortune with Kaufman and Broad (now KB Home) in the 1960s, bought Sun Life Insurance Co. of America and transformed it into retirement savings giant SunAmerica. Sold to insurance giant AIG in 1998 for $18 billion in cash and stock. Stake decimated during credit crisis and recession.
For reprint and licensing requests for this article, CLICK HERE.