Real Deal
Triptrotting aims to provide authentic cultural experiences by lining up volunteer hosts in foreign countries.
Monday, May 14, 2012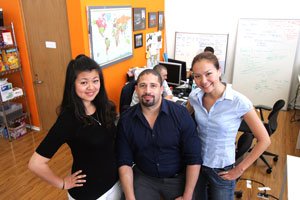 In 2011, the startup incubator gave Triptrotting its first office space and sufficient money to make Zheng and Shorman confident enough to quit their jobs.
With the help of a USC professor, Triptrotting got in touch with Galen Buckwalter, the former chief scientist at eHarmony. Buckwalter became an adviser to the company.
They brought on Shawn Faison as their tech expert.
Zheng and Shorman started marketing the company through e-mailing student organizations and universities.
They said the concept started spreading via word of mouth and Triptrotting events started popping up worldwide. There are now tens of thousands of community members, according to the duo.
Earlier this year, Zheng and Shorman met venture capitalist Mark Suster, who invited them to apply to his LaunchpadLA. At the end of January, Triptrotting was accepted and moved to Santa Monica.
'Something big there'
John E. DiScala, the founder of online travel review and deal site Johnny Jet in Manhattan Beach, said Triptrotting's biggest challenge is getting people to use the service. Charging a fee might drive away community members.
"I personally wouldn't pay for it," DiScala said.
Sam Teller, LaunchpadLA's managing director, said Triptrotting is still evolving.
Teller said Triptrotting goes beyond other travel-related communities such as Couchsurfing.org, and Airbnb.com, which offer rentals at people's homes.
Triptrotting offers "a pleasurable, custom-tailored experience," Teller said. "It's not selling them a room for a night."
As for security, Zheng said that e-mails are used to verify the hosts, who also must register and fill out an online questionnaire. The hosts are not paid but tend to do the work because they enjoy it and "show what it's really like in their city."
Denisha Brekke has used Triptrotting in Lima, Peru; Jakarta, Indonesia; Bangkok, Thailand; Budapest, Hungary; Tokyo; and Shanghai, China. She said she uses the service every time she travels and has made friends with people all over the world.
"In a hostel, you would end up hanging out with other foreigners who are traveling," Brekke said. "This gives you more of an authentic experience in the city."
Prev Next
For reprint and licensing requests for this article, CLICK HERE.