Clerks Might Pull Plug on Internet
Labor fight over tracking cargo could tie up ports.
Monday, May 14, 2012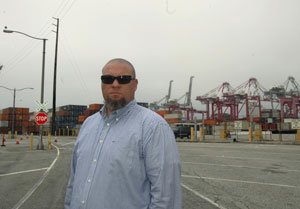 For years, importers whose cargo arrives at the ports of Los Angeles and Long Beach could go online and see if a shipment has arrived.
But importers could lose that ability if unionized port office clerks prevail in contract negotiations and make customers go through them to check the status of their shipments.
That may seem like a fairly small matter, except for this: A labor arbitrator last month ruled that longshore workers at the twin ports could join a strike, which means if the office clerks call for a strike over the issue, the port would effectively be shut down, stranding ships.
"(The union) seems to think the recent ruling gives them a hammer," said Stephen Berry, negotiator for the Los Angeles-Long Beach Harbor Employers Association, the bargaining group representing shipping companies and terminal operators. "If they really are proceeding on that basis, it could lead to a total port shutdown and that would not be in the best interests of the region or the nation."
Office clerks picketed four shipping terminals in December after negotiations broke down. The employers association and the union didn't return to the bargaining table until two weeks ago, but the two sides have yet to agree on even the most basic terms of the negotiations.
At issue are not only the usual matters – wages, hours and lay-off policies – but also the type of technology that shipping companies, terminal operators and their customers can use. John Fageaux, president of the International Longshore and Warehouse Union's Local 63 Office and Clerical Unit, which represents most office clerks at the local ports, said employers are using technology to get around the union.
"We're not fighting technology," Fageaux said. "But we're not going to let it be used in a way that will let other people do our jobs."
In some cases, though, those other people are the customers – importers, freight forwarders and customs brokers – who want 24-hour access to information about their shipments. If that information is blocked, local ports could find themselves at a disadvantage. That's because they compete with other ports on the West Coast. And in two years they'll be competing with East Coast ports when the expanded Panama Canal opens to larger cargo ships, said Joseph Magaddino, a logistics expert and chairman of the economics department at Cal State Long Beach.
"There are legitimate alternative ports," Magaddino said. "If you can get better service out of other ports, that does hurt the competitiveness of L.A. and Long Beach. Over the long term, it's a big issue."
Prev Next
For reprint and licensing requests for this article, CLICK HERE.