Firm's 3-D Ads May Alter Focus of Print Campaigns
3DX sees place for Pop-Up process despite increased costs.
Monday, March 26, 2012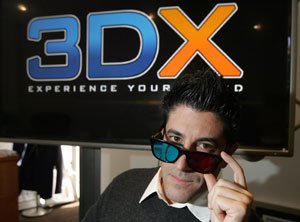 A new 3-D technology for print advertising gives the impression of three-dimensional images rising off or stretching down into the page.
Called Pop-Up 3D, the technology is the creation of 3DX, a Santa Monica startup that hopes to carry the 3-D craze from movies into magazines and direct mail. The company has produced 3-D print ads for Sony's movie "The Green Hornet" and Honda's CRV vehicle, and recently mailed out 3-D invitations for a Nike media event that gave journalists lifelike images of the new Air Jordan shoe before it was released to the public.
Ziggy Kormandel, chief executive of 3DX, said that Pop-Up 3D images are similar to but better than holograms.
"You can lay a magazine flat on the table and the image rises up," Kormandel said. "Once they see the magic, it's a total game-changer. People will pay $10 more to see a film in 3-D, but with advertising it's free."
While the Pop-Up 3D technology features some proprietary elements that Kormandel wouldn't discuss, he described it as a refinement of the red-cyan 3-D process developed more than 150 years ago. Refinements eliminate the inexact alignment of conventional 3-D images. It also adds depth to the optical illusion.
"We have improved on the old technology and that has given us the ability to skew the image to rise above or dip below the surface of the page," he said.
Pop-Up 3D requires special eyeglasses with different colored lenses for each eye. In a magazine, the cardboard glasses are bound into the magazine next to the ad. For direct mail, the glasses are usually made part of the envelope to incite curiosity when people receive the letter.
For advertisers, the main extra cost for a Pop-Up 3D ad is the glasses. Based on volume and the style of the glasses, the cost varies between 6 cents and $1 per pair. On the production side, there are no extra costs because regular photographs are converted to 3-D images.
A typical campaign with Pop-Up 3D costs about 15 percent to 20 percent more than a conventional print campaign. Kormandel said that could add between $45,000 to $100,000 to costs.
So far, advertisers haven't complained about the costs or difficulties of working in 3-D because the results justify the higher costs, he said.
Nike, Honda, Sony, and direct-response giant Guthy-Renker are among the advertisers that have used Pop-Up 3D. At one Honda event, a life-size new car model appeared to pop out of a wall. The automotive company also put a full-page 3-D ad in Maxim magazine.
As for results, 3DX once did a test mailer for a client that Kormandel wouldn't name. The mailer included a few product images and then directed the recipients to the advertiser's website to see more 3-D. Based on the number of people who visited the site, the response rate for the mailer was 35 percent, compared with an industry average of less than 1 percent.
Bret Saxon, chief executive at Santa Monica marketing firm TMP, has used the Pop-Up 3D system for such clients as ad agency Omnicom and Mercedes-Benz.
"This is a way to cut through the clutter of advertising and attract eyeballs," Saxon said. "All the advertisers care about is return on investment, so if it costs more but drives more transactions, they'll pay for it. We've used the 3DX technology and it's worth the price."
The Pop-Up 3D system is good for magazine ads and mailers, but not newspapers.
Marty Shindler, an Encino-based technology consultant to the entertainment industry and an expert on 3-D media, said he liked the concept of Pop-Up 3D but the company might face resistance from advertisers moving most of their money online.
"There will come a point in time when many publications will stop the printing presses and go digital," Shindler said. "For now, people will be intrigued by 3-D print ads, but at some point they may get tired of it."
Kormandel at 3DX said that in addition to traditional print, the company's technology is also adaptable for digital devices such as tablets and smart phones. As more advertising moves to digital editions of magazines or mobile ad networks, 3DX plans to migrate as well.
"Whether it's ink on paper or pixels on screen, it works either way," he said.
Future visions
3DX has seven employees, up from two when it was founded in 2010. The company is co-owned by Kormandel and his partner Owen Western, inventor of the Pop-Up 3D system. Kormandel said the company is talking with a private-equity fund that will finance 3DX's growth, assuming a deal is finalized.
He said they paid back their seed money (from themselves, friends and family) in three months. The company is profitable and, if financing is secured, it plans to staff up and grow its client list.
In tandem with growing its print advertising business, 3DX plans to license its technology to game publishers and product manufacturers. For example, Kormandel thinks it would be a hit on cereal boxes. A home furnishing manufacturer is working with the technology to develop a rug for children's rooms that would allow live-size cartoon characters, for example, appear to rise up from the floor.
Also, he thinks that as the major entertainment studios produce more 3-D movies and TV shows, they will want to market their content in 3-D to show off the format's advantages. He sees it as part of a broader trend toward a 3-D world.
"Everybody is looking for a 3-D play," he said.
Shindler, the entertainment consultant, agrees that the future will come in three dimensions.
"3-D advertising is going to pay off," he said. "As the market picks up, leading advertisers in soft drinks and telecom will start doing it. As 3-D TV becomes the norm, there will be more demand for 3-D ads."
For reprint and licensing requests for this article, CLICK HERE.