FDA May Burn Smoking Business
Electronic cigarette firm fights regulation.
Monday, March 19, 2012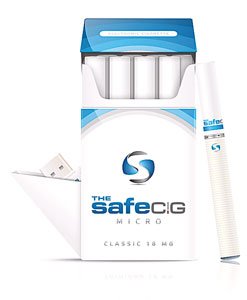 John Cameron gave up his entertainment industry career for a mission: fighting against federal regulation of electronic cigarettes.
Cameron is chief executive of Hollywood-based SafeCig, which makes electronic cigarettes – battery-powered devices shaped like cigarettes that simulate tobacco smoking by producing inhalable chemical vapor. The former smoker and younger brother of famed film director James Cameron sees the nonburning device as the answer for millions of people trying to quit smoking.
But since electronic cigarettes arrived from China about four years ago, the U.S. Food and Drug Administration, under pressure from anti-smoking groups, has targeted distributors. The agency first declared that electronic cigarettes may contain harmful chemicals. Most of the devices contain some nicotine.
Now the agency is moving to regulate electronic cigarettes, treating them just like conventional tobacco cigarettes, prohibiting sales to minors and subjecting buyers to huge sales taxes. That could decimate the fledgling industry.
Cameron is fighting back. He's taking his case to the public, trying to promote the idea that electronic cigarettes can wean people away from smoking. He's spoken to the National Press Club in Washington, D.C., and made numerous local and national TV appearances.
"Here is a technology that can absolutely save millions of lives and nobody is talking about what this technology is capable of," Cameron told the Business Journal last week. "It's the first real chance we have of removing tobacco as an addictive substance, but people still regard it as a cigarette with all the same dangers."
Cameron would like to market the device as a stop-smoking treatment, but if he does, he'd be subject to FDA fines for making unsubstantiated health claims.
He quit his pack-a-day habit of conventional cigarettes after his fiancée gave him an electronic cigarette in early 2011. With missionary zeal, he gave up a project to develop a video game company with his film director brother and joined SafeCig as chief executive a year ago. The company had been founded two years earlier in Philadelphia by brothers Rob and John Deak; the Deaks moved the company to Los Angeles in early 2010 to increase its visibility.
(If he hadn't joined SafeCig, Cameron would have accompanied his brother last week on the crew of the "Titanic" director's latest adventure: a world-record solo submarine dive to about 25,000 feet. James Cameron now plans to take the same sub to the bottom of the Marianas Trench, the deepest spot on the planet.)
SafeCig's electronic cigarettes are powered by rechargeable batteries. The company has about 40 employees. John Cameron declined to cite figures but said revenue quadrupled in 2011.
He wants a chance to prove to FDA regulators that electronic cigarettes help people quit smoking. But an agency ruling that electronic cigarettes should be treated like conventional cigarettes could destroy his business before he can make that case.
"We have a lot of concern about the FDA classification," Cameron said.
The taxation issue is significant: State and federal taxes plus the cost of a legal settlement now total $2.33 per pack. In addition, a June ballot measure will add $1 a pack statewide if it passes, which could push the price toward $8 for many brands.
Fine line
Another local company awaiting the FDA's ruling is Xhale Distributors in downtown Los Angeles. Xhale sells disposable electronic cigarettes and has about a dozen full-time employees. Chief Executive Mike Ahmad said FDA policies are forcing him to walk a fine line in marketing his cigarettes.
"We're in a very tight spot right now," Ahmad said. "If the FDA classifies electronic cigarettes as tobacco products, the feds and state governments could tax us out of existence."
He said his main customers are health-conscious consumers over the age of 35. In an ideal world, he said, he would like to stress the health benefits of switching from conventional tobacco cigarettes to electronic ones.
"But current FDA policy forbids us from saying we're healthier than cigarettes," he said. "If we did so without going through a multiyear process of FDA certification as a drug, we could be hit with big fines."
So, Ahmad said, he markets Xhale as "an alternative" to smoking cigarettes.
FDA spokeswoman Jennifer Haliski said the agency is reviewing electronic cigarettes, but she did not offer a timetable on when a rule would be released.
"The FDA is developing a strategy to regulate this emerging class of products as tobacco products under the Family Smoking Prevention and Tobacco Control Act," she said.
While SafeCig and dozens of other makers of electronic cigarettes are pressuring the FDA to tread carefully in its regulation, anti-tobacco groups such as the American Lung Association and American Heart Association have been pushing for an FDA crackdown.
"We're very concerned that these products have shot onto the market with no oversight and no understanding of what's in the products and what the impact on consumers' health may be," said Erika Sward, director of national advocacy for the American Lung Association in Washington.
Sward said that if electronic cigarette makers are touting claims that it will help people quit smoking, the FDA needs to require them to prove their claims as any drug maker must. On the other hand, if electronic cigarette makers say they are simply alternatives to conventional cigarettes, then they should be treated just as other tobacco products.
"There is no safe tobacco product on the market and electronic cigarettes are no different," Sward said.
Safety is a concern, too. Last month, an electronic cigarette consumer in Florida was seriously injured when one of the rechargeable batteries apparently exploded.
Some states have restricted their sale. Several states have restricted sales of these cigarettes to minors, citing the presence of nicotine; Vermont is considering limiting Internet and phone-order sales of electronic cigarettes.
Two years ago, the FDA sent out warning letters to a number of electronic cigarette distributors, alleging violations of the federal Food, Drug and Cosmetic Act. The violations include unsubstantiated claims that the electronic cigarettes could treat nicotine addiction and using the electronic devices to deliver active drug ingredients.
But then a federal court ruling prohibited the FDA from going after electronic cigarette sellers unless the sellers made explicit unsubstantiated claims that their cigarettes can treat diseases. That's when the agency announced it was going to develop a rule that essentially would classify electronic cigarettes as tobacco products.
Xhale's Ahmad acknowledged that some regulation of the fledgling industry is necessary.
"Right now there are no quality controls on the products, especially the components and ingredients coming in from China," he said. "A number of importers simply don't care about the quality and that could give the whole industry a bad rap."
For reprint and licensing requests for this article, CLICK HERE.